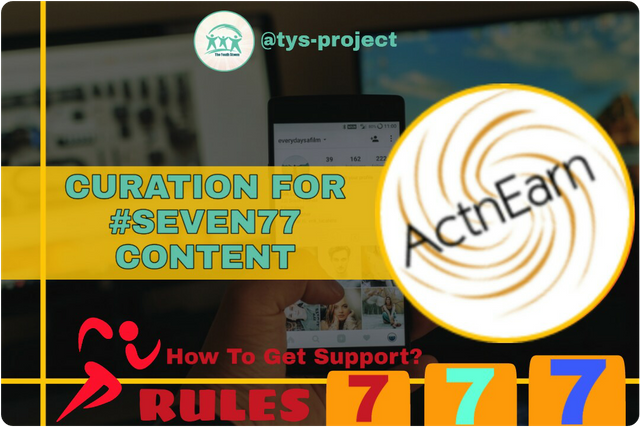 Hello community, during this week we have had several discussions with our team members. After considering various things, today we will begin to take action to support content creators connected to the ActnEarn platform.
We recognize that our team does not have much power to support all creators on this platform. At this initial stage we will support content creators in the #seven77 and #indonesia tags. Meanwhile, it is also possible to support other content creators. It's just that so far we haven't been able to reach all types of content. However, we will endeavor to support each captain who talks about or promotes us and ActnEarn.
Through this post we want to announce basic rules that will involve our voice to support your content.
Rules for Content #Seven77
The following are the best actions you need to take to get curation from our team, only a few small actions that we have conceptualized in rule 777.
Follow our official Twitter account https://twitter.com/tyscuration
Post your #seven77 content via Twitter
Use the Share2Steem application to connect your social media account to the STEEM Blockchain
Use the taq #share2steem, #actnearn, #seven77, this is the main taq we recommend
Describe your post as interesting as possible, if necessary add Quote because this will be an added value for us to support your post
Only one post for one day
The percentage of curation will be given according to your work, we will be very selective for this. The value can range from 30% to 100%.
Top 3 Runner Up
Every day there will be three posts chosen to be displayed in our daily post. The 3 selected posts will be considered based on the description, video quality, screen layout, creativity and uniqueness. 3 Runner Up posts will require a curation percentage of 100%. Only the best posts will be the center of our attention. We want to organize the ActnEarn platform space to really look professional and worthy of support. For this reason, we will be very conscious to ignore bad content including plagiarism.
Frequently Asked Questions
How do you use Share2steem?
You must first have a Steem account, if not, please create it in the STEEM Signup or buy STEEM account via @steem.ninja service. Enter into Share2steem via SteemConnect and link your social media accounts (such as Instagram, Twitch, Twitter, Youtube) with your Steem account. Read this to better help you understand this.

Can I post with other applications?
Yes, we are now giving you the freedom to choose a third party service to connect your post about #seven77 to the ActnEarn platform. But, we recommend that you use Dapp Dlike as a third party service that can be easily integrated into the ActnEarn platform. If the Share2Steem application can't work then please use Dlike to integrate your post on Twitter to the STEEM Blockchain.

How to use Dlike?
Enter Dlike by using your user name and posting key. Enter your post link about seven77 that has posted on twitter. Add at least one image and describe a minimum of 50 words, it would be better if more than that. Use the #actnearn and #seven77 tags.

What can you post?
Talk everything about #Seven77 and #ActnEarn, including it's better to post philosophical values from the #seven77 activity you're doing.

What percentage of curation will be obtained?
The percentage of curation ranges from a value of 30% to 100% and that depends on what you post to this platform.
Prizes for the period July 27 to August 3
As a form of our appreciation for you, we will support your content posted from July 27 to August 3 with a percentage of curation of 70% to 100%.
How to contribute to this program?
Invite at least 5 people to read this post
Mentions them in the comments column of this post
You and your friends will be included in the list to receive this service.
Posting always uses #actnearn, save your content, moniteze your social media and earn ACTNEARN Tokens.
Delegate Steem Power
The Steem Power delegation to support our community is growing.
Your delegation will be used with wisdom to support great content creators and the growth of a more stable ecosystem.