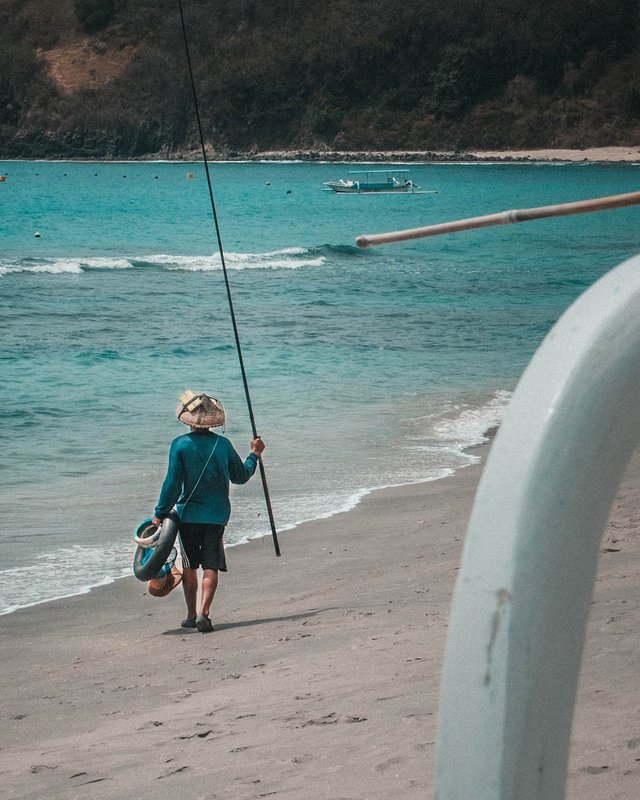 An Indonesian fisherman preparing for the hunt. He sits in the tire which hes holding in the left hand to float on the surface of the sea. Fishing rod and landing net prepared as well. Interesting way of fishing!
this has been posted on IG @perfspots
The Pandanan beach vlog
Driving along the streets of Western Lombok to Pandanan Beach. A beautiful deserted beach where i helped a couple of fishermen to pull their boat out of the sea. on our way back we discovered a abandoned villa. Probably the owner run out of money whilst the construction phase. We started the drone to explore the villa from the air.

---
Posted from the Perfspots.com website with SteemPress : http://perfspots.com/the-lombok-fisherman/
---
Connect
website: http://perfspots.com
steemit: https://steemit.com/@ivansnz
youtube: https://goo.gl/5GCWhB
instagram: https://www.instagram.com/perfspots/
twitter: https://twitter.com/perfspots
facebook: https://www.facebook.com/perfspots/
more links: http://perfspots.com/links
Recommendations
Where i book hotelrooms: https://goo.gl/9UxEDR
Where i book the cheapest flights: https://goo.gl/HRhxoy
Credit card with best commissions for travels: http://bit.ly/travelcreditcard
Editing software: http://bit.ly/editing_software
Steem Dapps
Find awesome products - https://goo.gl/Qtk8Av
Fund your project here - https://fundition.io/
Collect your cards - https://goo.gl/AyQ99F
Move! and earn - https://goo.gl/QTgFou
Check them out!
Support donation
BTC: 1Jjc1HFppV2SBYjV8BgeWPpykRDtWKR8oG
BCH: qqj3uxrup5tvcg5k2zrxjq20er27fwsneyc68srm63
ETH: 0xf97cA8e658d7a6344addCB398477e1D2301A8Cf1
XLM: GASYB7MFOO63JCNYDPEWHJHGNTNSGCO4FEAFSSS7JZAY6EDBJCEYYDER