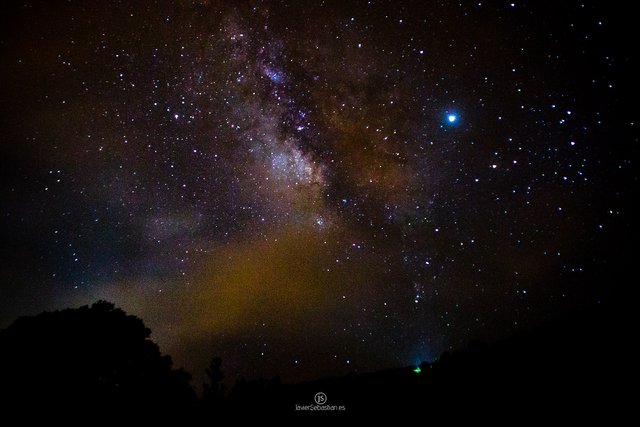 La Palma is a balcony towards the stars
Hi, friends.
It is known by many people that La Palma is an excellent place to contemplate stars with the naked eye. With one of the cleanest skies in the world, it is declared as the world's first Starlight Reserve. Not only does it enjoy one of the most spectacular landscapes of the Canary Islands or native flora and fauna of incredible beauty, but it also has one of the best locations for modern astrophysics, The Observatory Roque de Los Muchachos.
La Palma has a large network of trails that cross forests or volcanoes, gastronomy that has nothing to envy the best cuisine or a rich landscape of incalculable beauty, also has a large number of viewpoints in the upper areas of the island, which exceeds 2400 meters high. That is why it is offered as a destination for a new type of tourism: astrotourism.
And you? Are you coming to see the universe?
Hope you like. Hugs.
---
La Palma es un balcón hacia las estrellas
Hola amigos,
Por muchas personas es conocido que La Palma es un lugar excelente para la contemplación de las estrellas a simple vista. Con uno de los cielos más limpios del mundo, es declarada como la primera Reserva Starlight del mundo. No solo disfruta de uno de los paisajes más espectaculares de Canarias o una flora y fauna autóctonas de increíble belleza, además, cuenta en sus cumbres con uno de los mejores emplazamientos para la astrofísica moderna, El Obsevatorio Roque de Los Muchachos.
La Palma cuenta con una gran red de senderos que atraviesan bosques o volcanes, una gastronomía que no tiene nada que envidiar a la mejor cocina o una riqueza paisajística de incalculable bellleza, además, cuenta con una gran cantidad de miradores en las zonas altas de la isla, que supera los 2400 metros de altura. Es por ello que se ofrece como destino para un nuevo tipo de turismo: el astroturismo.
¿Y tú? ¿Te vienes a ver el universo?
Espero que les guste. Abrazos.
---
라 팔마는 별을 향한 발코니입니다
안녕 친구들,
많은 사람들에게 La Palma는 육안으로 별을 묵상하기에 훌륭한 장소라고 알려져 있습니다. 세계에서 가장 깨끗한 하늘 중 하나 인이 곳은 세계 최초의 Starlight Reserve로 선언되었습니다. 그것은 카나리아 제도의 가장 멋진 풍경 중 하나 또는 놀라운 아름다움의 토착 동식물을 즐길뿐만 아니라 현대 천체 물리학을위한 최고의 장소 중 하나 인 El Obsevatorio Roque de Los Muchachos를 가지고 있습니다.
라 팔마는 숲이나 화산을 가로 지르는 넓은 트레일 네트워크를 가지고 있습니다. 최고의 요리를 부러워하지 않는 요리 또는 계산할 수없는 아름다움의 풍부한 풍경 또한 상단에 많은 관점이 있습니다. 높이가 2400 미터를 넘는 섬. 그렇기 때문에 새로운 유형의 관광 목적지 인 우주 여행이 제공됩니다.
그리고 당신은? 우주를 보러 올거야?
나는 당신이 그것을 좋아 바랍니다. 포옹
---
| CAMERA | LENS | FOCAL DISTANCE | Tv | Av | ISO |
| --- | --- | --- | --- | --- | --- |
| CANON EOS 100D | Tamron 18-200mm. | 18mm. | 20s. | f/3.5 | 6400 |
---


www.javiersebastian.es


Copyright: Javier Sebastian, Canary Islands. All my images are original.
If you want to buy any of my visuals, please drop me a message, I'm on Discord: JavierSebastian#5816

---
COINBASE | Facebook | Twitter | Instagram | Youtube | Presearch | Brave | Invite me a Coffee | Patreon | WEKU
---
I use these services to earn token while surfing the web. These are my referral links.


I use this service to BUY CRYPTO with my CREDIT CARD. This is my referral link.

I use this service to PURCHASE and WITHDRAW to my BANK ACCOUNT. This is my referral link.

[##]: !steem2wls_include