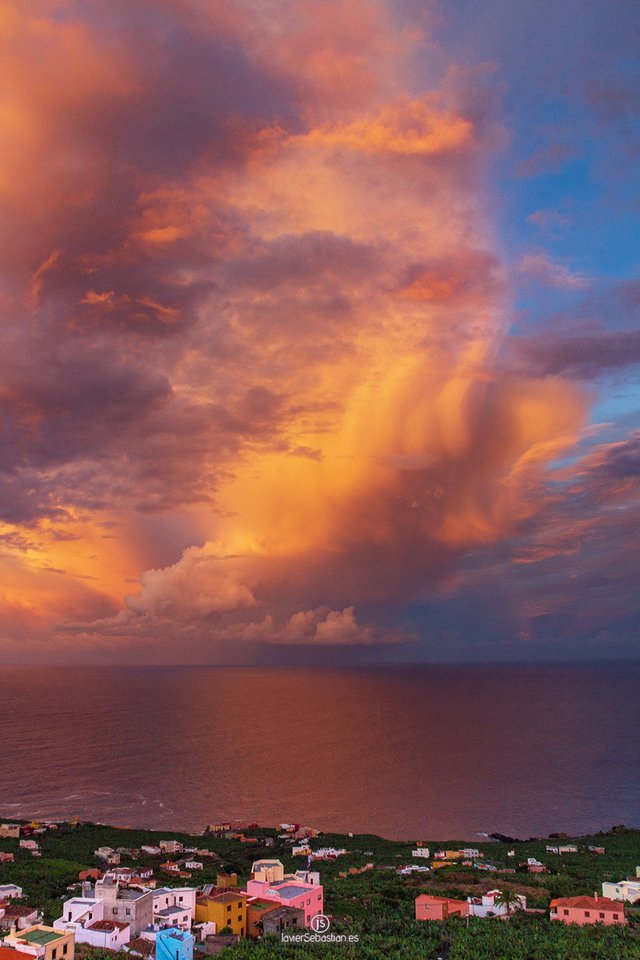 Hola amigos,
como ya he comentado en alguna ocasión, las puestas de sol desde mi pueblo son muy coloridas a finales del verano. Con la llegada de las lluvias y las tormentas que dan llegada al invierno, podemos ver grandes nubes cargadas de agua, coloreadas por los rayos del sol, que ya se encuentra en el otro lado de la montaña.
Espero que os guste esta colorida nube de octubre.
Saludos!
---
Me gustaría participar con esta foto: Nubes Rosa de Tormenta.
---
Hello friends,
As I said on occasion, the sunsets from my town are very colourful at the end of the summer. With the arrival of rains and storms that reach winter, we can see large clouds loaded with water, coloured by the sun's rays, which is already on the other side of the mountain.
I hope you like this colourful October cloud.
Regards!
---
I would like to participate with this pic: Pink Stormy Clouds.
---
| CAMERA | LENS | FOCAL DISTANCE | Tv | Av | ISO |
| --- | --- | --- | --- | --- | --- |
| CANON EOS 100D | Tamron 18-200mm. | 18mm. | 1/20s. | f/11 | 100 |
---


www.javiersebastian.es


Copyright: Javier Sebastian, Canary Islands. All my images are original.
If you want to buy any of my visuals, please drop me a message, I'm on Discord: JavierSebastian#5816

---
Facebook | Twitter | Instagram | Youtube | Presearch | Brave | Invite me a Coffee | Patreon | WEKU
---
I use these services to earn token while surfing the web. These are my referral links.


I use this service to BUY CRYPTO with my CREDIT CARD. This is my referral link.

[##]: !steem2wls_include