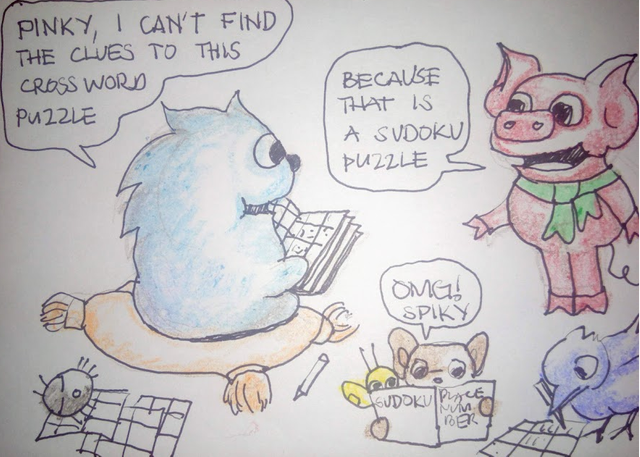 Hello Pinky and Spiky fans,
Here is my entry to the Pinky and Spiky Drawing Contest Week 64. The theme this week is about solving Sudoku puzzles. Thanks to our contest owners @organduo and @laputis for their support and help in building this creative community of Steemians.
Spiky is clueless about Soduku puzzles. One morning the gang gathered in the living room to try this new puzzle game that Pinky introduced. Dietrich, Betsy and Cornelius are doing their best being first timers. It is not easy but they quietly try to learn and understand the game. Victor gave up because his little head could no longer bear the pressure so he decided to sleep on it and maybe when he wakes up he will have answers to the puzzles. Spiky all set and ready sitting on a floor pillow feeling comfortable is looking for the clues. He thought that it is a crossword puzzle. Pinky told him this game is not a crossword puzzle but a Sudoku puzzle.
That is it. Hope it entertained you even just for a bit. Thank you for dropping by and enjoy your day
@jadung