Up North, the people are made of stern stuff.........
Northerners who smoke are made of even sterner stuff. Being exiled outdoors and at the mercy of the elements, the stoicism and sheer bloody-mindedness of those needing their fix of nicotine with their equally addictive cup of Yorkshire tea is admirable.
Please note. This is not a secret Hong Kong protester's strategy meeting. It is simply some old Yorkshire folk having a fag and a cup of tea......or maybe they are secretly plotting Yorkshire independence under those umbrellas!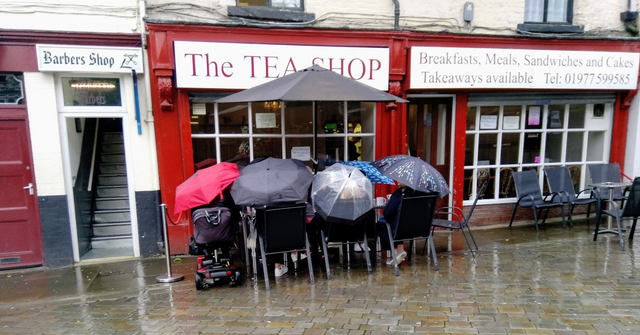 In case you wish to visit to join in your own 'Umbrella movement' or simply have a pot of tea and a scone, I've pinned it to the Steemit world map.
Pontefract. The home of revolution.