The info below comes from GODE Bayerisches Münzkontor's COA (Certificate of Authenticity) of this coin or from https://en.numista.com/ , or from https://www.wikipedia.org/.
I was rummaging through a box when I found a few German coins. As I haven't posted them yet, let's start a new series about German circulating or commemorative coins.
The twenty ninth is a 1978-F 5 Deutsche Mark "Balthasar Neumann".
This coin weights 11.2g , has a silver purity is 62.5% and has an Uncirculated finish. Its mintage was 7,740,880 units.
It commemorates the 225th Anniversary of the death of Balthasar Neumann.
It was minted at the Staatliche Münze Baden-Württemberg, Stuttgart, Germany.
On the edge is written "WALLFAHRTSKIRCHE VIERZEHNHEILIGEN 1743 - 1772" that means "Basilica of the Fourteen Holy Helpers 1743 - 1772".
Johann Balthasar Neumann (1687 - 1753) was a German engineer and architect who was the foremost master of the late Baroque style.
Among his works we find the Würzburg Residence (one of the most beautiful palaces in Europe) and the Basilica of the Fourteen Holy Helpers (Vierzehnheiligen).
The reverse shows the inside of the Vierzehnheiligen.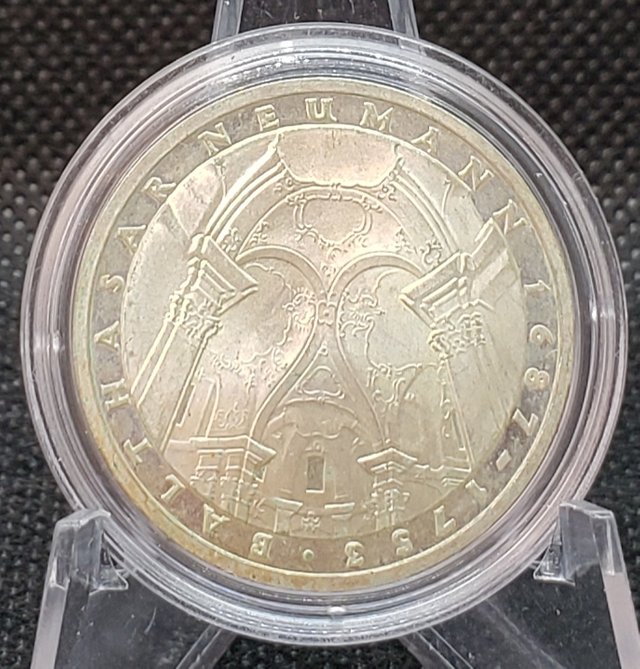 The obverse shows an eagle, the emblem of Germany, the denomination, the country name, the date and the mintmark (F).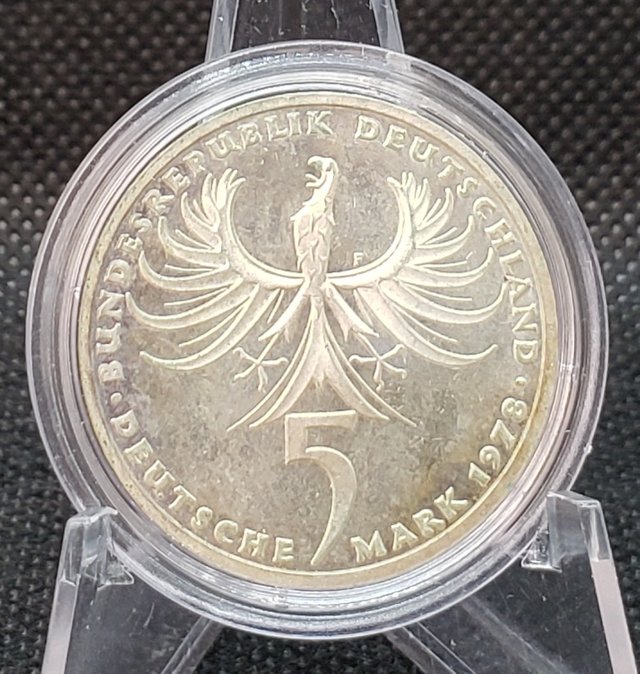 Thank you for reading. Please comment, upvote, resteem and advise me.