The info below comes from the Royal Canadian Mint's COA (Certificate of Authenticity) of this coin or from the book Canadian Collector Coins, vol 2, 8th Edition, by M. Drake or https://en.numista.com/ , or https://www.wikipedia.org/.
In 2013 and 2014 the Royal Canadian Mint issued the series "O Canada" in two sets, focusing on iconic images celebrating all that makes Canada unique.
I will show you now the "O Canada Set Two".
The second coin is the 2014 CAD $10 "Grizzly Bear".
It weights 15.87g with 99.99% silver purity and Proof finish. Its mintage was 20,918 units and the issue price was CAD $39.95.
This great bear has been honored by Canada's First Nations people for thousands of years, often revered with the same respect as a grandfather. Powerful yet solitary, the grizzly is a commanding example of the unconquerable and often elusive nature of Canada's wilderness.
Designed by Canadian artist Glen Loates and engraved by Jose Osio the reverse shows a full-body profile portrait of a grizzly bear. The massive grizzly is presented from its left side, its enormously powerful musculature and shaggy silver-tipped fur showcased to stunning effect. The bear's mouth is slightly open as it clambers over a log atop a rocky outcropping. Its pointed snout gives way to a massive head bearing distinctive small eyes and ears. The bear's large neck is lowered as it scans the ground. The outer frame of the image also features a miniature stylized grizzly head in profile.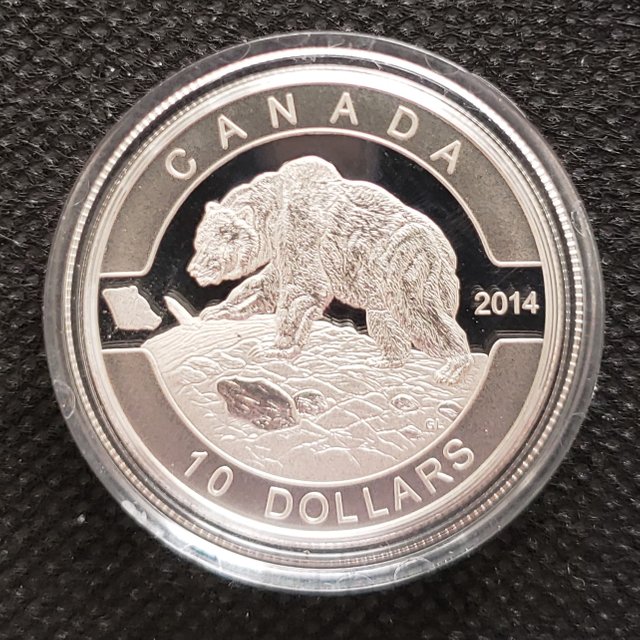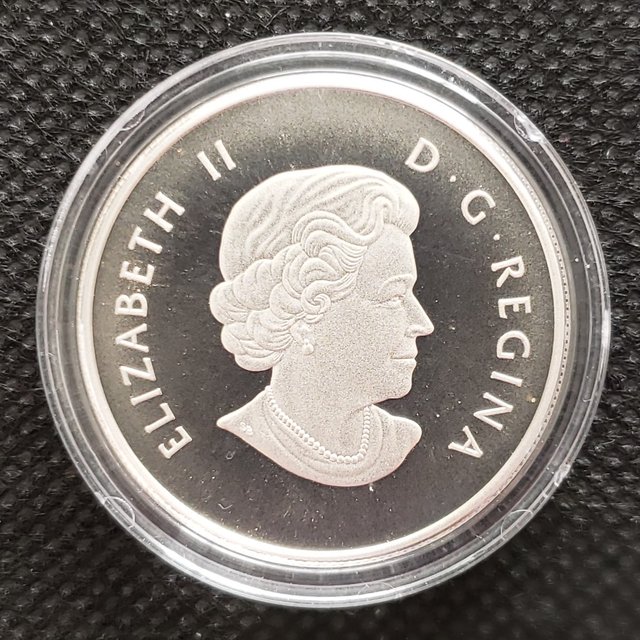 Thank you for reading. Please comment, upvote, reblog and advise me.