The info below comes from the Royal Canadian Mint's COA (Certificate of Authenticity) of this coin or from the book Canadian Collector Coins, vol 2, 8th Edition, by M. Drake or https://en.numista.com/ , or https://www.wikipedia.org/.
In 2013 and 2014 the Royal Canadian Mint issued the series "O Canada" in two sets, focusing on iconic images celebrating all that makes Canada unique.
I will show you now the "O Canada Set Two".
The fourth coin is the 2014 CAD $10 "The Moose".
It weights 15.87g with 99.99% silver purity and Proof finish. Its mintage was 19,759 units and the issue price was CAD $39.95.
The Moose is the most Canadian of wildlife symbols.
The reverse was designed by Canadian artist Claudio D'Angelo and engraved by Stan Witten. It presents a full-body profile portrait of a moose in its natural habitat. Despite its seeming ungainliness, here we see the moose moving with grace through its environment. Viewed from its left side, the tall creature is presented to stunning effect, its massive rack of antlers raised proudly as it walks along the shoreline of a northern waterway. Its large round snout, dangling dewlap, powerful neck and shoulders, and sleek musculature are evoked in dimensional detail by the engraver. Three of its tall legs are partially submerged in the water below, its right hind leg raised above the water line as the moose steps forward. The water splashes gently before its quiet step. Water lilies line the foreground, while behind the moose we see a rocky, bush-lined shore giving way to a distant coniferous forest.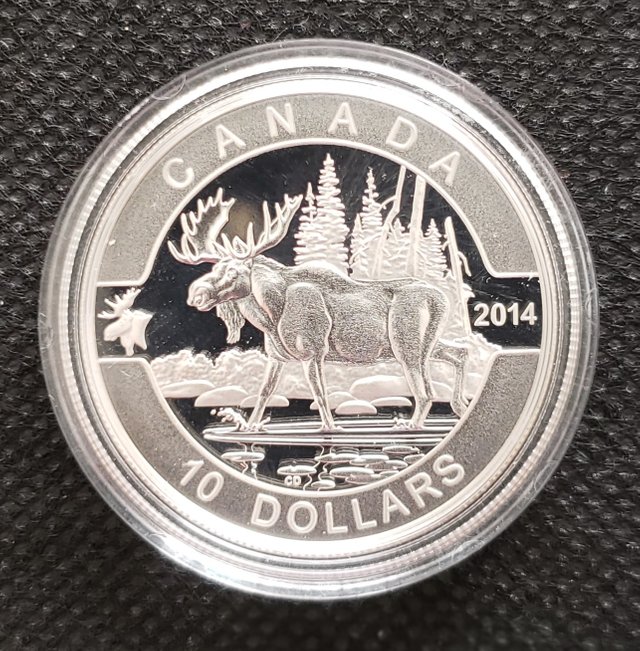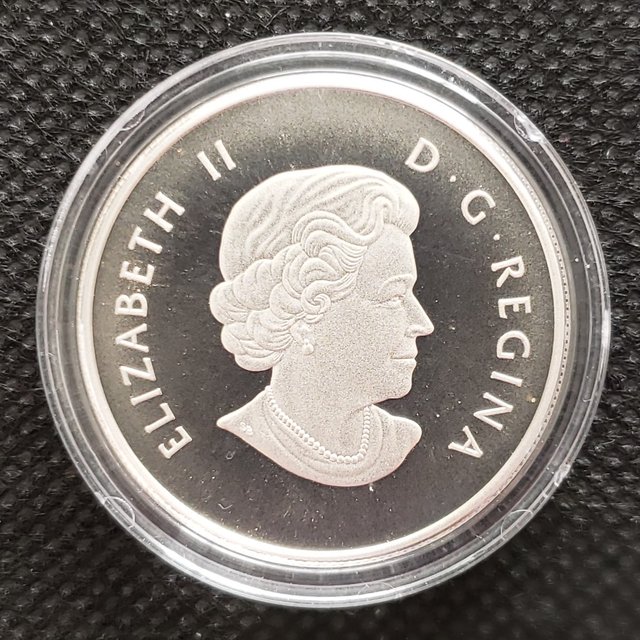 Thank you for reading. Please comment, upvote, reblog and advise me.