The info below comes from the Royal Canadian Mint's COA (Certificate of Authenticity) of this coin or https://en.numista.com/ , or https://www.wikipedia.org/.
I will show you some Canadian commemorative coins that are not part of a series, but that have a common theme: the Maple Leaf theme.
The Canadian Silver Maple Leaf is a silver bullion coin issued annually by the Canadian government. Since 1988 these silver coins have been minted by the Royal Canadian Mint (RCM).
At CAD $5, the official legal tender face value of this 1 oz coin is the highest among silver bullion coins. The coins purity is guaranteed at 9999 pure silver, also among the highest purities which have a standard of 999.
Featuring the iconic maple leaf symbol, the coin is guaranteed a weight of 1 troy ounce (31.1 g) of silver. The Royal Canadian Mint often issues variations on the standard coin by applying slight design changes such as colouring or privy marks.
The mark "Fine Silver 1 oz Argent Pur" is a hallmark of all Canadian Silver Maple Leaf coins.
The second is the 2013 CAD $5 "25th Anniversary of the Silver Maple Leaf".
For 25 years, the iconic Silver Maple Leaf has been a highly sought-after Royal Canadian Mint bullion coin. This pure silver numismatic coin is a tribute to the Silver Maple Leaf's beauty and success since its introduction in 1988.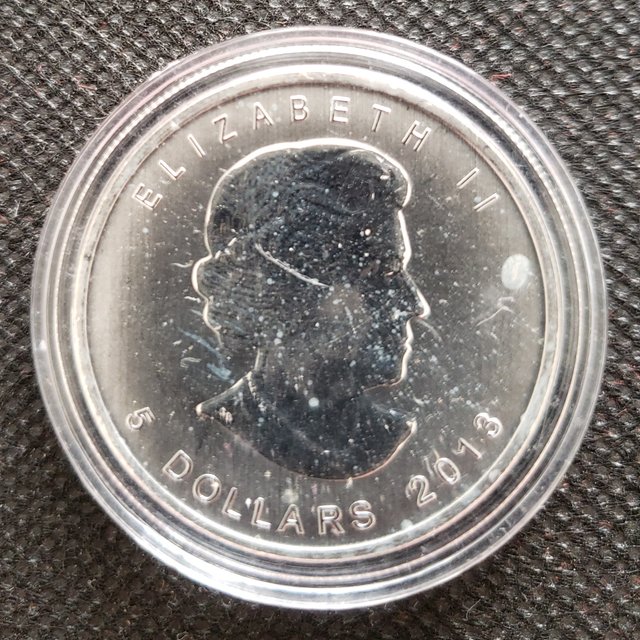 Thank you for reading. Please comment, upvote, resteem and advise me.