The info below comes from the Royal Canadian Mint's COA (Certificate of Authenticity) of this coin or https://en.numista.com/ , or https://www.wikipedia.org/.
I will show you some Canadian commemorative coins that are not part of a series, in no specific order or value.
The twentieth is the 2012 CAD $20 "Queen's Visit To Canada With The RCMP".
It weights 31.39 g with 99.99% silver purity and Proof finish. The mintage was 11,113 units and the issue price was CAD $89.95.
The year 2012 marks the Diamond Jubilee of Queen Elizabeth II—a celebration around the world of the 60th anniversary of Her Majesty's reign. Festivities in Canada acknowledged Queen Elizabeth II's lifetime dedication and service to her subjects, to the Commonwealth, and to innumerable charitable causes.
To commemorate important milestones, the Royal Canadian Mounted Police (RCMP) have a long-standing tradition of presenting Her Majesty with one of their best horses. Queen Elizabeth II has been an avid animal lover since she was a child, and has long been particularly interested in horses and equitation—an important part of her royal heritage. Over the years, Her Majesty has developed the exceptional level of skill and knowledge required to not only own but breed fine thoroughbreds.
As the Honorary Commissioner of the RCMP since June 1953, the Queen has a well-established relationship with Canada's national policing organization. In addition to their shared appreciation for equitation and her honorary position, the Queen's son, His Royal Highness Prince Edward, Earl of Wessex, is the RCMP's Honorary Deputy Commissioner. The first RCMP horse presented to Her Majesty was also one with whom the Queen developed a bond that lasted more than 20 years: PSH (Police Service Horse) Burmese.
Following this first gifted horse, and to commemorate important milestones, the RCMP has presented the Queen with a number of horses who share Burmese's bloodlines: PSH Centennial was presented to the Queen in 1973 for the RCMP centennial; the Queen then changed the name to Centenial with one " N ", PSH James was presented to the Queen in 1998 for the RCMP's 125th anniversary; the Queen then changed the name to St. James, PSH Golden Jubilee was presented to the RCMP in 2002 by the Queen to mark the Queen's Golden Jubilee; and PSH George (named in honor of King George V, the Queen's grandfather) was presented to Her Majesty in 2009 to honour the 40th anniversary of the presentation of PSH Burmese and to mark the 75th anniversary of King George V giving the RCMP their long service medal.
Designed by Canadian artist Bonnie Ross and engraved by Cecily Mok, the reverse depicts a smiling Queen Elizabeth II gently holding the reins and stroking the jaw of Burmese, who is flanked by an RCMP Sergeant Major.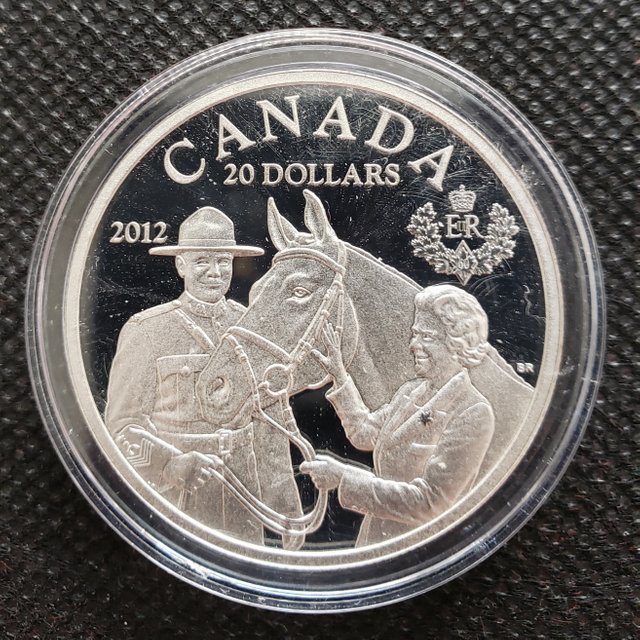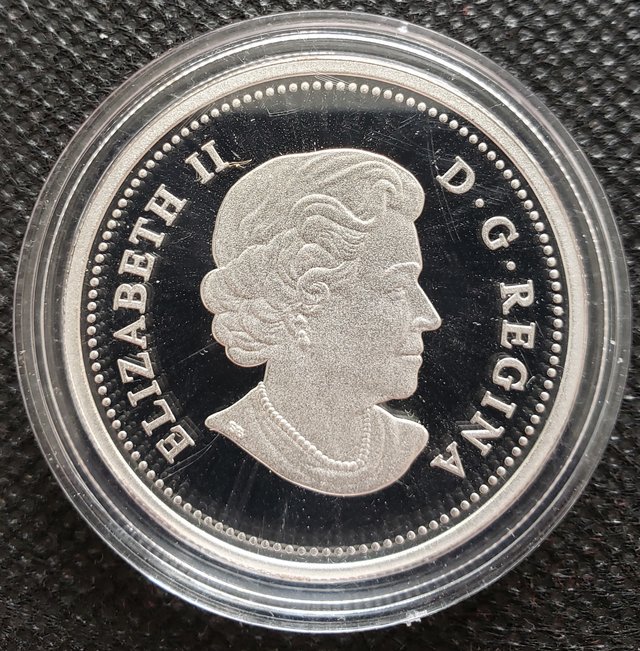 Thank you for reading. Please comment, upvote, resteem and advise me.