hola amigos como estan ustedes? yo ando muy bien y les informare que el manchester united esta interesado en Gianluca Busio
Hi friends How are you? I walk very well and I will inform you that Manchester United is interested in Gianluca Busio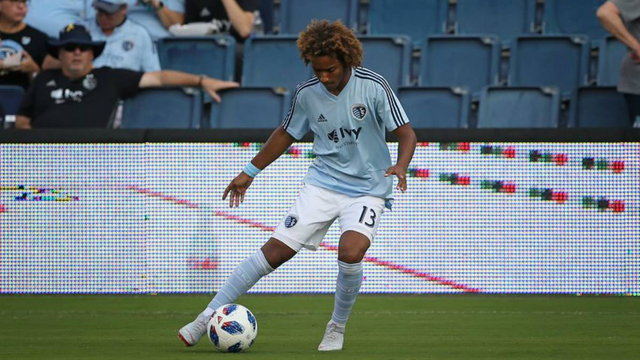 fuente
With just 17 years, Gianluca Busio is already sought by two great European football players, Manchester United and Inter Milan, thanks to his great performances in the MLS regular season and for what he did during the U-17 World Cup, where he was one of the few that stood out in the disappointing performance of the US team.
Edward Burleson, Director of Europe Exploration at Sporting Kansas, revealed at the WyScout two-day exploration conference in Holland that Busio was intended by several major clubs in the old continent; which highlights the presence of the Red The Red Devils 'squad and the most winning club of European cups in Italy.
In the MLS
It should be noted that the player of lower categories of the United States has Italian nationality so he would not occupy a place as a foreigner; In addition, the whole country of the boot could have a slight advantage over the whole of the Premier League.
Gianluca debuted as a professional at age 16, in the 2018 season. In his first year at MLS he only played seven games, where he scored his first goal in the most important competition in the United States and Canada.
For the following year he became an unquestionable in the Kansas City squad by playing in 22 of the 34 regular season games and in three of the six Concacaf Champions League games. In his short career in the MLS he has four goals and three assists, despite being a player who plays in the midfield.
With the U-17 selection
Busio, was considered from the age of 15 to join the U-17 team as one of the key pieces in Hackworth's XI during his time as coach in 2017, for 2018 he was erased from the national squad and in 2019, already with 17 years, he was summoned by Rapahel Wicky, who considered him as indisputable in the World Cup in Brazil.
Unfortunately for Busio and company, their passage through Brazil 2019 was forgotten, since they failed to get a single victory in the group stage and were eliminated. Knasas midfielder played every minute of the first phase, where they lost 1-4 with Senegal, drew goalless with Japan and lost 4-0 with the Netherlands. The only goal of the tournament was marked by the jewel of Sporting KC.