Hello my friends from steemit and sportstalksocial, I hope you are very well and I must thank God for allowing me to be here again with you publishing and I hope you like this publication.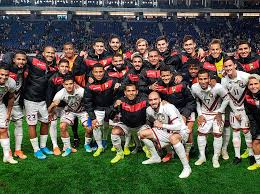 fuente
With confidence in the clouds, Vinotinto closed its 2019 year, the best in its history in terms of numbers. A change of mentality, a lot of game creation and, above all, forcefulness when it comes to achieving results leaves the eye fixed on a possible ticket to the 2022 World Cup in Qatar.
This proportion exceeded 2007 when Richard Páez was on the bench, at that time 54% of production was obtained, he also surpassed the 45% achieved by Cesar Farías in 2011.
Much of this improvement was carried out in the last three friendly matches, favorable balances and with two totally different tactical systems. First in October in the capital of the country a more offensive scheme was shaped. The (4-2-3-1) went to the delight and asked "Vox populi" that this was the fixed method, but it was not, at least not before Japan and only showed that the handling of Venezuela is multifunctional and This has only one cause, which is undoubtedly the moment that Venezuelan soccer players are going through.
Specifically in this duel against the Japanese Dudamel returned to (4-1-4-1) that he likes so much with Bernaldo Manzano occupying the place of Junior Moreno, who was not present for personal reasons in that midfield trivot with Rincón and Herrera, Besides, together with Yeferson Soteldo and Darwin Machís, the bands all went perfectly.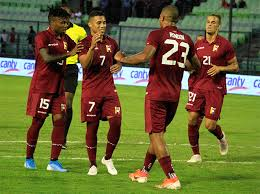 fuente
Although it was a defensive system, Vinotinto took the initiative, gave circulation to the ball and was evidenced in 45 minutes with four goals and a Rondón in a state of grace. It is true, Japan did not have all its owners so it was necessary to seize the moment to propose, like and win.
In this clash some conclusions are that Soteldo showed that as long as he remains dazzled in the selection, he must be fixed, Machís increasingly surprises, Herrera is out of sight, Manzano is a total success and Rondón is immovable.
Point in favor for Dudamel, one of the winners in these exams. With two tactical systems in the final FIFA dates he convinced, he changed his mindset and surely by March when the qualifiers start he will have one at home (4-2-3-1) and another to visit (4-1-4-1).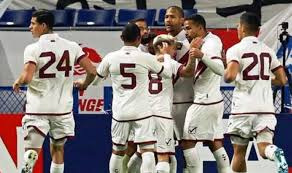 fuente
until next time.
greetings and a strong hug.
A thousand blessings to all.
his servant @gohalber says goodbye.