very good and entertaining this classic real madrid vs barcelona in basketball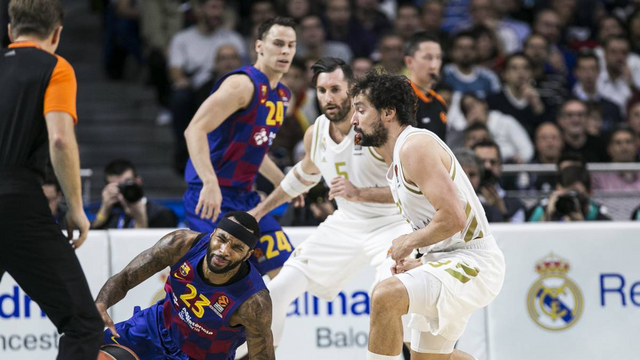 fuente
Real Madrid took the second Classic of the season and the first in the Euroleague by winning Barça 86-76 at the WiZink Center. The meeting was marked by the return of Nikola Mirotic to the old Palace, the second time he returned after the Super Cup. The pitos were constant for the Hispano-Montenegrin, who still went to 19 points, insufficient for his. The whites came out overturned and spurred by their fans and signed an initial part of 32-14. However, the Catalans responded with a 16-36 in the second period that gave them two points of advantage with twenty minutes left. There dominated Madrid, which achieved an advantage around the ten that knew how to maintain until the end of a very intense clash.
In the white ranks a choral game was developed, led by Randolph's 16 points, Deck's 13 points and 13 with 6 assists from Campazzo, who had fouls but highlighted in a third quarter in which Madrid took an advantage that In the end it would be decisive. Mickey added 12 points and Tavares was gray at the beginning and improved in the second half, with two spectacular caps. The second one went to Higgins, with whom he faced. By that play he was expelled from the game with two techniques and cheered by the public.
Barça had Mirotic as top scorer of the game, although somewhat off in the last period. He was accompanied by Tomic, who scored 13 points, and Kuric, who did 12, although none of them found an answer in the second half, when the local defense improved and prevented them from developing their game as in the second quarter, which was devastating. Bad game of Brandon Davies, with 0 of 6 in shots and -12 rating.
With this victory Madrid is placed with a record of 5-3 and in the seventh position of the Euroleague, where for the moment the games away from home are choked but it becomes strong in the WiZink. The Barca team adds its second defeat after the harvest in Milan and loses the opportunity to become a solo leader. The first place is occupied by Maccabi, but there are four teams with the same record in a tournament that promises to be very competitive.