The news has comed yesterday.
In the past few hours a big news of Juventus transfer market has spread in the Juventus world, which has done and is still making a lot of talk: there is a bid of Juventus on the first Milan's goalkeeper Gigio Donnarumma. According to what Sportmediaset reported, Juve would be doing very seriously for Gigio Donnarumma the next summer market.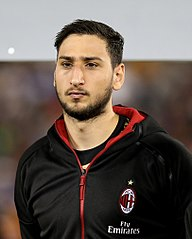 Donnarumma is actually managed by
Mino Raiola
, who is also the manager of
Paul Pogba
.
Paratici's proposal seems to be 9 million per year for 5 seasons.
Gianni Balzarini, one of the most important journalist about football trasnfer market, very close to Juventus' affairs confirmed that something big is happening: "I tell you that there is a good chance. Obviously it's not a concluded deal, but I can tell you that Juve has really set its sights on Donnarumma. There are a whole series of circumstances that suggest that this may be an operation that Juventus will try to do and on which it has already carried out.
I think that Donnarumma is one of the most prominent goalkeeper in Italy and he will be the Azzurri's goalkeeper for the next 10 years, but...there is always a but... do Juventus fan remember what Gigio said after a Juventus - Milan match when the refee gave a penalty to Cuadrado in the last minutes? "Always to them ....always to them...."
The fans will surely have to forgive Donnarumma for this gesture ... after all they quickly forgave Sarri's past in Napoli FC.
Do you know SWIFTCASH? Come and visit us!
SwiftCash is an open-source, self-funded system of decentralized governance and economy born out of a desire to create a digital store of value with a consistent and stable growth model, as well as a peer-to-peer cryptocurrency for daily transactional use