When I heard a word "Viking", my memory goes to a ship with unique structure. Apparently, many theories telling about the word "Vikings". When I read about Vikings in Wikipedia, I found that the word "Vikings" may be taken from the name of ancient Norwegian district of Vikin, which means "a person from Vikin."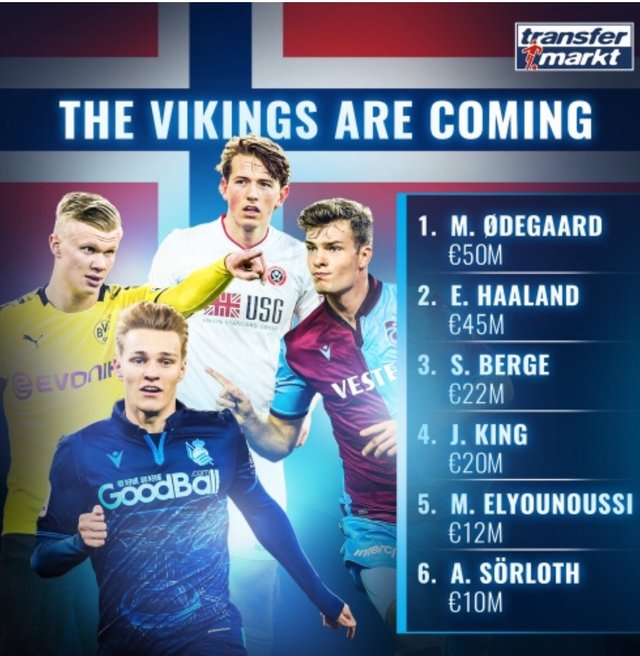 Source
Now I got the point that the Vikings are Norwegians. And you know, this year there are a lot talented Norwegian players coming up to the surface. The most famous one I've already known is Erling Braut Haaland. He was playing for Red Bull Salzburg as a striker. He is still very young, 21 years old. Many clubs are interested in him. Finally, Borussia Dortmund was the winner, they got Haaland's signing in January 2020. And I am surprised his price now getting up to 45 million Euro.
I think 2020 is Viking year. Other talented Norwegian players are M Odegaard, S. Berge, J King, M. Elyyounnoussi, and A Sorloth. Martin Odegaard now play for Real Sociedad as a midfielder. I think he is the most talented Norwegian player. He is actually Real Madrid's player, but now he is on loan to Real Sociadad. According to transfermarkt, his price now is about 50 million Euro.
While Sander Berge is 22 Million, Joshua King 20 million, Mohammed Elyounoussi 12 Million and Alexander Sorloth 10 million. All of them are still pretty young, I believe they have a bright future, and they could still develop to be world class players in the future.