(Sábado 24 de Enero a las 18:00 h – Pab. Municipal Barrio de las Flores)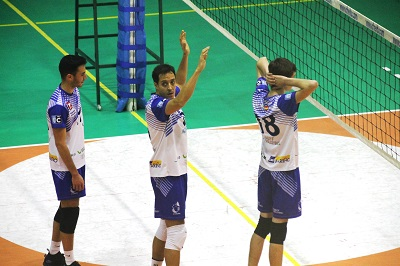 Source
Nuestra pre-cronica ha salido publicada en el periodico con una foto, esto no quiere decir que sea un plagio, sino que la escribimos y luego la publicaron ellos... aviso para los suspicaces..
El próximo sábado Calasancias Coruña se enfrenta en el Barrio de las Flores al C.V. Vigo, en un partido clásico de histórica rivalidad. Los vigueses se encuentran clasificados en cuarta posición en la SM2, después de ocho victorias, por lo que son favoritos, pero Calasancias Coruña afronta este partido con el ánimo de intentar dar la sorpresa e imponerse por primera vez a los vigueses en esta competición. Para ello será muy importante que Calasancias Coruña consiga frenar el ataque por centro de la red de los visitantes con una buena defensa, y que haga daño con su saque y sus ataques por las alas al C.V. Vigo, evitando caer en sus errores de recepción del último partido.

PRE-CHRONICLE MATCH DAY 14 MEN'S VOLLEYBALL SM2
CALASANCIAS CORUÑA - C.V. VIGO (Saturday 24th January at 18:00 h - Pab. Municipal Barrio de las Flores)
Our pre-chronicle has been published in the newspaper with a photo, this does not mean that it is a plagiarism, but that we wrote it and then they published it... warning for the suspicious ones..
Next Saturday Calasancias Coruña will face C.V. Vigo in the Barrio de las Flores, in a classic match of historical rivalry. The Vigo's are classified in the fourth position in the SM2, after eight victories, so they are favourites, but Calasancias Coruña faces this match with the aim of trying to give the surprise and beat the Vigo's team for the first time in this competition. To do so, it will be very important that Calasancias Coruña manages to stop the attack through the center of the net of the visitors with a good defence, and that he hurts with his serve and his attacks through the wings to the C.V. Vigo, avoiding to fall into his mistakes in the reception of the last match.