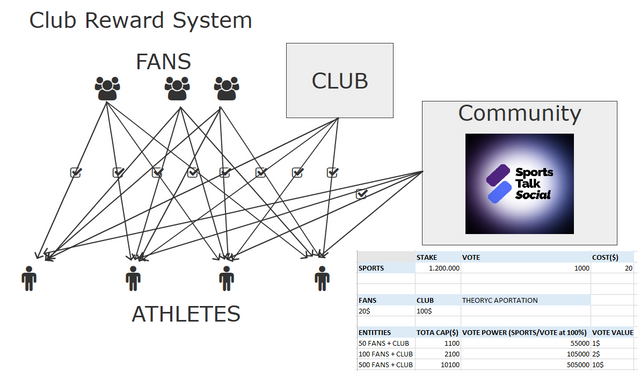 Hello Sporters:
This article is about how sportstalksocial can be the catalyst for a project in which the social mass of the club contributes to reward its players through PoS.
As you can see in the drawing, the operation of the system would involve the Club (which could have one or more voting accounts), fans, supporters or members contributing by buying SPORTS tokens (This could be managed through the club so that account creation and token use would not be an obstacle for supporters). ) Each of these supporters would purchase a variable amount of SPORTS depending on the weight they wish to have in the vote. We have proposed an average of $20 per supporter as a reasonable amount for a small club's annual membership fee.
And finally there would be the accounts of the players or athletes of the club. These players would publish information regarding their activity in the club, matches, displays, etc. These items would be the ones that the fans would vote on to support the operating structure.
To estimate the value of the vote (at the maximum level) we have done the exercise of stripping this idea to real numbers that a small club of a minority sport could have and see how it scales.
This can be seen in the table in the image, where you can see that a club with 50 active members or supporters would have a voting power of $1 per vote. A club with 100 members would have a voting power of $2, etc.
This would not take into account that these votes will end up attracting more votes from other users of the platform or even other applications such as @actifit, @exhaust, etc. They might be interested in collaborating with this type of community.
I would like that people who read this post give their opinion and say if they see it as a viable system, we could build a great community this way involving many clubs, there are users already dedicated to introduce clubs in the platform like @uyobong, I propose this scheme for a greater dissemination of Sportstalksocial with a real use case.