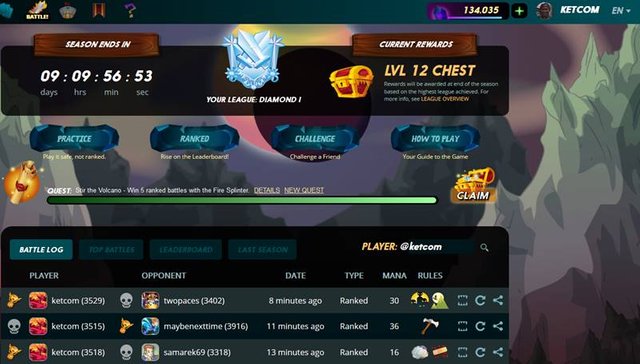 I must say it was a better day today at the battle field. It wasn't one of my great days though because I won five out of the ten battles I fought in. When you compare that with what I faced yesterday then it is correct to say today was better.
I even met @marianaemilla on the battle field and she was nice to surrender which was a heavy relief to me because I was busy switching and changing monsters until the timer almost ran out because I knew she is very good at the battle field. I didn't even complete my mana, I think of the 37 mana that was required I only got 34 in before rushing to click the battle button, so you can imagine the relief when I saw she had fled the battle ground.
I got the Fire splinter for my daily quest today and it was fair enough. There some monsters I haven't been using regularly because there are some monsters I like combining in battle because they compliment themselves and do well in battles together. For some reasons the rule set for doing battles are kinda making them redundant. I hope to find time and investigate other players use of such monsters to see if I can learn more strategies for doing battles because I don't want to look predictable when going into a game as my games yesterday felt like my opponents already knew monsters I was going to select and had count attack and defense for them.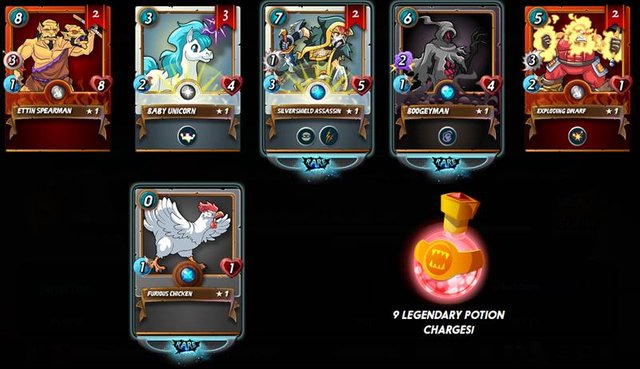 Rewards day 96
I got nine Legendary potion, three different Rare cards of which I got two Silvershield Assassin. I also got some other Rare cards. No Gold, Legendary or Epic cards today. Booo hoooo! I am still trying to figure how this adjustment is panning out. What can I say, it is free for those that complete the daily quest ain't it? Lol.
You can watch one of my best battles today by using the link below, thanks: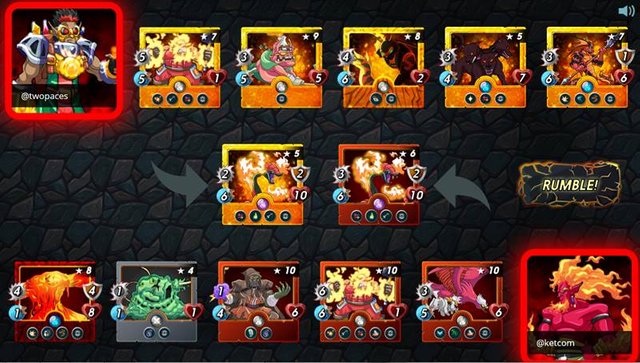 https://steemmonsters.com?p=battle&id=0a0ce63fee7bdec2fa86d1d4eda1e163190fbb60&ref=ketcom
If you haven't joined the splinterlands games you can use my referral link https://steemmonsters.com?ref=ketcom to join and I'll give you all the support I can offer including one or more free cards. Thanks. There are referral rewards offered by splinterlands when a new member joins using your referral link, so can check that out as well.
Thanks for reading. Keep your comments coming and follow me if you have not already done that. Again, thanks a lot for your support to me always.
Posted via Steemleo