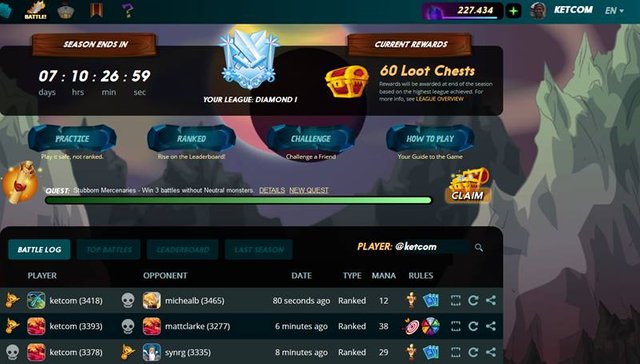 Oh boy what a day! Am I the only one getting the "Win three battles with any splinter without using Neutral monsters" type of daily quest at such high frequency or not. Lol. I keep getting it and it ain't making life on the battle field really confusing. The rule sets I was getting today was also not helping my do battle without neutral monsters, oh well, I still managed to complete the daily quest still staying on the same league level. Thank God for that.
I bumped into two guild members, @mattclarke and @michealb today and thank goodness I was able to take my revenge on @michealb, lol. @mattclarke I hope the rule about not beating you only applies to @michealb. Lol. If it is to all guild members please pardon me this time, it won't happen again as I hope the system system doesn't peer us again.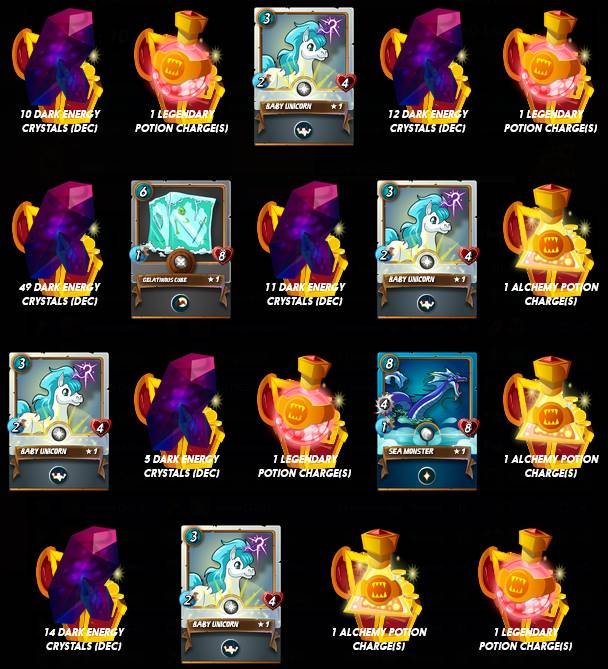 Rewards day 98
I have got to say I am still trying to get my heads round on the new reward structure. I prefer I get the quest or Orb potion and not the Alchemy or Legendary potion though. I guess the DEC is ok but getting the sum total of DEC in rewards as you can get for winning one battle it then looks short. Lol. Anyways, the good thing is that it is making the game more sustainable and having a more futuristic view.
This also makes buying and selling of cards more dynamic as people will no longer rely solely on the reward from completing the daily quest and end of season rewards. It is also great for investors who are into buying and renting of cards or just buying up the cards and keeping them for future sales. When even Common cards are scarce then you'll see how expensive they can be. So for me, futuristically, I think it is a good stem the managers of the game have taken, it might take some time for things to adjust fully but I am sure we are in safe hands.
So, if you have the dough then you better start buying us cards you use for battle a lot before their prices go 2X or more.
Note: I am not a financial adviser; please do not take my words and use for planning your financial future. If you quote me on this I will say I said whatever I said under the influence of alcohol, so be warned. Lol. If you are looking for financial advice on this topic contact your account, lawyer, financial adviser or Grandma. Lol.
You can watch one of my best battles today by using the link below, thanks: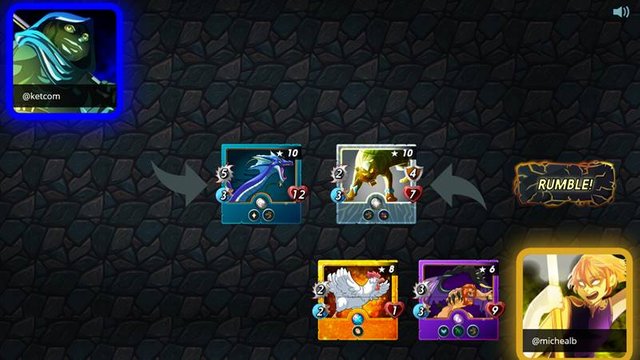 https://steemmonsters.com?p=battle&id=6abb99403bcb0ad653f9902b71a912ea6335464a&ref=ketcom
If you haven't joined the splinterlands games you can use my referral link https://steemmonsters.com?ref=ketcom to join and I'll give you all the support I can offer including one or more free cards. Thanks. There are referral rewards offered by splinterlands when a new member joins using your referral link, so can check that out as well.
Thanks for reading. Keep your comments coming and follow me if you have not already done that. Again, thanks a lot for your support to me always.
Posted via Steemleo