On the 27th of August, along with the changes that HF 21 / 22 brought regarding author / curation rewards, SPS worker proposals were also introduced to us. I am pretty sure that everyone is familiar with this system and the way it works after all these months so I don't think that I need to delve further into that.
So, the magician himself, aka Gandalf, aka @gtg came up with an excellent idea. And that is the return proposal
Every single member of the Steem community may submit their proposal and it is up to the rest of us all to either support it if it is for the greater good of the ecosystem or...ignore it, since there is no "disagreement / downvote" choice, and according to the total amount of SP this proposal will raise, the creator will either receive the requested funds...or not.
In order for this to happen the proposal has to be sitting above @gtg's return proposal and will continue to receive the daily / hourly funds for as long as it stays there.
---
Got it? Sweet...
As you can easily understand and exactly because it is a stake voting procedure, the really fat wallets and those who have massive amounts of proxied SP are the "catalysts" whether a proposal will receive funding or not.
That wouldn't be the case if each of you decided to cast their vote from time to time...yeah...I am talking to you average minnow / dolphin / orca...You have a say too ya know...so go cast your votes if you think something deserves to be funded...
---
Speaking of funding....
You see @gtg's proposal was a really smart move so that we can separate the wheat from the chaff, but there seems to be a an issue there...
According to the "community" not a single proposal deserves the requested funds and that's because always according to the voters, @gtg's proposal is the most valuable one. Yeah...It is proudly sitting on top spot with almost ~21 million SP. I rest assure you that this wasn't the plan...
There are a few proposals such as the one for the documentation of developers who work on Steem submitted by @inertia and also the one submitted by @yabapmatt for further development of the Keychain, you know, the tool that allows you to safely move your funds here and there...but that's just me...
This is how things look like at the moment...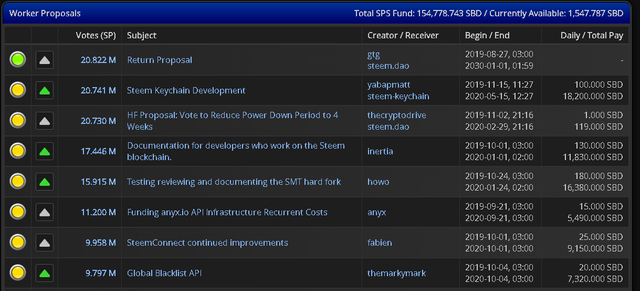 155K SBD just sitting there...Maybe people are waiting for an extraordinary proposal to cast their vote...who knows...
I think it would be wise if some of the top voters would reconsider or even remove their vote from @gtg's proposal. I am pretty sure he wants that too.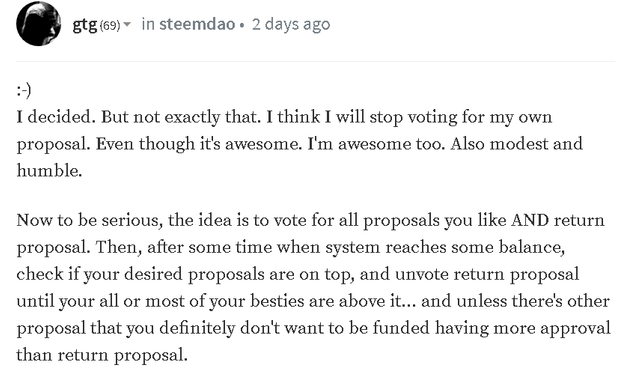 This is the list with the top voters on the return proposal.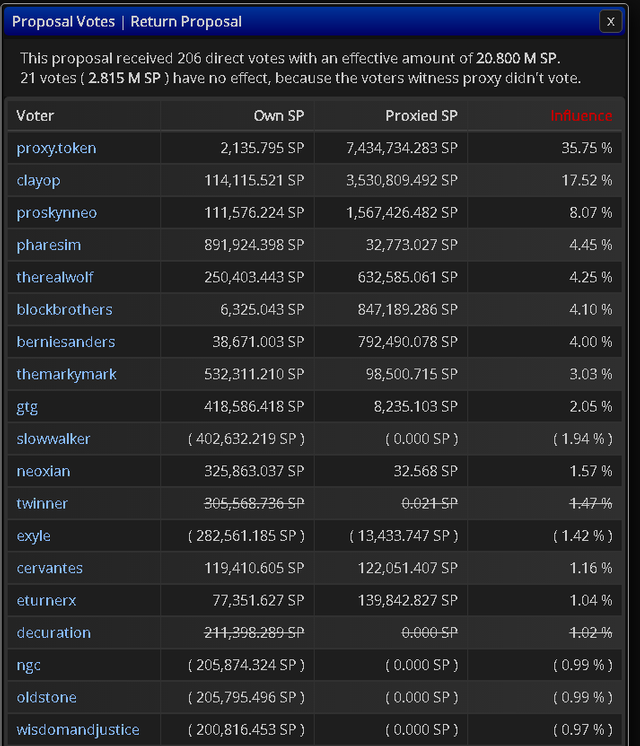 As you can see the 2 top voters have a massive impact and are "responsible" for more than the 50% of the overall SP collected.
My suggestion is that those who still haven't voted for any proposal, to go and check on their own if there is something worthy of their vote. There is no restriction...you can vote as many proposals as you want.
Also if you are one of the top voters of the return proposal, maybe, just maybe, you could unvote it temporary, so that good ideas / projects receive the necessary funds?
Have a good one people...