I guess that everyone is familiar with the SPS proposals and the way this whole system works by now. After all it is well explained and over discussed topic. For those of you that still don't know what this whole this is all about, a short explanation would be:
"A mechanism that makes sure to provide the requested funds when a proposal submitted by any member of the Steem community "surpasses" the return proposal submitted by @gtg."
The procedure is more or less the same when one casts a vote for witnesses. What that mean is that it is a stake based procedure.
Long story short, a few weeks ago @thecryptodrive submitted a proposal in which he explained the reasons why the 13 week period for a full powerdown should be cut down to 4.
Last time I checked and while many people were in favor of this submission, the total amount of SP this particular proposal had received was something in the range of 7 - 8 million SP. But things look completely different as we speak.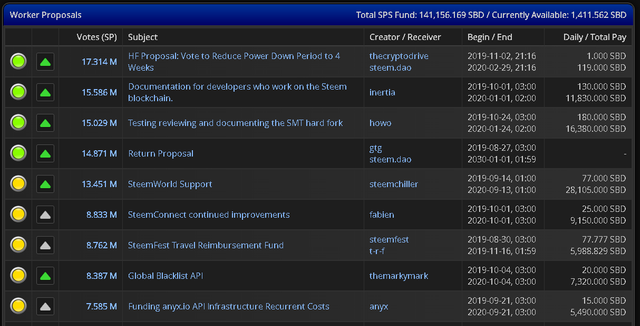 The thing is that despite the fact that @gtg's return proposal has collected more than 14.8 million SP in total -obviously people have voted for it so that "junk" have no chance to cross that number, myself included- it seems that @cryptodrive found massive support lately and his proposal is sitting on top of the list.
This is a breakdown of the voting list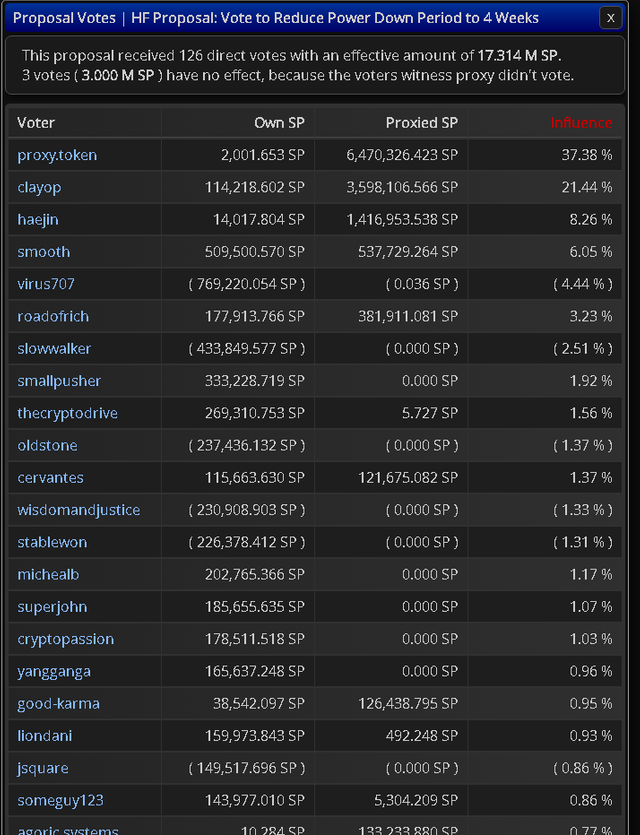 Obviously @proxy.token but also @clayop have massive influence when it comes to proposals since they have more than 10 million proxied SP combined.
I don't really know how things will play out right now and if the rest of the witnesses "have" to approve this proposal since it is officially voted and approved by the whole community, so I hope some of the top witnesses could enlighten us regarding what comes next...
As you can clearly see, it's not a proposal that requires bags of SBD / Steem BUT....it does require a HF.
I will tag a couple of active witnesses such as @themarkymark @blocktrades and also @therealwolf who are active and often willing to share some of their knowledge with the rest of us all.
Have a good one.