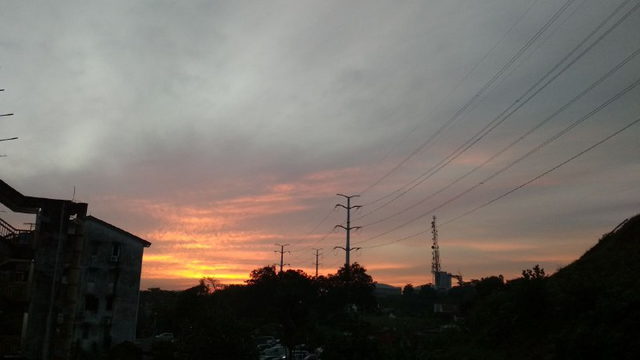 Sky is burning red early in the morning. You know, the biggest challenge for me to workout during weekday is always about timing. During the weekend, I can take my own sweet time to head to the park or the high class residential area for morning jog. After that I can have my Subway breakfast, take a shower. During the weekday I had to go to work. My work place is only like about 20km away, but the traffic is going to take me more than an hour to get there. So, I guess unless I go back to my crazy routine few years ago before I begin my #steemit life, I do wake up 4am in the morning, get myself prepare and workout. By 6am I will be done and can start to prepare the kid's breakfast and send them to school by 7. But that involved with a lots of discipline, including go to bed early. Now, with my busy #steem #blockchain life, with games like #drugwars that consume atleast an hour and a half, my sleep time has been regulated to "the next day", which passed midnight. I really need to find sort of balancing to my life, and try to go to sleep early.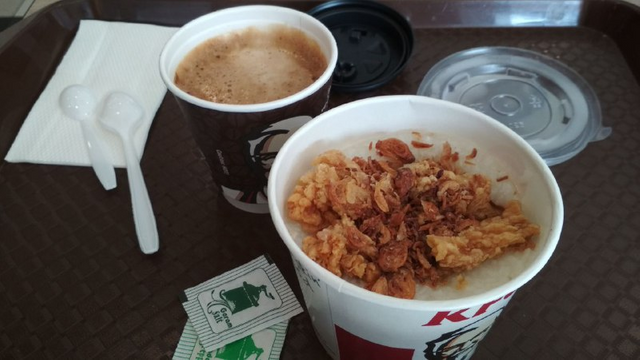 Remember my pledge to not take KFC? I lied. Food choice around my workplace has been limited to Indian foods or Muslim Indian food, we call them Mamak(refers to the Islam brotherhood Indians). I did think about the cheapest breakfst set in KFC, but that one too much cheese and mayonnaise, instead I go for porridge. Not exactly the healthiest breakfast, but I think better than most. Coffee is plain, no sugar no creamer. Just plain coffee.


Usually, I will also commit to take afternoon walk during lunch hour. Around this area, I have very little choice, but if I take a 2km walk towards up town(state government office), there are many choices over that area. The only problem for today is, it's hazy out there and I wouldn't risk breathing too much "smoke". Ugly truth is, for the past 2 months I only able to walk to up town for lunch due to either heavy haze or it's raining in the afternoon. I am hoping the situation to get a turn around in a month or so. Usually after Christmas all these nonsense will be gone and start to get really warm.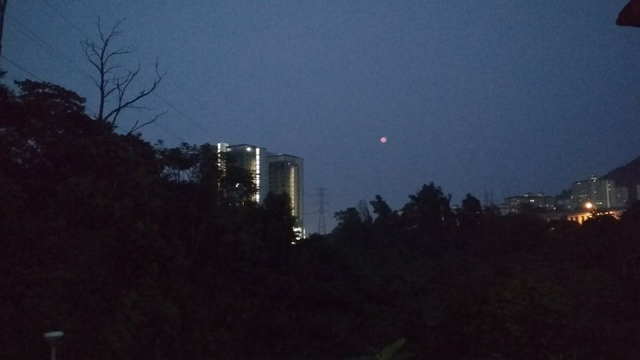 A quick highlight, I can't remember when I caught this red moon. These 2 days I've been taking photos of the moon since it's rather huge and close to me. So, I'm kinda lost track of when was this.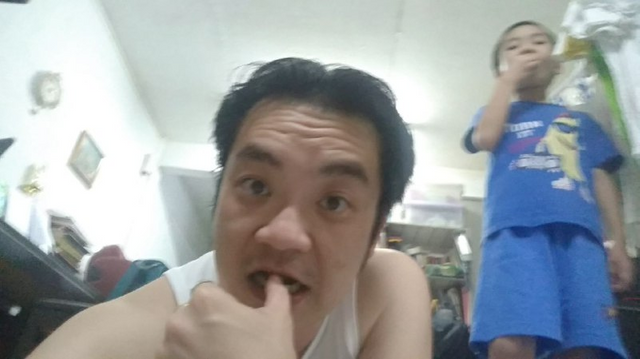 Workout continue as usual. My coach has been reset to focus on overall cardio improvement and fat burning. So, it basically involved with alot of cardio exercise. Movements like jumping jacks may look simple, but when you're instructed to do 5 sets of 30, by the time doing 4th set, you'll be wondering am I on the last set? Or still have 2 sets to go? Pardon junior is around there trying to get himself into the picture.
---
This is not a competition with @erikahfit but we respect each other and we give mutual support to each other so we will be on track and keep ourselves motivated. I want my sexy beach body, and she wanted a healthier body. I will recycle this portion of footer to keep reminding us we're on a mission.
---
谢谢大家一直以来的支持和对我疼爱有加。如果方便,请你点击下图到我的个人资料网页为我留言请我吃星星哈。

CREATE YOUR OWN @REVIEWME PROFILE TO START EARNING CREDIBILITY STARS FROM THE COMMUNITY!
---
Posted from Steem中文社区 : http://cnstm.org/blog/2019/11/14/lose-weight-and-look-good-episode-106/
---