Hello, friends!
Getting idea from my favorite cartoon and the halloween season, then I tried to draw them with simple easy steps.
First all you need to prepare are just a piece of paper, a 2B mechanic pencil, an eraser, and a black marker.
How to draw it easily:
1st part
I started from the left side, i tried to draw the ice bear first. Draw the 2 ears like the half circle shape then draw some part of the head and hand. Then draw the face and also pumpkin and the cutter on its' hand. Then finish with the 2 legs and finish also the jack o lantern pumpkin and also the ice bear's pumpkin costume.

2nd part
Drawing the panda. First draw the shape of 2 hands and the head then fulfill it with eyes, nose and mouth and also finish the hand. Draw the body and 2 legs, bold some parts of its' body like in the picture. Don't bold it too thick. Then last part is drawing the witch's hat and also its' ears. Bold thick the witch's hat.

3rd part
Drawing the grizzly
I started with drawing the 2 ears and head, then eyes, nose and mouth. Draw the dracula teeth inside the mouth. Complete with 2 hands, body and leg, also the bow. Also draw a piece of paper on its' hand and write happy halloween!

Now, after finish, just bold it with the black marker. To make it more real, i erase the pumpkin's hat. And then bold all the line with the black marker.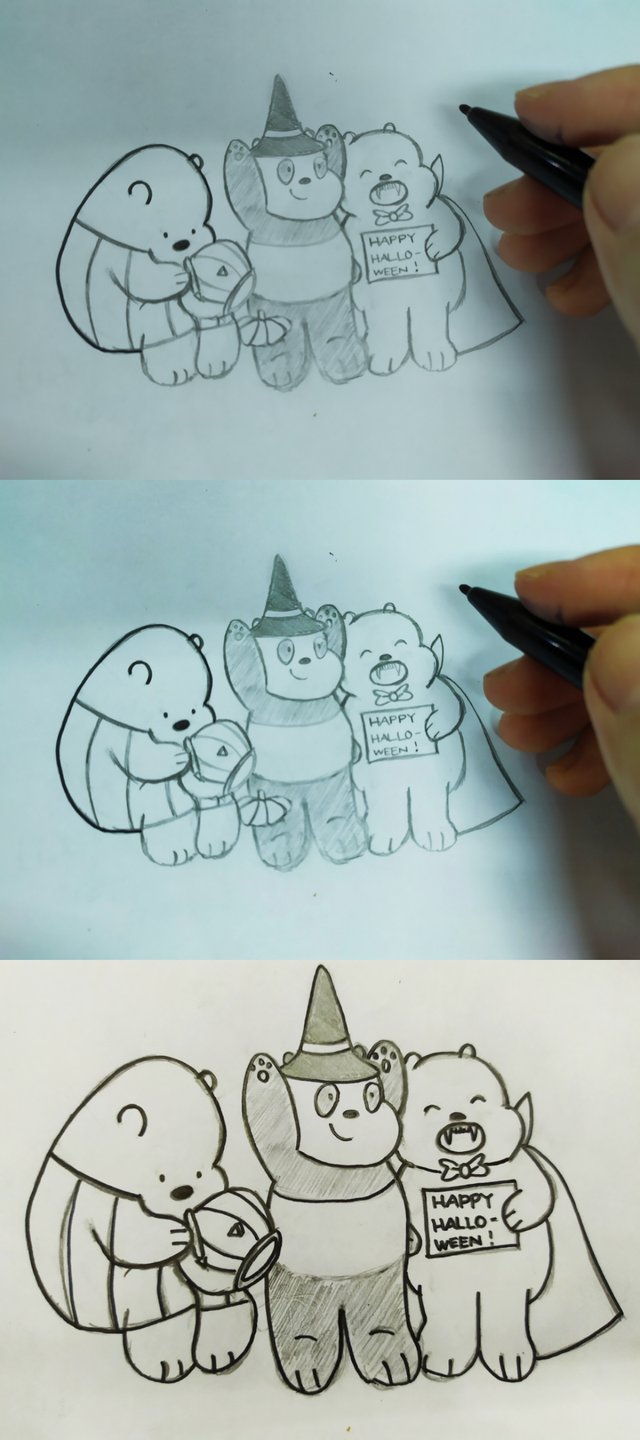 Then it is finished. You could also try this easiest to draw we bare bears in halloween edition.
Happy drawing!
---
Posted from my blog with Steem中文社区 : http://cnstm.org/blog/2019/10/25/halloween-we-bare-bears-easy-draw-how-to/
---