Hello, friends and foodies!
Nothing can stop me to eat different delicious food, not even this chicken pox. Since my doctor said that this disease still allowed me to eat all kind of food. Now i had a new habit, everyday around 11 am i always scroll down my phone, to find the best food to choose for lunch. And then usually i choose, pay through the apps then the motorcycle driver will buy the food for me. I would like to share to you all some of my food experience here. Hope you all could enjoy the article.
First, on monday at dinner time, i ordered the food from Sederhana, a padangnese indonesian restaurant. I only had a picture of my own plate.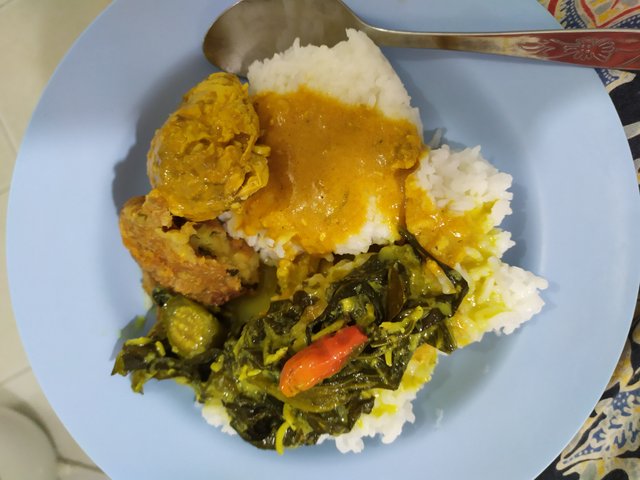 The food was my favorite gulai otak (cow's brain cooked in yummy orange coconut milk), perkedel with the delicious cassava vegetables (they cooked it with the coconut milk, teri medan - kind of delicious small salted fish) and also small green eggplant.
It was so yummy, all were savory and of course spicy, that's why i loved it!
Second, for yesterday's lunch, we ordered pork! I really craved for pork so i ordered the most delicious one in town, it was Nasi Campur Kenanga or if it's translated, it become BBQ Mixed Pork Kenanga. The nearest outlet with extraordinary taste from Ruko Permata Senayan-South Jakarta.
What we ordered was a pork noodle and nasi hainam campur babi (Mixed BBQ pork hainanese rice)

Both menu were extraordinary delicious.
The noodle was great, curly, chewy and soft. The pork on the top was soft and savory.
The nasi hainam campur babi was amazing. The chasiew soft and sweet, the crunchy pork tasted crunchy, savory and yummy, the satay was amazing. The siewmay was delicious and also kee kian tasted so good too. We put the sweet sauce to add some sweet fermented bean on it. It were all really delicious!
The price for the pork noodle was 32,000 IDR while the nasi campur was 60,000 IDR. So it was 92,000 IDR or around 6.57 USD exclude the delivery fee.
And today, on lunch time i ordered bakwan pabean. Bakwan means meatballs (without noodle and fried), pabean is a name of a street in Surabaya, East Java. For two portion of mixed meatballs, we paid 64,000 IDR or around 4.57 USD exclude the delivery fee.

A portion of the mixed meatballs consisted of a fried shewmai, a fried meat tofu, a fried meatball (may contained chicken and shrimp), a rough meatball and a soft meatball. Here how 2 portions looked like.

Here how they looked individually.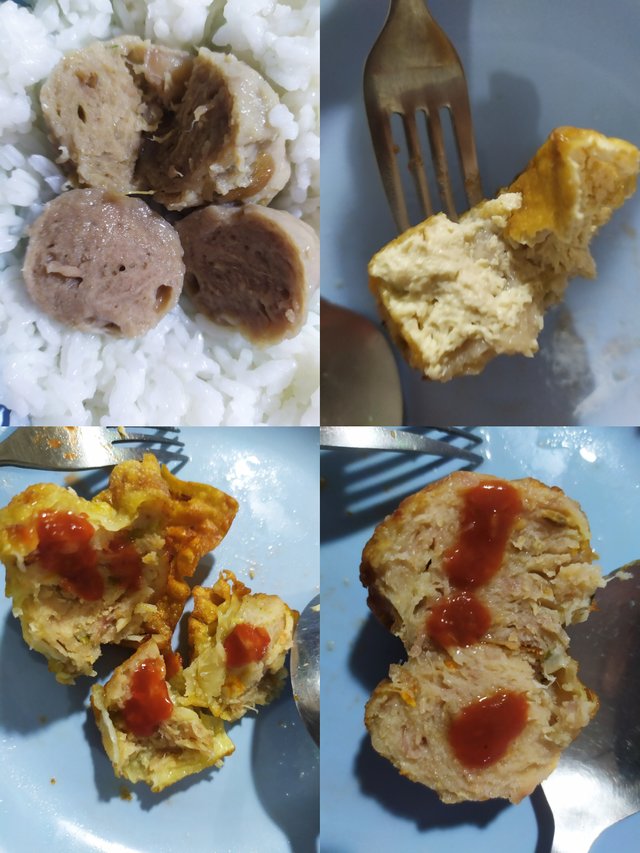 The meatballs were great, savory and yummy. The broth from the soup was so tasty. All the fried were also great, tasty and savory. And also the special sauce and spicy sauce, it was so great, sour, sweet and also spicy. I really recommend these meatballs, bakwan pabean.
And one thing for sure, all of these you could order only with your finger tip like me, then it would all be delivered to your door.
Have a nice day and let's try delicious food :)
---
Posted from my blog with Steem中文社区 : http://cnstm.org/blog/2019/11/13/my-food-diary-recently/
---