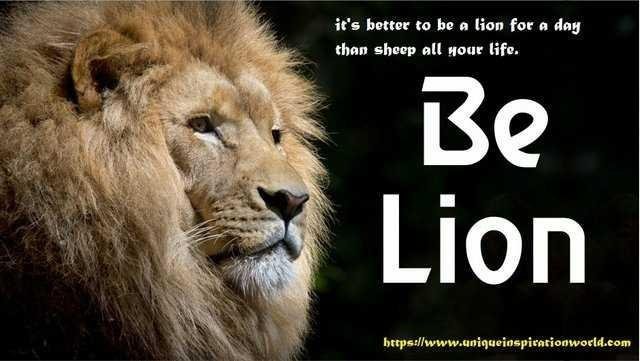 Would you like to become Sheep or Lion?
Absolutely lion !!
But have you ever thought that you are lion or sheep ???
Strangely enough, most people are Sheep only.
He is living, but roaming in front of life is not living on his principles or his own power, but living like a Sheep in front of life and his dreams.
They are living, but are not living on their principles or their power by roar in front of life, rather living like a Sheep in front of their life and dreams.
Lets we knows what it is like to live like a sheep and live like a lion.
For this we have to understand the theory of sheep and lion.
Sheep and Lion Theory
Let's talk about the first ship,
Life of Sheep
 
The life of Sheep walks on the gestures of Shepherd, where Shepherd moves, they walks there.
Sheep does not have any dreams, Sheep does not have any of its own floor, Just where he takes the Shepherd walks there. Where other sheep are going, along with they also walks there.
Sheep has no question that if he goes there then why should he go, tilt her head just looking at the other sheep, chase like a blindfold, and if he becomes unhappy with his circumstances, then more than bleat Takes it and starts living again in the same way.
Neither is there any dreams in the eyes, nor the passion of living life, one behind the other, is going away.
Now let's talk about a lion,
Lion's life
The lion has no boss, he himself is his boss.
The lion is alive like a warrior, as long as he alive, he live on its principles and live on its power.
No one can run it, because he is the king of forest and he is the owner of his own will. He does whatever, which is comes in his heart.
If the lion is disturbed by any of the circumstances, then he does not bleat but fights, most of the problems are run by listening to his roar.The lion follows his victim like a dream, fights for him and decides his destination himself, so that is the king's of forest and his heart. There is passion in the eyes of the lion, confidence in the roar and the life is encouraged to live on its principles.
Now let's see how we are connected to this theory.
Are we too lion?
Actually human is living like this theory, as if it is either a lion or sheep.
Some people are like sheep, so some people are like lions. But see if the sheep is more than the lion. The sheep are all those who do not listen to their hearts and just look at the people looking at them, or who are speaking they are doing the same thing.
The sheep are those who do not have any destination and have no dreams. And if there is a dream then there is no dare to run behind it.
Have left the dreams to die from inside. Has accepted the conditions, someone said that it is impossible to do so, therefore have given up.
Sheep is that which has fluttered with some failures and has left the effort.
Sheep is those people whose life is not in their control, which are not living according to their own vision, they are just doing what they do not like, but everyone is doing it, so that too are doing
The life of such people is simply running the dependence of Shepherd, not knowing why going on and some people are like a lion who just listens to their own heart, walks according to their own, no matter what they are doing or what they are thinking, they are just walking in their own fun like a storm. They come and break old records.
They have dreams, look for their destination and with full enthusiasm, like a lion chases their victim, these people follow their dreams and do not stop till they take it.
They are like lion, Narendra Modi, Sachin Tendulkar, Abdul Kalam, Virat Kohli, Dashrath Manjhi, Sandeep Maheshwari, Mary Kom etc. These are the person who is fighting for his dreams, These are the person who is living from his heart.
your life
So are you also dreaming?
Are you listening to your heart?
Are you also standing 50 times falling apart?
Are you moving ahead by ripening the circumstances?
Are you going to roam a fire in your heart?
Are you roaming instead of bleat?
If yes then you too are a lion!
So get up, do not run away from your dreams, do not run away like a lion, do not bleat at the rate of failure, but roar the announcement of your victory, it is easy!
Friends, This was Inspiring Story, we have full faith that this Inspiring Story must have had a new courage and passion within you.
If you have been inspired and impressed by our inspiring article of this Unique Inspiration World, then this little effort of ours has succeeded us very much.
Please share this article as much as possible and give it a lot of love, Love you All.
Thank you!
---
Posted from my blog with SteemPress : http://uniqueinspirationworld.com/be-lion-inspirational-story__trashed/
---