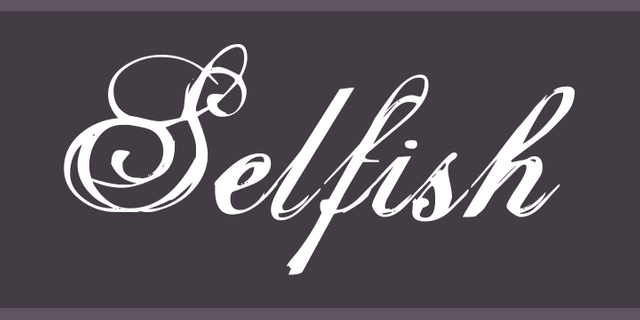 Be Selfish If You Want Success
Selfish, just listening to this word. What is the first thought come in your mind?

In our mind comes in the picture of a person, who often cheats others for his benefit. But do you know that, if we make selfishness in a right way. Then we can achieve a lot in our life by without any losses or damage to anyone.
Hello friends, welcome to you all on Unique Inspiration World and today we will talk about a quality which is found in almost every successful person. If you are created this quality within you. Then, Believe it…you can avoid such a lot of unnecessary situations. Knowing which unknowingly makes you sad.
Today we will talk about selfishness, should it be within us? If should be, then what extent should be?

Often the person who cheats others for his benefits, we call them selfish. But do you know that most of the people around you are always stay in the wrong way to take advantage of your innocence. Rather I would say that the person who is always trying to be good is in the person. People use it very badly.
I know, this happened many times with you. So when I say to you, be selfish … then it does not mean that you deceive someone. Just try so much that you learn to say No every person of every work, which You do not have the necessary or beneficial.
Meaning you become m useful for people … but you do not allow anyone to use yourself. What happens often, in the wake of become good, we say yes to many such things. From whom our own losses, now this loss can be of our time and also our money. And it can also be of our happiness.
There are so many people around you always. Those who know that you will not deny them. Therefore, they often make many types of pressure on you. Now it happens in this condition that you can not say "No" to them. And what he has said is not your mind to do it. But doing so, you forget the purpose of your life.
But if you look at any successful person, you will see this thing clearly in his character. Those people are very clever about their things and their decisions. Those people never do their own losses to please somebody. So they have full time, focusing on themselves. Because of that they always keeps on moving forward.
So Friends, if you also want to that you stay away from unnecessary tension. So learn to say no to non-essential things and focus on yourself.
Today's question is also here, Do you pay attention to others more than yourself?
Please specify your answer in the comment box.
Thank You!
---
Posted from my blog with SteemPress : http://uniqueinspirationworld.com/be-selfish-if-you-want-success/
---