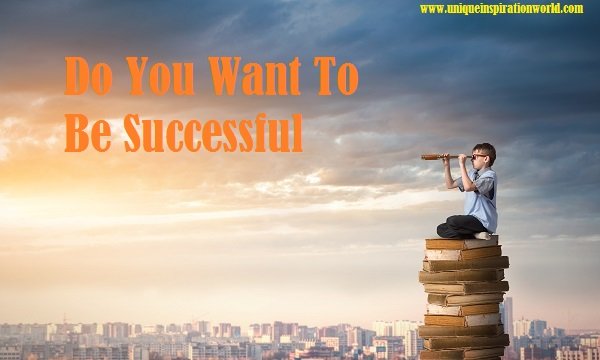 Do You Want To Be Successful In Your Life?
Hello Friends, If you want to become something in your life and if you want to do something new in your life and if you want to do something big in your life. Then you should understand your thinking that you can imagine about all of this.
The beginning of any thing is neither on the ground nor on the paper. It starts inside you - in your imagination. The big battle is won in the brain before the battlefield, big planning is made in the brain before the paper. The most beautiful building of this world or the largest bridge, Airplane, water-shipment, even clothes Sewn needle too..what is visible to you..they are all in someone's mind was born. Then he shaped it and looked at it with time, It all appeared in front of you.
So if you want to achieve something in life then learn to imagine. Your imagination must be clear. If you have a goal then how to reach that goal, the complete path of the whole must be in your mind.
After the imagination comes the second step, the intentions. Your intention determines how quickly you can achieved..the imagination that you have done. If your intention is strong then you can achieve it while working on your imagination.
Famous scientist Albert Einstein once said that Imagination is more powerful than knowledge, because knowledge is limited while there is no limit to imaging. When imaging and intensification meet together, the knowledge starts to open automatically. So friends, if you want something different in life and do something new, then use the Imagination and proceed with the intentions.
Thank You!
Dear Unique Inspiration World Reader's..How do you get this "Do You Want To Be Successful? - Inspirational Speech" If you like this Inspirational Speech….So do not forget to share this article with your friends and family.
---
Posted from my blog with SteemPress : http://www.uniqueinspirationworld.com/do-you-want-to-be-successful-inspirational-speech/
---