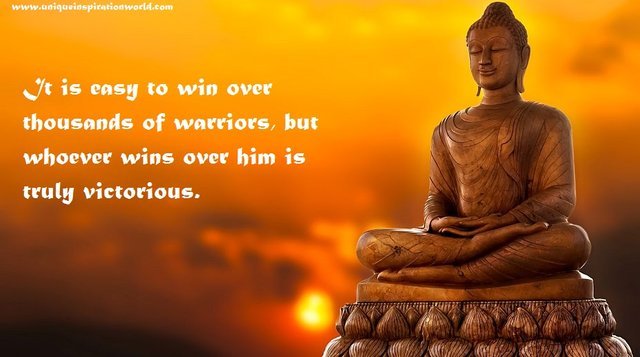 Gautam Buddha Quotes - Best Life Changing Thoughts
Better than thousands of hollow words, it's a word that brings peace.
Hate not with hatred ends with love, it is eternal truth.
What we think, they become.
You are those you have lived, you will be what you will be right now.
Just like a candle can not burn without fire, in the same way man can not live without a spiritual life.
While walking on the path of truth, only we can make two mistakes, do not decide the whole path and do not start it.
Health is the greatest gift, Satisfaction is the biggest wealth, Loyalty is the biggest connection.
Three things can not hide for long, sun, moon and truth
Do not depend on others to do their own work for their salvation.
Do not overgrown anything that you have and do not jealousy to others, who jealous of others does not find peace of mind.
There is nothing dander from the habit of doubt, it separates people from doubt, it is a poison that breaks friendship and breaks good relationships, it is a thorn that hurts, a sword that kills.
I never see what has been done, I always see what remains to be done.
Whether you read or speak as many holy words, what will they do for you as long as you do not use them?
Compared to a wild animal, it should be feared more than an evil friend, the animal can only harm your body, but a bad friend can harm intellect.
You will not be punished for your anger, you will be punished by your anger.
Whatever we are, what we thought till today is the result of this. If a person speaks or works with bad thinking, he is hurt only, if a person speaks or works with pure thoughts, happiness never leaves him with his shadow.
Man is pure or sage, not from birth but from karma.
Do not focus on the past, do not even dream of future, focus your mind on the present moment.
Keeping anger is like holding a hot coal with the determination of throwing it on someone else, you only burn in it.
It is a matter of luck to meet life, death is a matter of time, but after death it is a matter of good deeds to live in the hearts of people.
It is easy to win over thousands of warriors, but whoever wins over him is truly victorious.
All the wrong actions come from the mind itself, if the mind changes, then what can be wrong?
Thousands of lamps can be lit by reducing their light without the same lamps, so sharing happiness also does not reduce the happiness but it grows even more.
Thank you!
---
Posted from my blog with SteemPress : http://www.uniqueinspirationworld.com/gautam-buddha-quotes/
---