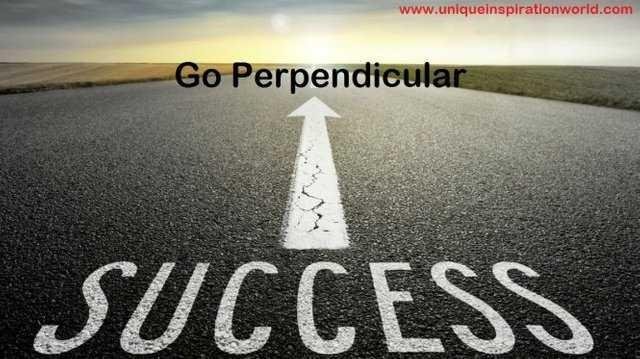 Go Perpendicular - Inspirational Story
Perpendicular i.e. Straightening Usually we first hear these words in the Maths class … but today we are using this word in the class of life.
To do some GREAT in life, go perpendicular … like Christopher Columbus for the first time … when he discovered America. At that time any sailor was afraid to go into the infinite sea … and just as much a step forward, from where he could see the ground …. After that he walked parallel to the ground … but Columbus showed courage and he took his ship parallel not perpendicular …. And made history.
Have you ever been perpendicular in your life?
Have you ever broken your security circle?
Have you ever been able to show the courage to move towards "unknown"?
If you have also gone perpendicular … If you have also risked life, then you know that you have done well … whatever its Result has been … and if you have not gone, then understand this thing that the world changes itself, who dare … who show the courage to walk away from the safe track … and these people actually realise their full potential.
If Columbus does not show the courage to leave the border … if the Right Brothers do not dare to fly in the air … if Dhirubhai Ambani does not leave the petrol pump job … If Shahrukh Khan does not wander on the streets of Mumbai by leaving the rest of Delhi … If Mary Com does not leaves household-work and wear boxing gloves … So does their life change … so can they give this world what they have given?
Can not give it!
That is why if there are some appeals in life, If you feel that this is the thing that I should do then do not stop yourself .... Go perpendicular.
What will be more than that? Will you fail? But if you did not do that then You will not fail, you are failed!
Understand one thing, twenty years from now you do not have to do things … there will be more regret to leave things.
Therefore, take the precautions to take … Keep the food for the day, keep it on the boat … but do not hold your ground. Show courage … go perpendicular! (Inspirational Story)
Thank You
---
Posted from my blog with SteemPress : http://uniqueinspirationworld.com/go-perpendicular-inspirational-story/
---