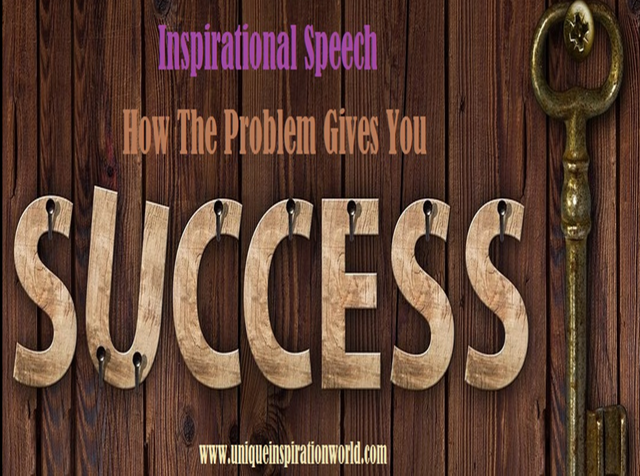 How The Problem Gives You Success - Inspirational Speech
Hello Friends, when problems arises we begin to run the brain and when we start to run the brain then we get new paths. When we get new paths then we get new opportunities too and when we get new opportunities then we have meet to success and get experience and find new ways to live life. Adventure comes in our lives and a newness comes and this newness brings us new happiness and they reason for our smiles is made...Best Inspirational Speech
It is important to have Problems in life because it is realised after you win on the problem. When a small stream of water starts to fall on a mountain, many rocks are standing in front of them and by colliding with those rocks, by making their way through them, as the stream increases towards the plains, a huge and pure form of the river begins to form.
By falling from the mountain, climbing rocks, the water of that river becomes so pure and clean that forms the source of the lives of millions of people. There you have seen many ponds around you, those who do not have any flow in the water, they are standing in the same place and are slowly getting dirty. After some time his water is not worth for drinking because the water is standing, it does not flow, in this way our life is also.
When we start moving forward, on the way we have to collide with many rocks in the form of troubles, and here continuation of moving and moving forward gives our life a direction. It works to make him great, motivates people, gives us an identity in society. If we also get stuck similar to the water of that pond then our life will become meaningless.
It is very important to have problems for Devoid's purpose in life. When you stop something from moving forward, then your mind is ready to break the bond and move forward and try to make any effort to move forward or to break this barrier. Here it is your purpose and when you achieve this purpose so it is called success.
Thank you!
Dear Unique Inspiration World Reader's..How do you get this "How The Problem Gives You Success - Inspirational Speech"? If you like this Inspirational Speech….So do not forget to share this article with your friends and family.

---
Posted from my blog with SteemPress : http://www.uniqueinspirationworld.com/how-the-problem-gives-you-success-inspirational-speech/
---