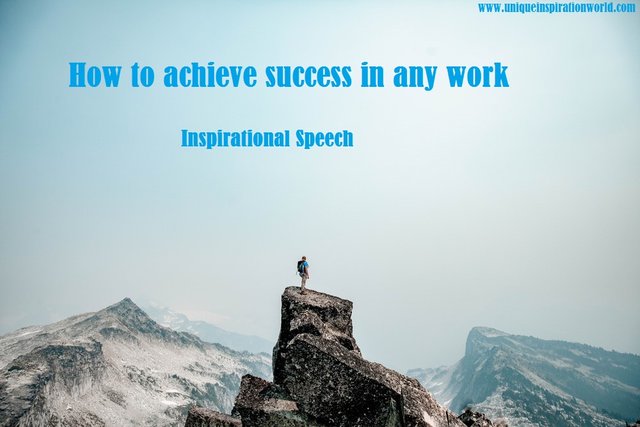 We work very hard in our life and work hard for whole life, but still we do not get success or we are not happy with the success we get. Why is it so ?
From childhood to till today we were taught that if you do any work, do it with full dedication but no one has told us that whenever you do any work, do it with full heart with complete happiness. If your work does not make you happy then he can not give you success and if you get a little success from him then you will not be happy.
We often work hard because we want to succeed in some work, and when we can not get success we are disappointed, we are disturbed that we have worked so hard, even then we did not feel anything. But the work that gives us happiness, in which we do not fear success or failure - in doing that work, we do not realise how hard we are doing. Because we are getting happy from inside, we are enjoying that work and if we get a little bit of success in such a work then we jumped happily then we start doing that work with more enthusiasm . When we reach the summit of success we do not know.
So friends, do those things that will make you happy, because when you are happy, you will also give happiness to the people around you. A Donkey also work very hard but he does not get any pleasure in working. He works very hard due to the fear of the boss's stick. You are human, why are you working hard like a donkey? Do the work that will make you happy and when you find happiness in your work but you will not even know how hard you are doing in that work. Others will talk about you work very hard but you will not even realise your hard work.
Hopefully what I want to explain, you must have understood, in the comment box, what work do you find most happy and what are you doing?
Thank you!
Dear Unique Inspiration World Reader's..How do you get this "How to achieve success in any work - Inspirational Speech" If you like this Inspirational Story....So do not forget to share this article with your friends and family.
---
Posted from my blog with SteemPress : http://www.uniqueinspirationworld.com/how-to-achieve-success-in-any-work/
---