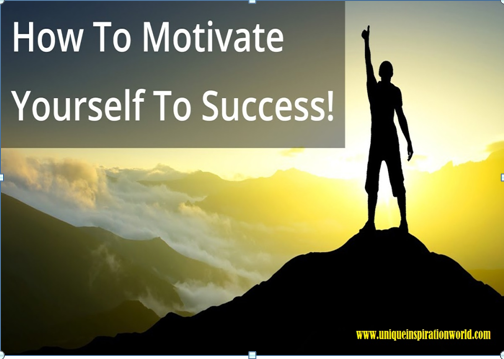 There were two friends, one was always worried and the other was always happy. Both started life at one point and both of them got very much improvement in their life. But as time went on, more and more problems began to grow in one's life while the other's life became more pleasant. Both bought the pleasures of the world but one used to dissolve in the tension of buying those pleasures and the other used to say thanks to God and enjoy their pleasures. For one his wealth was reason due to tension, while the other was happy and the second had become worth it that could help others.
There are two ways to motivate yourself - either you always remind yourself that I do not have this so i need this...I do not have those thing so I also want it, I will not be able to survive so i need more . You always keep pushing yourself for even more and more, after getting one thing keep on working hard for the second one and then in this way you will be successful in achieving so much in your life, which is a dream for you.
But there is a problem in this way - No doubt you will get a lot in your life maybe you become very rich too, you have a lot of money, good status and everything but you still succeed Will not be called. Because this more and more of your habits will never let you sit in peace.
Now come on the other side, look around you, this earth, sky, water, air, tree-plants, creatures, your body etc. everything is perfect and so many perfect things are for you. There is no shortage of them, if any of them were missed then your life would have become something else.
You have a family & good friends to share your Feelings. All this is a perfect combination for your life, yet you ignore them and just keep complaining. You need to change your thinking or you should always try that in your life. I can become a better human being in both financial and social ways so I can enjoy all the things that I have got in the gift by god. I work hard or wholeheartedly in my life and can enjoy every small moment of my life.
Learn to be happy with the inside Do not let that blissful person die in the hope of achieving more and more. Tell yourself that I want to achieve more because I want to enjoy all these things more. If you want to taste success in a true way then "Learn to live life - do not push".
Thank You!
Dear Unique Inspiration World Reader's..How do you get this "How To Motivate Yourself - Inspirational Speech" If you like this Inspirational Speech….So do not forget to share this article with your friends and family.
---
Posted from my blog with SteemPress : http://www.uniqueinspirationworld.com/how-to-motivate-yourself-inspirational-speech/
---