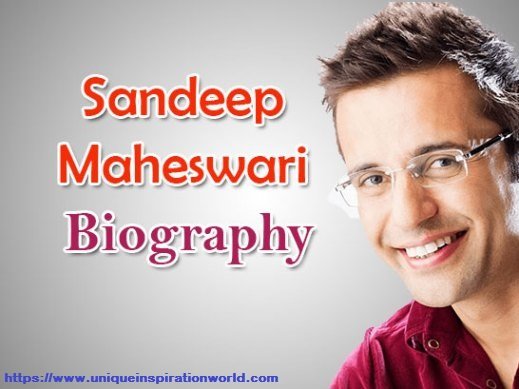 Sandeep Maheshwari Wiki|Biography
"If you are looking for a person who will change your life, then look in the mirror." - Sandeep Maheshwari
Today, here we are writing Sandeep Maheshwari Wiki|Biography. We hope this article will bring a great positive change in your life so you will be very impressed and motivated by this article. I have a request to all of you that you read this article very carefully and if possible, read 2-3 times.
Sandeep Maheshwari is one of India's best entrepreneurs today. They are CEO and founder of Images Bazaar website, in which there are more than 1 million Indian pictures. This company has more than 7000 buyers in 45 countries.
Sandeep Maheshwari company earns crores annually. Sandeep Maheshwari is not so famous because of his image Bazaar company. Everyone loves him in the world cause of their inspirational seminars and motivational speeches.
The main thing is that, he do all these seminars absolutely free and their sole purpose is to make changes the people's life with their inspirational speeches. Sandeep faced many difficulties, but never he did not give up and went ahead and finally he got success. They get their experience from failures, they play a role for thousands of people today as a guide to success.
"By the way you will see this world, this world will see you in that way." - Sandeep Maheshwari
Sandeep's family used to do Aluminum Business, which suddenly got stalled and all financial responsibilities of the family came to Sandeep, when was just 19 years old. At that time, Sandeep was doing B.Com at Kirorimal College, Delhi University. Sandeep tried his best to remove his family from financial crisis like an ideal Indian son.
He worked in a multi-level marketing company and also tried to produce household items and somehow tried to handle his family. In these days, Sandeep realise that the more important than the education, the real significance of life is to know. They immediately dropout from the college to got involved in achieving their real interest with enthusiasm.
"Do your favorite work and success will follow you" - Terri Guillemets
Sandeep's interest was in modeling and photography. At the age of 19, he started his modeling career. Seeing the exploitation of models in the world of modeling, they had a great impact and he was determined to help the struggling models. So he opened a company called Mash Audio Visuals which made the portfolio of models. From this company, he found a failure. But Sandeep did not give up and started another company in 2002 together with his three friends, but he also failed and stopped in just 6 months. From the Failure Experience, Sandeep wrote a book to help the society but he could not even succeed.
Do not leave the field, do not wait … just keep going - Sandeep Maheshwari
The mistakes are the evidence that you are trying - Sandeep Maheshwari
After such failures, everyone give up, but Sandeep's courage was high. They did not give up and worked diligently. In 2003, he took 122 models of 10 thousand shots and made a World Record in just 10 hours and 45 minutes. This gave him a lot of popularity but his attention did not get distracted and he went ahead. These days he got the idea of ​​making his website, which has pictures of Indian Models and Photographers. In the year 2006, he launched his website ImagesBazaar. In the beginning there were just a few pictures and were few photographer, but today this website has the largest Indian picture on the web and every year these companies earn crores. Sandeep does not have the temptation of money, he says - "The importance of money is the same, as much as one car is needed petrol, neither more nor less."
If you have more than you need, then share it with those who need it most - Sandeep Maheshwari
After achieving immense success, Sandeep did not stop and he started his mission to encourage youth with his life experience. Today they give motivational seminars and Giving inspiration to millions of people to make their dreams come true. Sandeep shares video of his seminars through his YouTube channel with everyone on the Internet. Surprisingly, they do all seminars for free and do not take any money from anyone. Their sole purpose is to do good to the people.
Sandeep often says everything is easy and encourages people's morale. Sandeep has got many awards for his successful business and inspirational seminar and he has received great popularity and respect throughout the world.
Hopefully you will get Inspiration from Sandeep Maheshwari's life and you will also make your dreams come true. His life teaches us that no matter how difficulties should come, we should never give up and must be persistent in realising our dreams.
Thank you!
---
Posted from my blog with SteemPress : http://www.uniqueinspirationworld.com/sandeep-maheshwari-wiki-biography/
---