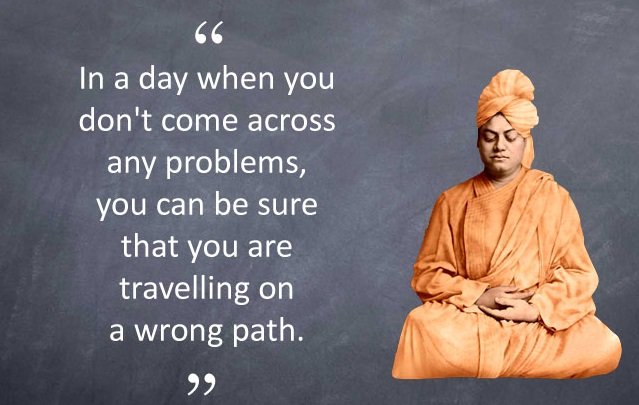 Swami Vivekananda Quotes
Swami Vivekananda Quotes
When Swami Vivekananda heard this name, all the Indians proudly became sewn wide. This name is a great idol, the most popular and the greatest ideal of the youth, Swami Vivekananda.
Swami Vivekananda is India's largest spiritual teacher, we can not make the greatness of Swami Vivekananda in some words, but some of his priceless thoughts are presenting here that will surely be useful in your life.
We are confident that you will like this Swami Vivekananda Quotes and you will get inspiration from these quotas.
Swami Vivekananda Quotes
Quote 1: Be Humble, Be Courageous, Be Powerful.
Quote 2: Get up, wake up and do not wait until the goal is achieved.
Quote 3: In a word, it is ideal that, you are divine.
Quote 4: The world is a gymnasium, where we come to strengthen ourselves.
Quote 5: Concentration of the mind is the only overall knowledge.
Quote 6: All the powers are within you, you can do anything else.
Quote 7: Purity, Perseverance and Enterprises I want all three qualities together.
 Quote 8: Do one thing at a time, and when doing so, put your whole soul in it and forget everything else.
Quote 9: People praise or condemn you, Lakshmi (money) is condescending to you or not, your body is alive today or in an era, you are never corrupt from the path of justice.
Quote 10: Before every good thing is made fun of, then there is resistance and then it is accepted.
Quote 11: Creating a good character, thousands of times happen only after stumbling mines.
Quote 12: It is not necessary to have more relationships in life, but it is necessary to have life in those relationships.
Quote 14: Make a goal of your life, abandon bad thoughts, and think about that idea only, you will find that success has kissed your steps.
Quote 15: Take a thought, make that idea your life, think about it, dream him, live that idea, let your brain, muscles, nerves, body parts drown in that idea, and all others Keep the idea aside, this is the way to be successful.
Quote 16: Dare to be free, as far as your thoughts go, dare to go there, and dare to bring them into their life.
Quote 17: He is an atheist who does not believe in himself.
Quote 18: Until you believe in yourself you can not believe in God.
Quote 19: Until millions of people are hungry and ignorant, I consider each person a traitor who was educated on their strength and now he does not pay any attention to it.
Quote 20: Today our country needs like iron muscles and Thunderbolt of Nerves, we have been crying for a long time, no more need to cry anymore, now stand up on your feet and be human.
Quote 21: If money helps in doing good to others then it has some value, otherwise it is just a heap of evil and the better it gets rid of as soon as possible.
Quote 22: My belief is in the younger generation, my workers will come out of the modern generation and they will solve the whole problem like lions.
Quote 23: Do not ever think that something is impossible for the soul, to think that is the greatest religion, if there is a sin, then this is the same thing, say that you are weak or others are weak.
Quote 24: On some days, when you do not encounter any problems then you can be sure that you are walking on the wrong path.
Quote 25: What's worse than losing everything? Losing the hope on which we can get everything back.
Quote 26: Modern physics has reached the same conclusions as to which Indian Vedas have reached the ages earlier.
Quote 27: All the powers of the universe are ours, we are those who keep their hands on their eyes and then cry, how much darkness is there.
Quote 28: Until you live, learn till - Experience is the best teacher in the world.
Quote 29: Despite many shortcomings in self, if I can love myself then how can I hate them because of some shortcomings in others.
Quote 30: Man's age is limited and all things of the world are going to be eradicated, but he is alive, who lives for others, the rest are worse than the dead body.
Quote 31: Do not be afraid of anything you do wonders, this is fearlessness, which brings ultimate bliss in the moment.
Quote 32: Be a hero, and always say, I have no fear.
Quote 33: All obstacles are overcome by purity, patience and effort; there is no doubt that great deeds are all gradually.
Quote 34: In the expansion of spiritual knowledge, mankind can be more supportive of all.
Quote 35: Continuing to think purely, there is only one solution to suppress evil rites.
Quote 36: There is only one way to know the extent of the possible, to going forward from impossible.
Quote 37: All works can be done only by Willpower.
Quote 38: At the same time, do the same thing at the same time that you pledge, otherwise the belief of the people gets over you.
Quote 39: Our purpose is to do good to the world, not to drum its name.
Quote 40: Most people in the world become failures because they do not have the courage to communicate at the time, they get scared.
Thank you!
---
Posted from my blog with SteemPress : http://www.uniqueinspirationworld.com/swami-vivekananda-quotesswami-vivekanandas-priceless-thought/
---