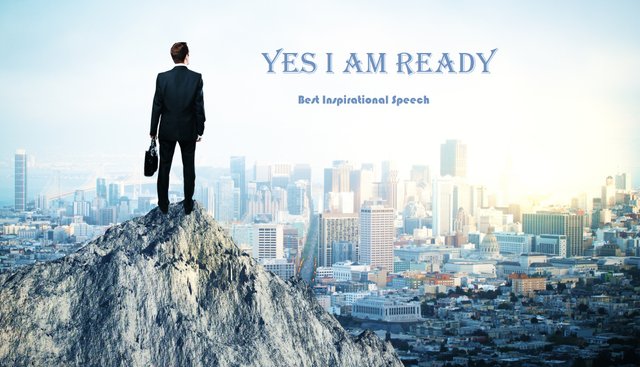 Yes I Am Ready - Best Inspirational And Motivational Speech
The path of success can be difficult and maybe you have to walk alone on this path.. maybe this path is too long. It may be that you have to endure many hardships here, but this is the point here. This path is not for everyone...not everybody dares to walk on it. One of 100 is there in which it is the passion that to achieve success and they leaving the care of the world ans it has to go out alone.
Those who follow each other like sheep never understand themselves. Neither do they themselves have a different identity nor do they ever look for this identity. Their identity is crowded and in the same crowd they lose one day. Neither does he recognise them separately....nor knows them separately.
They always need someone to tell their identity. To say it is in the crowd but in that crowd, they are absolutely single. But the person who stands alone to make his identity, he realises his real worth and his true strength. The crowd is not his identity, but the place where he stands begins to crowd.
Whether someone trusts you or not, you should have faith in yourself. You should believe that you do not need anyone to move forward. You should believe that the path you are running can fulfil your dreams.
Those who have guts inside, who have the courage inside them and who have their own identity of the world … the world loves such people. The world wants to follow such people, because the world sees its reflexion in them. People want to be like them, so make an identity of your own.
To walk alone - Fight alone - Practice alone struggling …. Always say one thing to yourself - I am ready to fight alone - I am ready to struggle alone - I am ready to achieve my identity alone I am ready to walk on the path of prosperity where thousands of people will follow me and succeed in their life. Show the way to the people …. Do not be a part of the crowd - be the hero of that crowd and do the work of taking this world in a right direction.
Thank You!

Dear Unique Inspiration World Reader's..How do you get this "Yes I Am Ready – Inspirational Speech" If you like this Inspirational Speech….So do not forget to share this article with your friends and family.
---
Posted from my blog with SteemPress : http://www.uniqueinspirationworld.com/yes-i-am-ready-best-inspirational-speech/
---