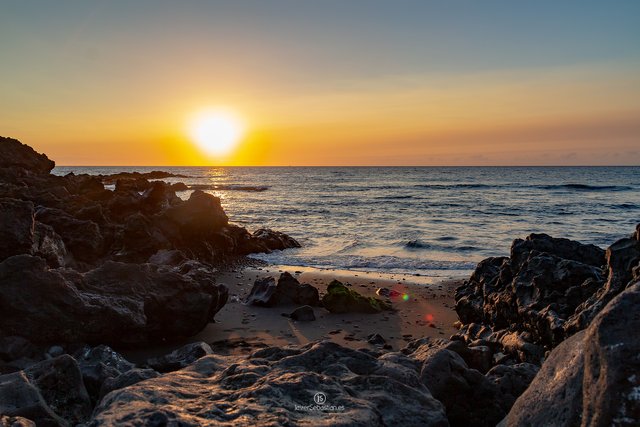 I remember last time I was to the south of La Palma island last year. At this moment couldn't find any freelance project on web design and I had to work hard as waiter 1 and a half moth: August and September. I could not enjoy summer like other times so when summertime job finished and I arrive at this lonely beach and saw this beautiful sunset, all my tiredness disappeared. Really I love black sand beaches, Volcanic rocks and intense blues of La Palma.
I hope I can share that feeling with this picture.
Hugs!
---
Recuerdo la última vez que estuve en el sur de la isla de La Palma el año pasado. En este momento no pude encontrar ningún proyecto independiente sobre diseño web y tuve que trabajar duro como camarero 1 mes y medio: agosto y septiembre. No pude disfrutar del verano como en otras ocasiones, así que cuando terminé el trabajo de verano y llegué a esta playa solitaria y vi esta hermosa puesta de sol, desapareció todo mi cansancio. Realmente me encantan las playas de arena negra, rocas volcánicas y los azules intensos de La Palma.
Espero poder compartir con vosotros ese sentimiento con esta foto.
¡Abrazos!
---


www.javiersebastian.es


Copyright: Javier Sebastian, Canary Islands. All my images are original.
If you want to buy any of my visuals, please drop me a message, I'm on Discord: JavierSebastian#5816

---
Facebook | Twitter | Instagram | Youtube | Presearch | Brave | Invite me a Coffee | Patreon
---
I use these services to earn token while surfing the web. These are my referral links.


I use this service to BUY CRYPTO with my CREDIT CARD. This is my referral link.