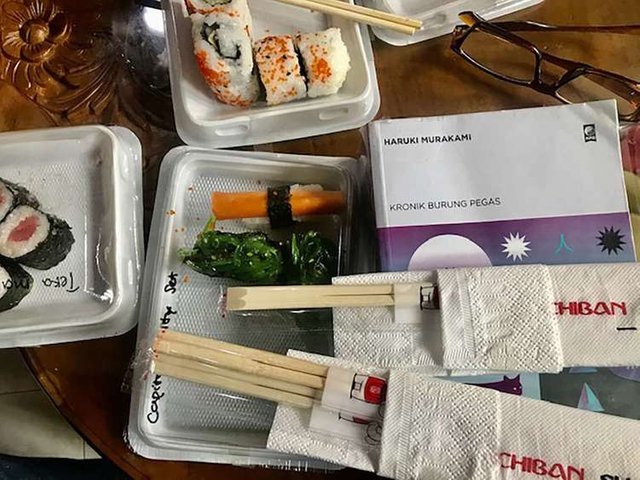 I never planned this before. When I joined the Borobudur Writer and Cultural Festival in Yogyakarta, at the end of November 2019, I read a novel by Haruki Murakami entitled The Wind-up Bird Chronicle. It's a long novel because it's almost 1,000 pages long. I thought that during the trip from Aceh to Yogyakarta I could read it to the end.
After the Borobudur Writer and Cultural Festival ended at the end of November 2019, I went to the house of a cousin in Yogyakarta. My cousin had lived in Japan for a long time because of working in one of the car production in Nagoya. He is half Japanese.
---
---
And I who had been a stringer of Asahi Shimbun, a mainstream Japanese newspaper, in the coverage of the conflict and tsunami disaster in Aceh, also admired Japanese culture, including its food.
So, I asked him to take me to a Japanese restaurant in Yogya. We planned to enjoy dinner at a Sushi Tei Japanese restaurant. I really want to enjoy various types of sushi because it has not been a taste of Japanese food for a long time. My favorite is nigiri which contains salmon (can also contain tuna, squid, or octopus). But I like salmon because it's hard to get fish in Aceh.
I also like the nori maki which contains salmon. Japanese rice which is soft and wrapped with seaweed gives a tongue-tasting taste, especially when covered with a piece of green washabi. It feels to shake all the nerves to the head.
It doesn't matter to me that the salmon is served raw, undercooked, or cooked. My tongue and stomach are resistant to various types of problems as far as halal food. I have enjoyed sashimi in the United States, not in Japan.
---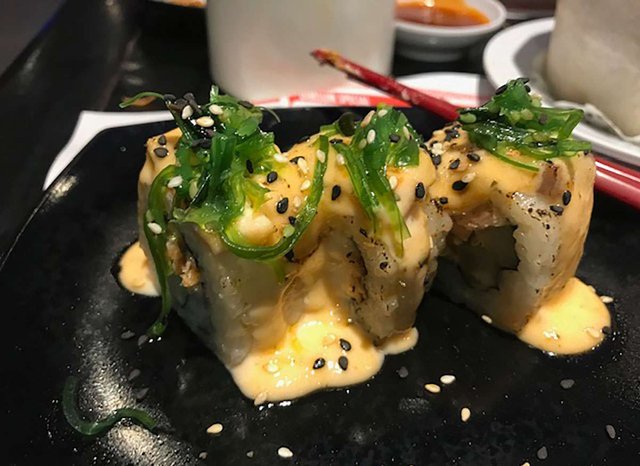 ---
However, we canceled Sushi Tei that night because my cousin's son fell asleep early and no one took care of him. Finally, he ordered various types of sushi and I tasted them all while reading the book "The Wind-up Bird Chronicles".
This is what I mean without prior planning; enjoying Japanese cuisine while reading a novel written by a Japanese writer who is one of my favorite writers.
I eat a lot, even though I usually eat a little with a tight intensity. Besides having not eaten for a long time, eating while reading the novel The Wind-up Bird Chronicles can make you unconscious even though you have eaten three plates of sushi.
Beginning in 2020, when I visited the restaurant Nelayan at Plaza Medan Fair, I also ordered sushi containing salmon and other grass. Sushi in Nelayan in my opinion has been through the adjustment of taste with Indonesian tongue. This can be seen as strengths or weaknesses, depending on which perspective we judge.
At the restaurant Nelayan which is an Indonesian franchise, sushi is not specifically ordered, but is carried by the waiter from table to table. Who is interested, please take it. While some other types of cuisine must be ordered in advance. This can also be an advantage as well as a weakness.
For those who rarely enjoy sushi but like it like me,
there should be a combination of ordered sushi with sushi that can be delivered by the waiter.
Maybe there are visitors who want to enjoy sushi with a very specific taste, or there are parts that want to be added and reduced according to taste. That can't be found at Nelayan who has made sushi without a visitor's order and takes it from table to table. []
---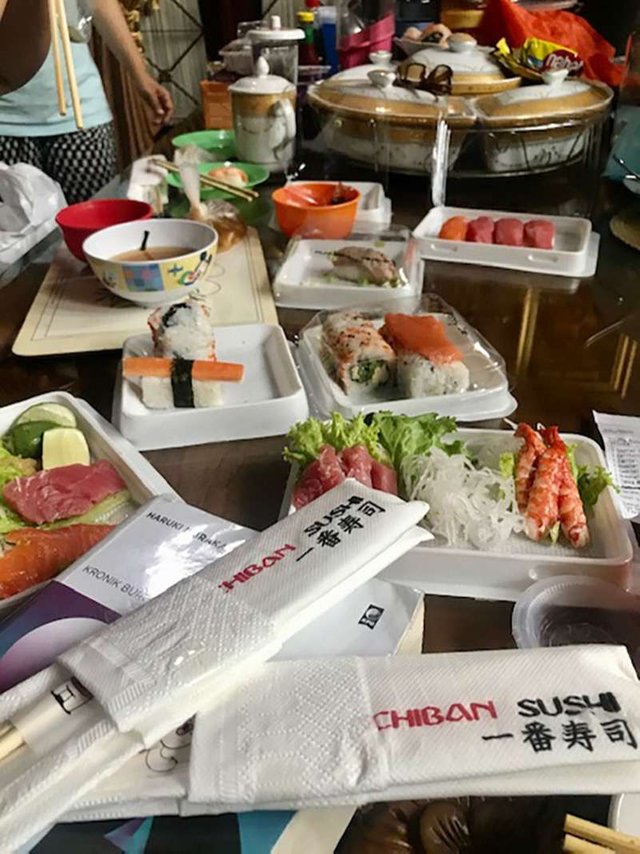 ---
Restaurant Information

Nelayan Restaurant



Jl. Gatot Subroto No.229, Sekip, Kec. Medan Petisah, Kota Medan, Sumatera Utara 20112, Indonesia
---
Sushi and The Wind-up Bird Chronicle |
This post participated in the Tasteem contest Made in Japan