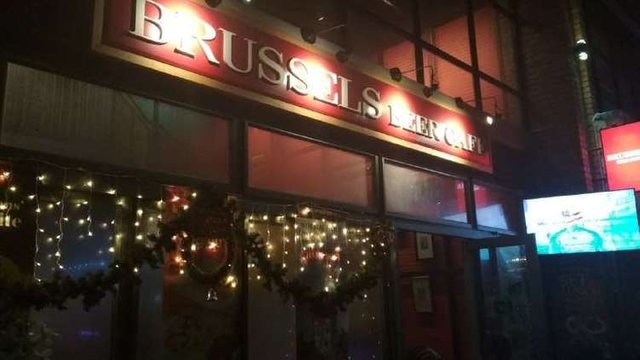 I've been seeing this kind of restaurant popping up around Kuala Lumpur since some 10 years ago. I remember the first I saw was in Menara Hup Seng, and I only have an idea of why would they name a pub as a cafe. So I have an opportunity to meet up with my friends, and they decided we should have our dinner at the Brussels Beer Cafe. Well, as you know the beer is at bargain price, nobody is giving a damn on how the food taste like, I was the one who enjoying them and clean up the plates all by myself. Decided to come visit again and this time without beer!
Menu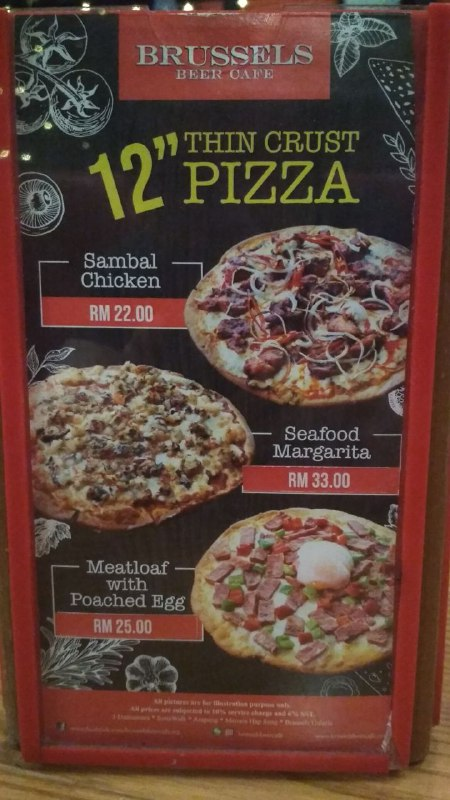 The last time we're here, we tried the seafood margarita, it was nice. This time, we decided to go for Meatloaf with Poached Egg. Pizza menu is not available in the flip menu, this is probably a temporary promotion.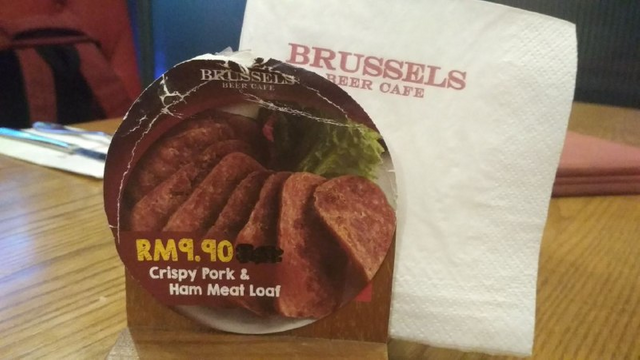 Who doesn't like luncheon meat should not order this, but I strongly recommend you try it, may change your perception towards this meatloaf!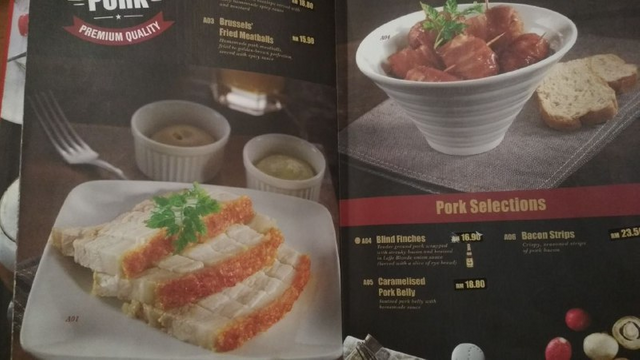 Roast pork belly is always my favorite. However, I'm a Chinese guy, by nature I tend to favor more towards the heavy herbs marinated Chinese roast pork. I'm alright with German roast pork, but I'm going to pass this time.
Food presentation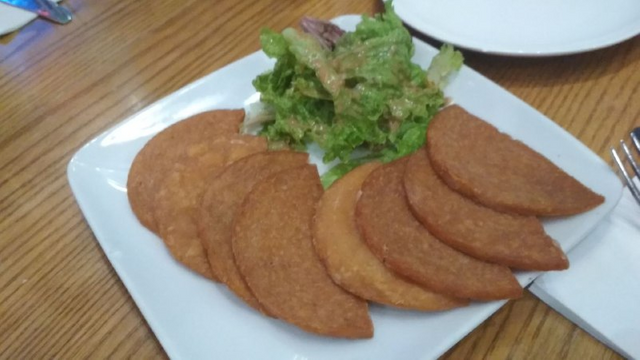 My apologize today all photos are like crap because my phone is seriously weak in catching low lights photo. The meatloaf are properly prep, baked and served with a dash of salad. Meatloaf quality is quite high. You'll be worrying if the meatloaf start falling apart and taste a lot more powdery then meaty, this is the exact opposite of bad. I know, nothing compares to fresh wholefood, but if we had to deal with canned food, I believe this is the best case scenario!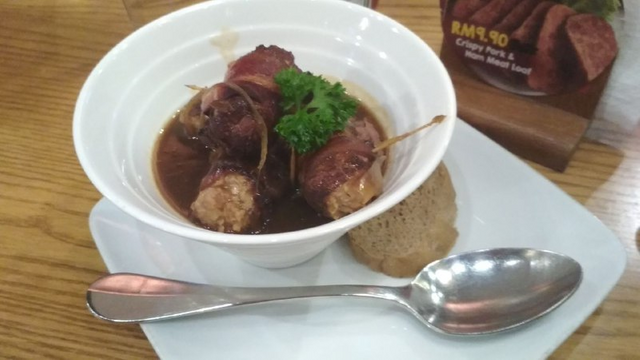 My "blind finches" is well simmered as well! The broth has been cooked for hours I believe? It has the strong, savory smell and taste of the pork bacon and the minced meat thats being wrapped in the bacon. It came with a slice of bread, one can only ask for more bread so it could go together with the broth!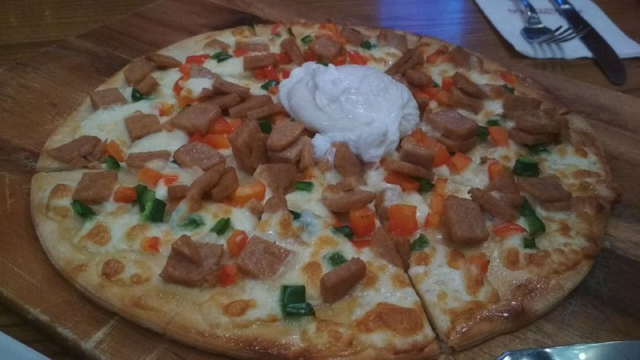 Once again, a pizza with meatloaf on top?! Trust me, not many opportunity can you have meatloaf on a pizza at commercials, considering majority of the restaurants are Halal compliance locally, if you're going to pay a bomb for a pizza, you better be finding something that is rare and unique, or else please stick with Pizza Hut or Domino's. The crust is super crunchy and tasty.
Overall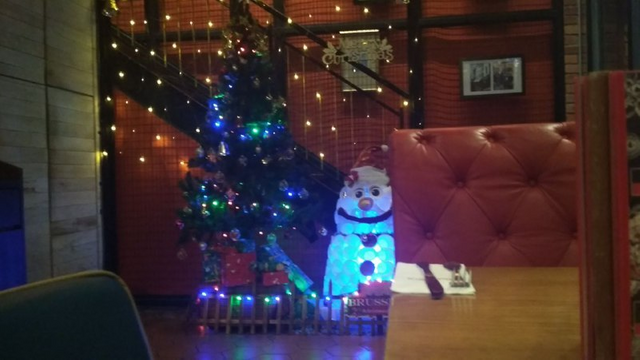 In December, in a country that has only 1 season, and that season has to be summer, Christmas this kind of festive season will only be seen as Public Holiday. However, in this kind of restaurant, atleast we get to feel the festive season a little bit, added with the super cooling air condition, be advise to bring along your jacket, even if not atleast a piece of scarf, especially talking about Malaysians.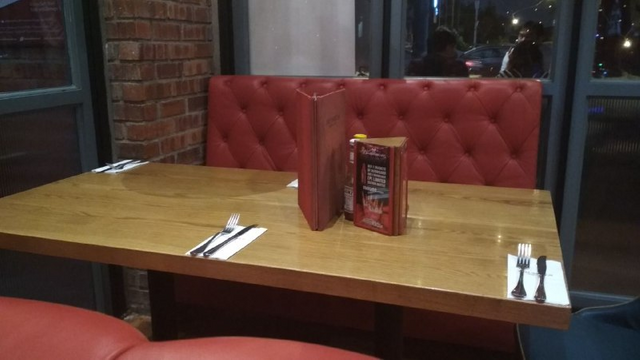 Seats are on a larger scale, probably that's how German people are. Wait, @redpalestino @louis88 @travelwithus are all bigger size than me. So, yeah I guess it's just because we regular Asians are way too small size for a "Standard" seats and table. In door seats are limited, but there are enough outdoor seats. I don't know why people still prefer to sit outside, one of the major factor for people to consider sit out is cigarettes, but since smoking ban applied this year, the next big thing that happen outdoor is sweat. I'm not going to sit out anytime soon, until I find the next best reason to do so.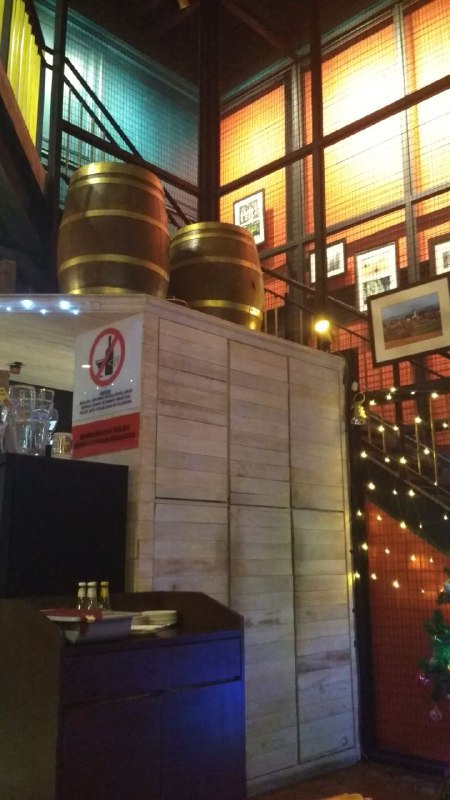 Fortunately, there's an upper floor in the restaurant. I did not go up to visit, but guess its will be similarly nice and comfortable.
Extras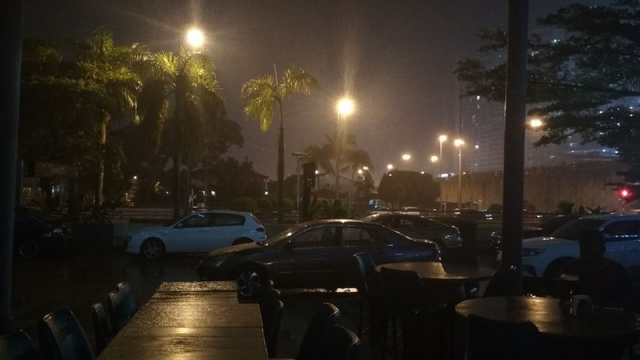 Just before I leave the place, it start to pour rain and the view is stunning. Best part is, note that in the picture, on the right side, somebody still sitting in the rain and enjoying his beer. Hehe.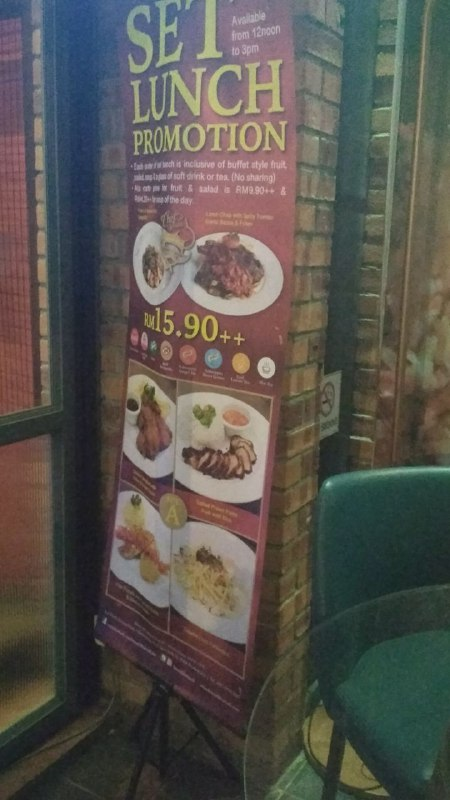 And noticed they have set lunch promotion. I did not pay attention to the terms and condition, but I guess 15.9 is seriously affordable, considering this kind of restaurant layout.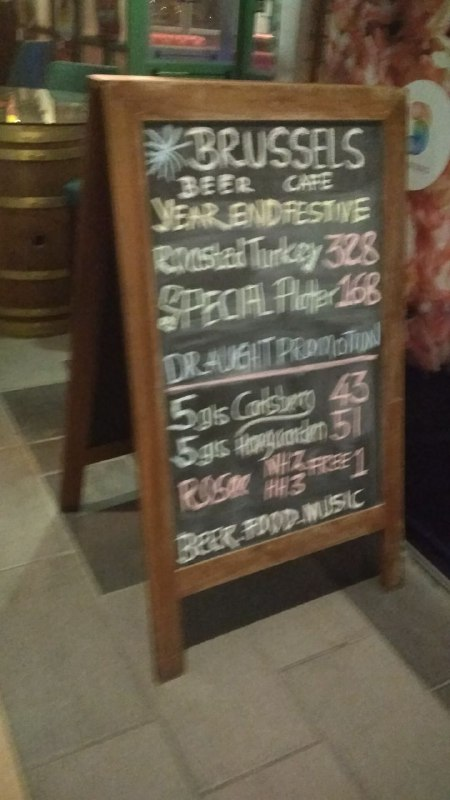 Apologize on the shaky cam, I got a shocked seeing 5 glass of Carlsberg for 43. Don't compare the prize with the ones in your country, but it is consider cheap in my country.
---
Restaurant Information

Brussels Beer Cafe



Jalan SS20/27, Damansara Intan, 47400 Petaling Jaya, Selangor, Malaysia
---
The Malaysian' Brussels
This post participated in the Tasteem contest Your weekly choice