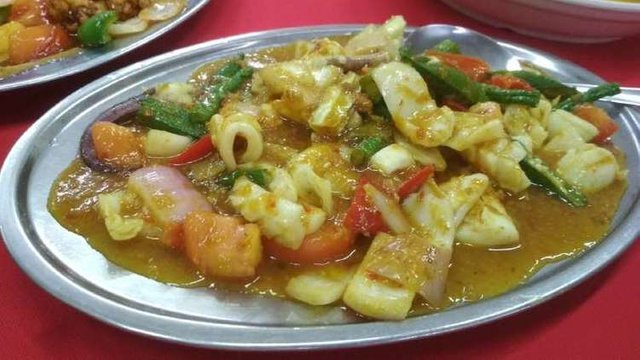 Wait! Isn't this cheap and fabulous or seafood restaurant category?! I know this is not seafood restaurant category, but I'm putting this down for cheap and fabulous simply because we had a blast yesterday, for the whole family with a bargain dinner.

First of all, this restaurant used to be from another owner, within 3 years time, they change business owner again due to low business revenue and miss management. Now, the latest owner seems know what they're doing. Instead of having contained in a glass door restaurant, they smashed the glass door, cut down electricity for air conditioning, at the same time customer could eat at ease. Keep the cost low!

This is a pumpkin broth tofu. It's a proper seafood restaurant, and yes you can expect a full scale seafood restaurant arrangement on their food. Tofu has been deep fried, crunchy from the outside, soft from the inside. Absolutely marvelous.

Comes the big kids favorite, shrimp omelet. Chinese omelet is slightly different than hotel kitchen. Chinese version is require a very hot pan with boiling oil. Once the egg mixture being pour in, it will be immediately dancing on the boiling oil. Just to besure the chef knows how to flip it without breaking it apart! The faster it cook, the softer from the inside. Slower it goes, this will become dark and the egg will start to absorb more oil and make it taste less nice.

The sweet sour pork, as promised it's supposed to be properly arranged, just like any other seafood restaurant. Anyway, whilst I was turning around trying to grab a bowl for the kids, the next moment I saw, few pieces of the meat is gone. Againm like usual, this is the dish that required full attention, and need to warn and fight with the family member to NOT eat first before I take a photo of it. Anyway, so far no luck. All my photograph of Sweet Sour dish are incomplete. They always miss a few pieces. Sometimes before the plate even arrive to the table, some of the pieces already vanish.

And this is the marvelous part, assam sotong(squid). The lightly sourish sauce coupled with spicy chilis in the dish is the greatest combination with squid. If not because of young children, me and LazyMom could have two bowls of rice each of us, for this dish alone.
And all that, came the bill of RM89(including RM16.90 for a bottle of beer which the restaurant didn't cook). Which means, for RM72 that fed 5 adults and 2 children, is a marvelously affordable deal even in many third world country!
---
Restaurant Information

Ah Chai Seafood Restaurant



Jalan Angsana SD 2/2b, Bandar Sri Damansara, 52200 Kuala Lumpur, Selangor, Malaysia
---
Ah Chai Seafood Restaurant
This post participated in the Tasteem contest Cheap and Fabulous? Totally possible!