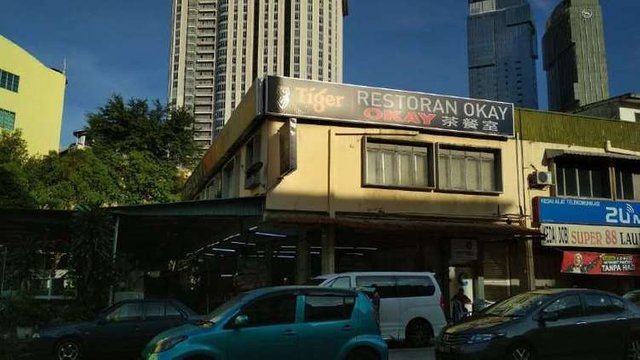 Frankly speaking, how often do Malaysian Chinese people goes to seafood restaurant for a meal? The answer is, not quite often. The correct answer is always looking for variety, smaller portion that suites may suit individual, affordable, simple and shortest prepare time. We don't call it fast food, but that's the food court concept we like it here. I'm taking this opportunity to introduce you Restoran Okay, near by my office area.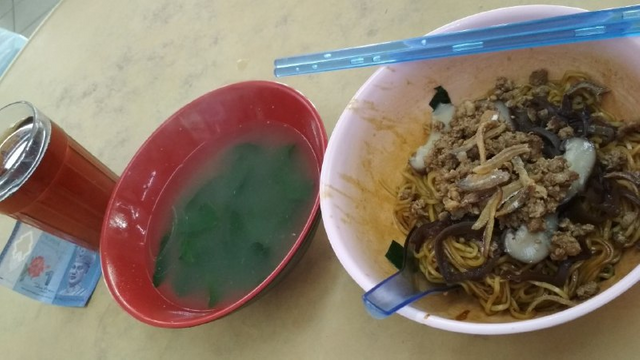 First of all, this is what we called Pan Mee, Chinese known as 板面. In direct translation, it means Plank Noodle. Why would someone relate a piece of wood with noodle? That's because, the local Chinese invented this type of noodle, it's the same as any Chinese Lamien(Ramen in Japanese term), but this thing uses a bmachine to split the dough and make up the noodle. I can go on and write about the history of this bowl, but I will save that for another time when I visit a shop that specialized in Pan Mee. It came with minced pork, dried fish, mushroom slices. You can order dried version or soup version of the Pan Mee. For my liking, I'd like to keep it dry, because the local weather is pretty darn warm, I will prefer to get in quick and come out quick. Don't worry if you'll miss the soup, despite you order a dried version, you're still entitle with a bowl of vegetable soup. For this noodle, be it soup or dried, it's only RM6(thats like less than $1.5), and the mind blowing taste, come over to my country and I will personally buy you a meal there!

This is the traditional Cantonese BBQ dish. We usually call it Siew Lap(烧腊). The dish I ordered here consist of Char Siew, Siew Yook, Siew Gai (叉烧,烧肉,烧鸡 - BBQ Pork, Roast pork, and Roasted Chicken). The dish looks extremely innocent on first glance, but lemme tell you each and every one of these meat are made of much prep work and hours of burning heat to produce. The soup looks absolutely nothing special, but you wouldn't know how many piece of chicken heart, liver, pig heads skull is used to boiled with this soup. OK seriously, if you can't take it, don't drink it. I'm sure the placebo effect itself can already make you sick, but if you're immune to this kind of descriptive comment, please go ahead. I finishes mine many times and I'm still alive. Once again, if I have to introduce this dish, it will take me another few pages before I can cover the whole story. Let's give you a closer look of the meat.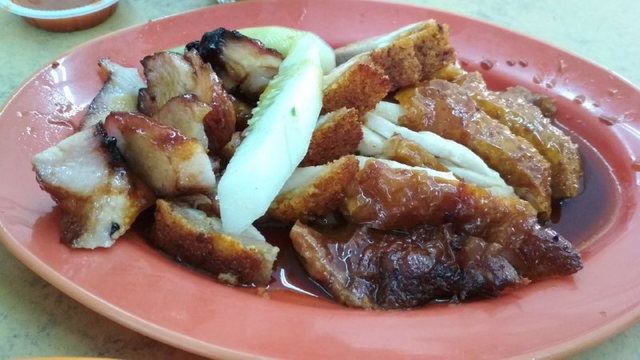 From the left is a stretch of BBQ pork we called it Char Siew. You can choose to have 3 different kind of "layout", lean meat which is the less popular, but does less damage to health. The semi fat tissue which is more popular because the fat will help to grease out the hardness of lean meat, which is less healthy. And the most adorable part of BBQ pork we called it GLASS. Wait a minute, nobody wants to eat GLASS?! Again, it's a form of description, to describe the whole piece of end product are made of wholely fat tissue and being BBQ to the extend where the fat has the stained glass effect, can almost see through. Those who really know how to make good Char Siew, their glass meat should melt inside our mouth. Once again, I can go on with more and more description on their roast pork and roasted chicken, but that's not my ultimate goal today. I'm just going to say, the roast pork skin is crunchy, and the roasted chicken is soft and has the taste of Chinese herbs. Absolutely mind blowing!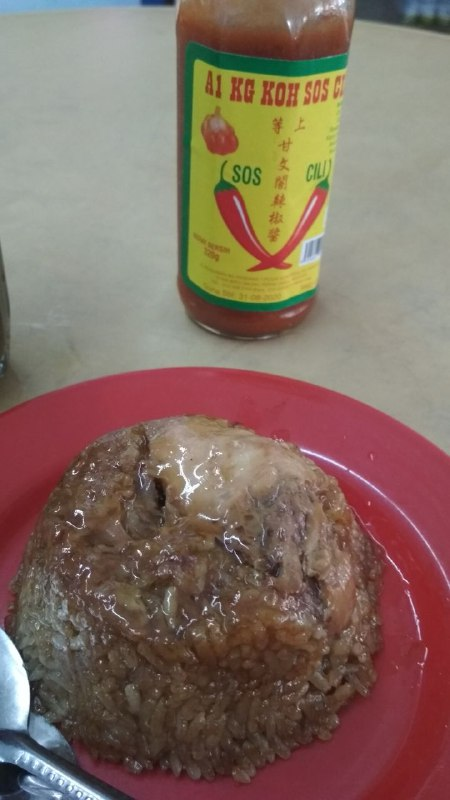 In this shop, they also have a small dim sum steamer. They have several type of buns with different fillings, I think they're alright. But what I find most intriguing is, their sticky rice. Now I know this shop they don't prepare this dish by themselves, but they refused to tell me who supplied them this sticky rice! I'd like to order some to keep in my house, so I can steam and eat at home. You can have a look at the surface of the rice, and immediately you can tell this is very soft and tasty. Take note behind the dish is a bottle of Chili sauce, we generally refer it as Kampung Koh. Koh is a sur name, Kampung is village. In Malaysia, there are certain villages which was a settlement of the entire family. And therefore, Kampung Koh is located some 250km North from Kuala Lumpur, about 3 hours drive. Why is a bottle of chili sauce called Kampung Koh? Apparently, people from the settlement started their own recipe of grinding garlics with red chili and made up of this chili sauce. After many decades, this recipe has been widely accepted by many people around the country, and therefore they don't even give it a name anymore and generally referring Kampung Koh as garlic chili blend. We will come back to this when I go visit Kampung Koh.
---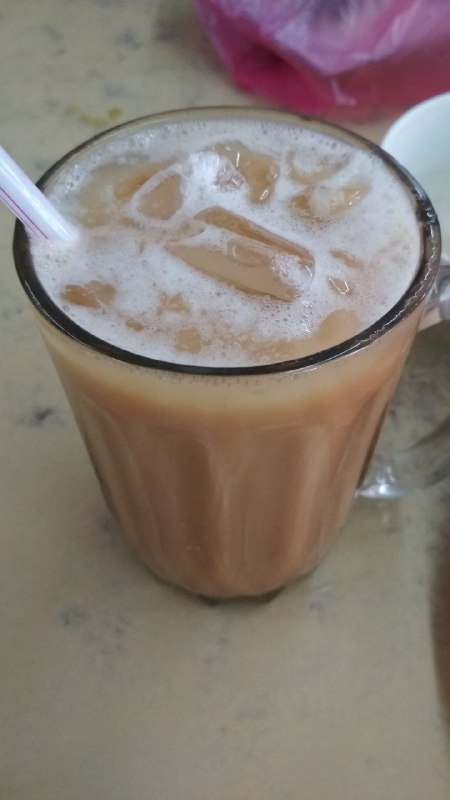 On the side note, I am going to try my luck to complete my entire restaurant review with the drinks. If you're going to judge me saying this is not a Chinese food, then what is? Tea is just tea, but the way we prepare it here is different than why people prepare in the west or European countries. We call this Teh C Bing. Teh in Hokkien refers to tea, C in general term from "C"ondensed milk, Bing is ice. Put them all together, we have Iced Condensed Milk Tea. What do you expect? It's a fast food restaurant that does not wanna be called fast food. It's already premixed, lightly sweetened, but the tea taste is at minimal. People doesn't admit they like the milky taste more than the tea itself.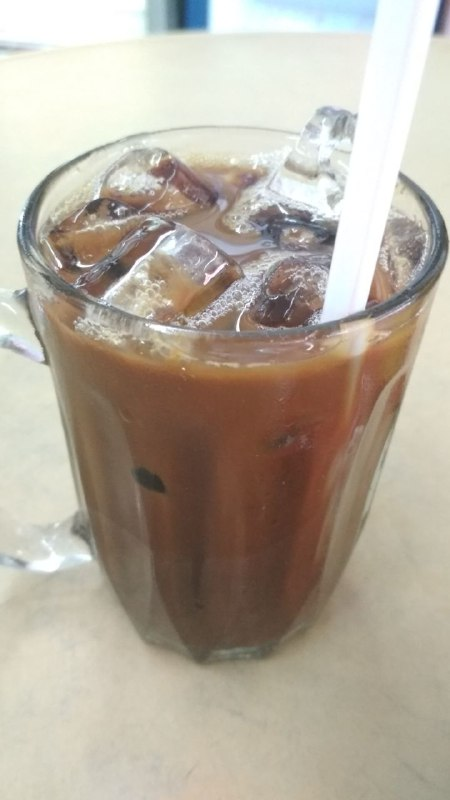 So as Coffee. The taste of this shop is extremely oldschool! I didn't get a chance to look at their coffee powder, but I bet those are the cheapest beans one can find! The coffee roaster are over heated, the beans are burnt from the outside, and still raw from the inside. I don't know for sure, but that's what my taste bud told me. We ordered this as Kopi C Bing. Once again, Kopi refers to Coffee, C refer to condensed milk, and Bing is ice. When put together, it means Ice Condensed Milk Coffee. Not for the faint hearted. The burnt smell is too great for some people if they drink this, they will have stomachache.
---
Restaurant Information

RESTORAN OKAY



2, Lorong 8/1e, Seksyen 8 Petaling Jaya, 46050 Petaling Jaya, Selangor, Malaysia
---
OKAY let's go Chinese Restaurant
This post participated in the Tasteem contest The Palatable Beauty of Chinese Cuisine