Hello, foodies!
Last night my mom and i considered to have dinner in Pacific Place Mall, South Jakarta. The mall famous for the luxury, so a bit difficult to find the dinner with affordable price. After we had seen that wendy's was really crowded then we decided to take a look to a lower floor, 4A floor. We found this restaurant finally.
How it looked from outside

You could see that it was crowded last night here.
The menu

They had some Indonesian mixed style food. I had mixed style cause it had the melayu and chinese style inside. We asked for the best seller menu then we ordered it.
The Food and Taste
Mine came first

This was their special " Green Fried Rice with Chicken Katsu"
I was really surprised! This was totally delicious. You must taste their non oily green fried rice, and the chicken there were great (although it weren't katsu at all, i mean katsu made from the chicken breats but these they made also from chicken thighs) so actually these were chicken without bones. It tasted savory and spicy, look at the green chilli they put on its' top. Spicy lover should try this! The chicken had soft inside, totally tasty and crunchy outside. The best i ever tasted!
We took a wefie there too!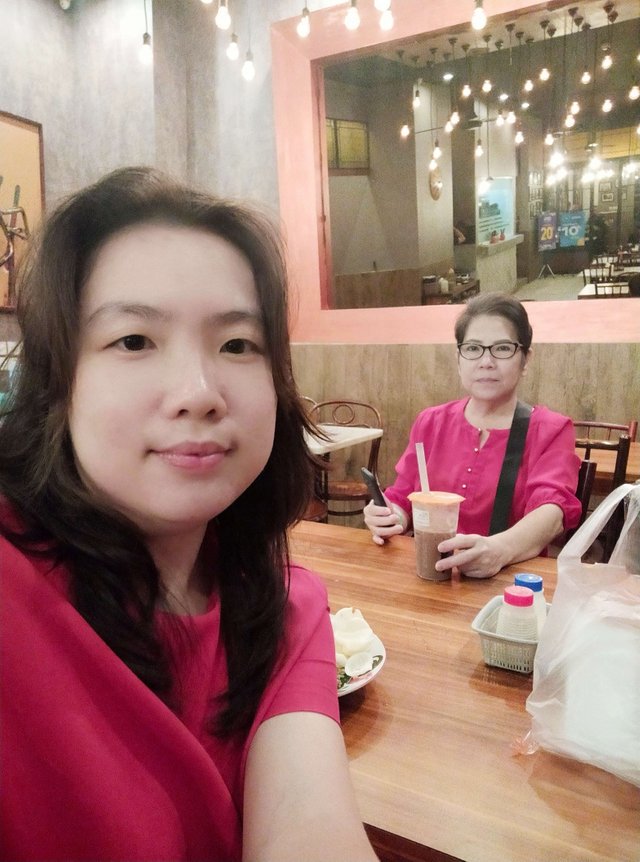 When i ate almost half of my fried rice, mom's menu delivered

This was "Chicken Capcay" (stirred vegetables) with chicken. The taste could you imagine? Exactly this was also delicious. It had a combination of the savory and sweet flavour. Also the chicken, shrimp and vegetables they put were fresh, tasty and delicious. It was really worth it to try and it was different with the ordinary capcay everywhere we eat.
All were served with fried krupuk (chips) and with the chicken plate and bowl, made the retro felt.
And i also want to share about the dining area

The dining area here was large with the smoking area and non smoking area. Outside the window door was the smoking area. You don't have to worry about your seat here, cause they had many chairs and tables.

The ambience here was totally cozy and comfy with the wooden furniture and the yellow light. They also had old bicyle decoration and old pictures, to get the retro ambience also.
The Price
For the food we paid 74,000 IDR or around 5.3 USD. It was affordable price.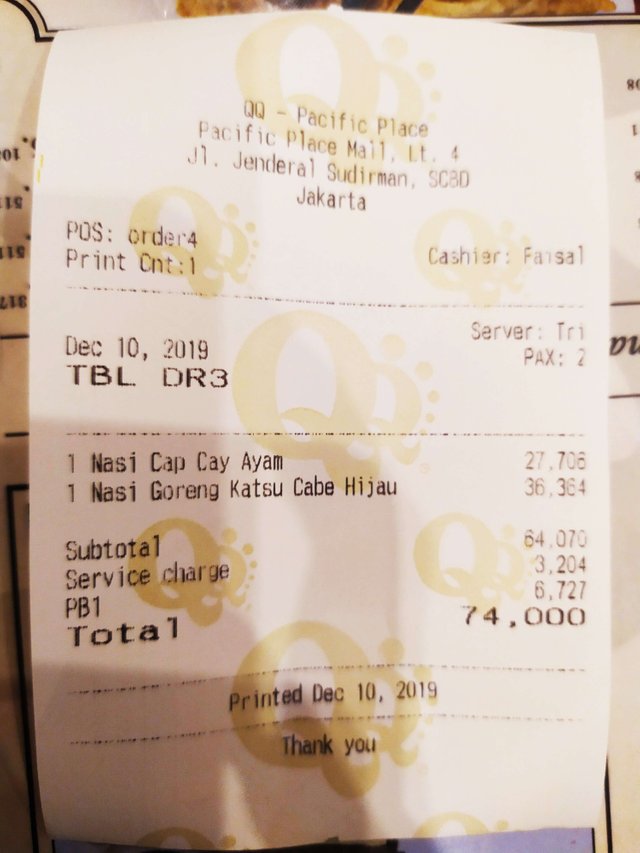 The Service
I almost forget to tell you that they also had many waitress and waiters that friendly, kind and fast response.
We absolutely love to eat here and will come again soon and also invite you to eat here to
QQ
4A floor Pacific Place Mall
SCBD, South Jakarta
open daily 10am-10pm
---
Restaurant Information
QQ



Jl. Jend. Sudirman No.Kav. 52-53, RT.5/RW.3, Senayan, Kec. Kby. Baru, Kota Jakarta Selatan, Daerah Khusus Ibukota Jakarta 12190, Indonesia
---
Tastiest Food in a Retro Restaurant, Jakarta-Indonesia
This post participated in the Tasteem contest The best restaurant of the year