Hello to all Steemians!
Time flies and we have been so tied up trying to keep every connection between non-profit entities and outreaches that we didn't have enough time to sit down and truly reflect what just happened.
For those who have been following our newsletter last year you would realise that our existing 6 foot freezer was broken and all the frozen bread from collaborating non-profit centers were spoiled and rotten.
We prayed and we remembered @adollaraday and @fundition were doing their best to help us accumulate some SBD and Steem too.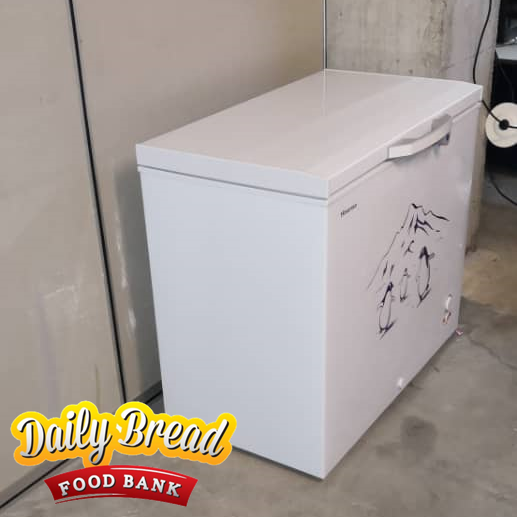 On April with the help of @omnivori and @sam.hsuu we were blessed for a period of time a 3 foot freezer in case of the enterprising model that can help single mothers to later start their own business; it didn't take off as smooth as we have thought but the chicken farm owner allowed us to steward the freezer for other meaningful use.
We continued to pray for another cooler as we realised that there are a lot more perishable frozen companies could do good with their CSR project.
Ask... and you shall receive!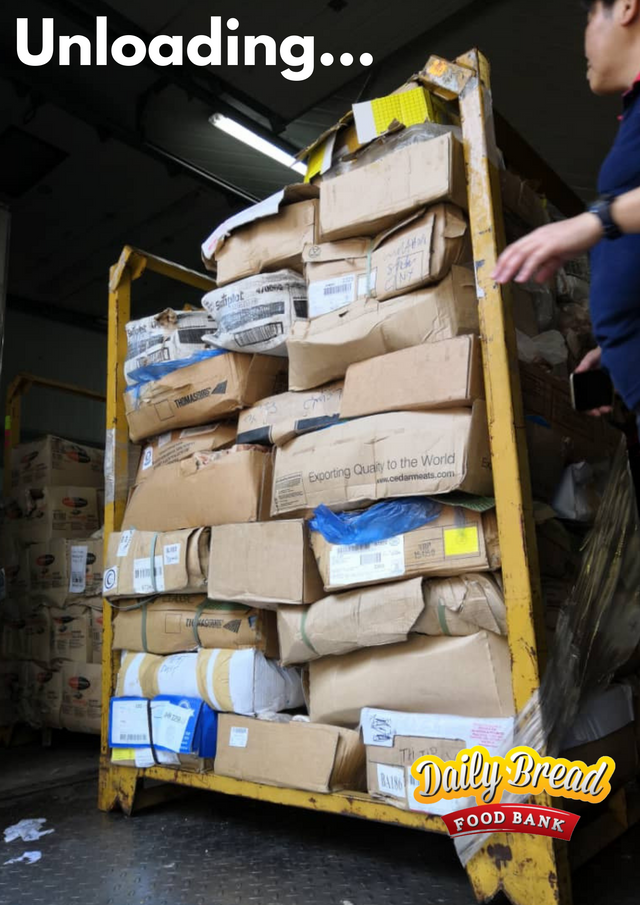 By the end of July, we had a phone call with a 3 ton meet coming to our storage facilities, and we had to scramble to contact every single orphanage, drug rehab and outreach that is in our list to come get the frozen meat ASAP as the little 3 feet freezer would not be able to contain all of them!
We know God's blessing is coming and we truly need to extend our tents
And we continued to pray for open doors...
If we can't get a proper freezer soon, we will need to make sure all our connections will stay in contact... but there's just so much frozen food and we didn't want to waste it. Even @littlenewthings came to help to sort out all the freeze burnt meat and cook it for the stray dogs and cats.
And then...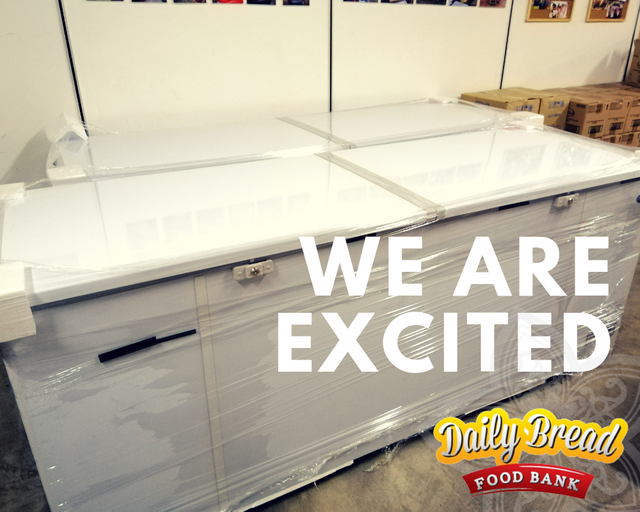 Just last week we received a phone call that a manufacturer heard that we needed a freezer, and they asked us what size we needed.
"a 6 feet freezer will do great for us!"
That was all we mentioned.
We were already grateful enough that someone contacted us...
And it came...
Not 1 freezer, but TWO!
We were not informed there were 2 freezers coming and by the time the shipment came, we were in both awestruck and a bit of panic because we didn't know where to place it.
After a few adjustments we managed to move the freezers into our storage facility.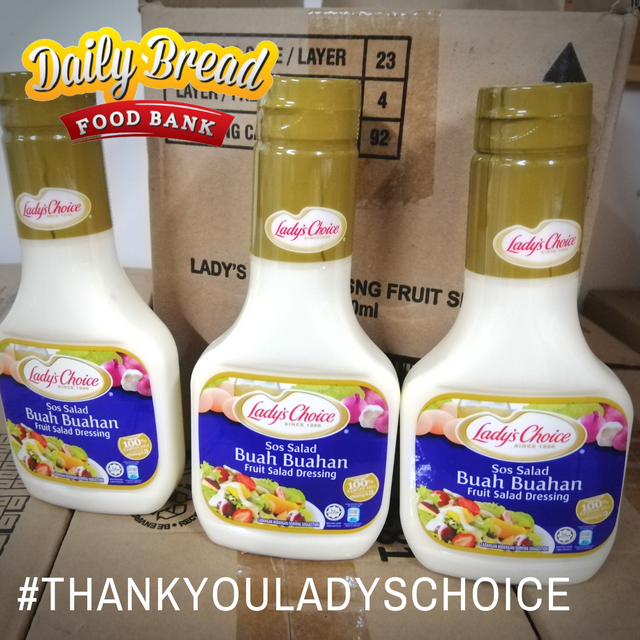 Lady's Choice confectioner contacted us that they have 3 months to go near expiring food salad dressing and would like to bless us instead of trying to sell it off half price / sending to the landfill when expired.
We were overwhelmed with joy with the call! The aboriginal families could be experience fruit salads for the very first time with their local fruits....
Only for them to know how those will taste...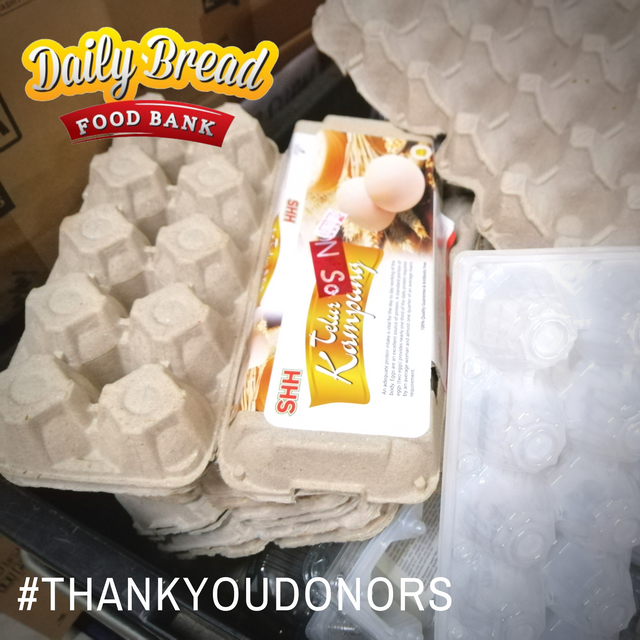 In the mean time, empty egg crates are still coming in and we are just so grateful that the public in Kuala Lumpur and Selangor region are more and more aware that they can do good with recycling. This is truly hitting 2 targets with one action for the public and we save a lot from purchasing separate crates for packing.
Now we will need to start to look at ordering stickers to indicate that these are used crates and not expired eggs
@littlenewthings is kind enough to source this out at the moment.
All and all this been such a fruitful second half of the year journey so far and we truly look forward to start planning ahead for the Chirstmas Luncheon soon, after @littlenewthings returns from Steemfest.
Feel free to inquire anything from her (if you see her at #steemfest) or just place your comment below and we can get back to you ASAP.
In the mean time....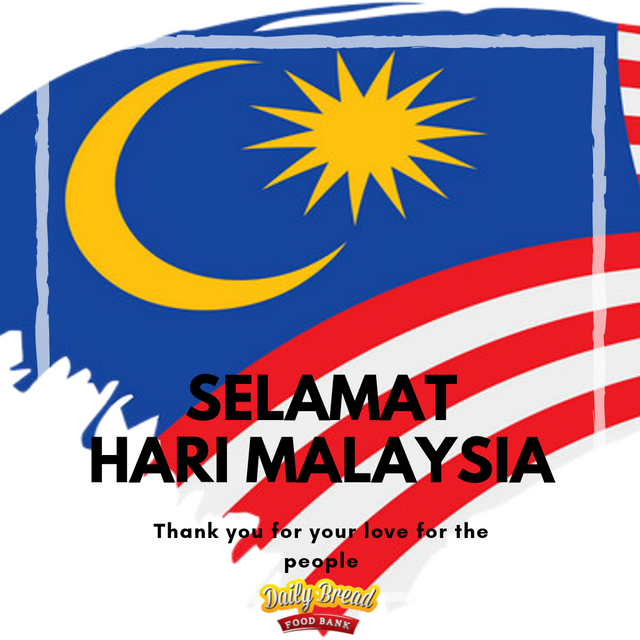 Happy Birthday Malaysia!
And thank you very much for your continuous support for the Daily Bread Food Bank
At closing we would like to share you something:
Recently we have been getting a lot of attacks from the real world where our stands, prints, trolleys and banners were sabotaged and thrown aside so that we our information were not properly presented. It was truly heartbreaking as in the same premise when the top management supported our cause but the staffs of the premise despise our efforts to keep the public informed.
But the scripture truly tells us when we are doing God's work in His will, He will always assure us that He has our back
Instead of your shame you will have a double portion, And instead of humiliation they will shout for joy over their portion Therefore they will possess a double portion in their land, Everlasting joy will be theirs.
Isaiah 61:7
We were truly blessed and comforted when we remembered this portion of scripture.
The vandalism actually happened before we received the freezers, and look what turned around.
And we truly hoped that whoever out there has been doing all out efforts to damage our reputation will repent and wake up from what evil things they are doing.
Angie Ng
Daily Bread Food Bank Director
disclosure: Daily Bread Food Bank one of the non-profit channel under the LCS (Life Community Service) ministry.
To know who we are, please do read through our introduction here in Steemit