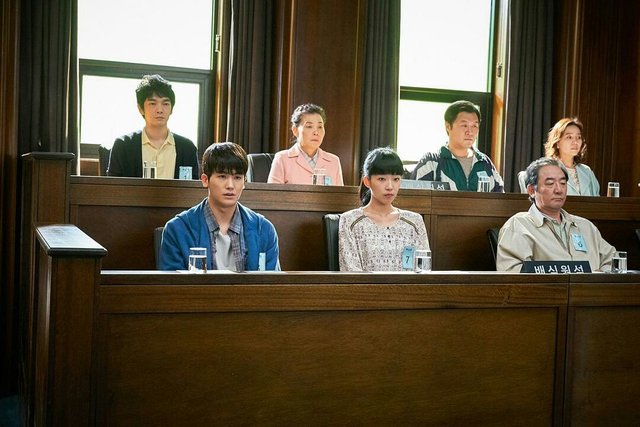 《陪审员们》 《배심원들》
本以为是一场精彩的讽刺现实题材电影,看到最后发现,更是一出感人至深的情感大戏。
Originally thought to be a wonderful satire of the real theme of the film, but after watching it found that it is a moving emotional drama.
影片既有传统审判体制与陪审员机制之间的矛盾冲突,同时在陪审员们探究分析事情真相的过程中,也融入了社会众生相,既有年龄代沟引起的价值观差异,也有权贵和市井之间的矛盾,这也是影片非常接地气的原因。
The film has the contradiction between the traditional trial system and the juror mechanism, while the juror explores and analyzes the truth of the matter, it also integrates the social aspects, including the difference in values caused by the age gap, as well as the contradiction between the right and the market, which is also the reason why the film is very grounded.
影片以陪审员分析案情为主线展开,很好的展现了新旧体制下的矛盾,也一如既往的幽默讽刺了官场下的各种形态,在现实中,如果被告认罪,那么任何调查都可能是敷衍的,都可能是流于形式的,甚至原告和被告辩护的台词都可以是现成的,拿来直接就用的,韩国现实题材电影是拍的最深刻最大胆的,没有之一。
Film jurors to analyze the case as the main line, show the good under the system of the old and new contradictions, also, as usual, humor has various forms, under officialdom in reality, if the defendant pleaded guilty, so any investigation is likely to be a perfunctory, is likely to be become a mere formality, the plaintiff and the defendant even lines can be ready, for direct use, South Korea is one of the most profound reality films is the most daring, no one.
回到案情本身,原本以为是一场"清官难断家务事",从一开始就可以断定的故事结局,最后却是一个大反转,看到连自己都没有意识到已经泣不成声。
Back to the case itself, originally thought to be a "clean officials difficult to break family affairs", from the beginning can be concluded that the story of the end, finally is a big reversal, even he did not realize that has been sobbing. Stop worrying about revealing too much.


---
※ The following part is needed to put filled in and added to your text, as otherwise it will not be included later on phase II on Triple A.
※ 리뷰 하단에 다음 두가지 항목 포함 필수 (미포함 시 차후 자체사이트에 반영 안됨)
Movie URL: (
https://www.dytt8.net
)
Critic: AAA
영화 URL: (
https://www.dytt8.net
)
별점: AAA
来自于 [WhereIn Android] (http://www.wherein.io)