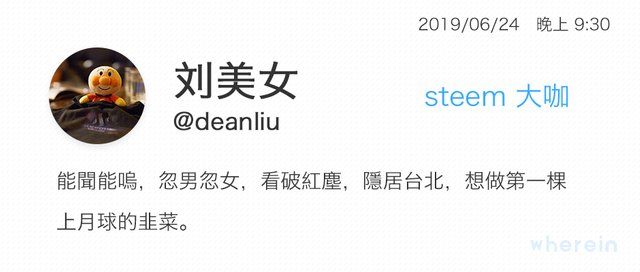 With the development of " Blockchain + Community" and "Blockchain + Games" , the CN community on steem is getting more and more active. At the same time, the recent Facebook Libra event has pushed the development of blockchain in China to the forefront . It seems to be a challenge for the CN community, more like an opportunity. It is vital for us to seize this opportunity to succeed.
Today we're going to talk with @deanliu to share Steem's stories. Deanliu's reputation of Steem has exceeded 72 levels 2 years ago, but few people know about him. Let's look forward to this sharing session !
---------Start---------
Iguazi123:
It's fortunate for me to invite Deanliu to participate in our Steem "10 Questions" today . As for Deanliu, what we know is that everyone calls Deanliu "Beauty liu" without knowing his sex . There were also many friends who recommend me to follow him.
Until I read his article, I found that his humorous and plain language contained his insights. As an observer, he has always had a unique insight!
Now let's start with the first question.
Q1: Deanliu ,please give us a brief introduction , including your hobbies, your location,etc.. Most importantly, it's best to send a selfie of you.
Deanliu:
Hello everyone! I'm Deanliu, a Taiwanese, living in Taipei.
In fact, I used to have a lot of interests, such as watching TV and traveling until I had a child. So I am married, and I have a wife and a son. Is there anyone still wondering if I am a man or a woman?
Iguazi123:
Q2: As early as 2 years ago, Deanliu's reputation has reached 72 levels.
Can you share some of the feelings when you first entered the
Blockchain and Steem community?
Deanliu:
In 2016, I heard a friend mention Bitcoin and Blockchain. I just felt unbelievable at the beginning. After I learned it seriously, it became out of control. There were too many stories in Steem actually. Fortunately, I had not encountered any problems, and I was even more fortunate to encounter the development of the CN community.
Iguazi123:
Q3:Deanliu always has a unique insight after entering the Steem community, can you give new users some advice ?
Deanliu:
Simply, the most important factor to improve reputation is the quantity of SP. Thanks to @abit,@oflyhigh and other old partners for supporting me to improve my reputation. Particularly, I am very moved that I saw a old friend leave me a contact just now.
iguazi123:
I think the charm of steem is that we can meet each other.
Deanliu:
Yes! Steem is truly the first global community in history. Honestly,the steem rules are different for different community stages . I'm not the most brilliant members in the community. Instead, the most remarkable one is the TEAM-CN itself.
Iguazi123:
Q4: Deanliu is always writing a series of articles about "Community Chat","D&TT",etc..
Can you still remember why you started to write these articles?
Deanliu:
I should have written more than 20 series of articles. I prefer to explore fresh series because it can help me keep a systematic record.
"D&TT" can record my son's growth in the future which is very practical!
Iguazi123:
Q5: I only have no more than one article a week when you write two articles a day. I really want to know your skills about it.
How do you think about Steem's current mechanism that inspires users to share and reflection?
Deanliu:
I thought it's really hard to write two articles a day, but I just want to insurance my income which is also the biggest motivation on steem. Besides, I have been using it to record my life which gives me some new motivation.
You can read more about the steem mechanism that I mentioned.
In my submission, Steem should focus on the platform which is developing new platform on steem and make them do the realization of the content social.
Iguazi123:
Yes! WhereIN will also launch a small program in the near future to make it easy for people who want to develop their own community to have a built-in community token.
Q6: Do you have any suggestions for the future development of WhereIn with your support all the time?
Deanliu:
I actually rarely use WhereIn except degeletd some SP because I rarely use my phone to post articles. But I will pay attention to some news of WhereIn. The token is very great.
Although I didn't start my own business, what I want to say is: do not associate incentive with the behavioral outcomes too much. For example, we can get rewards by praising ourselves, which can make the network ineffective.
Iguazi123:
Yes! It's hard to see direct incentives in small programs because we want the community to gather together for the same mission, vision, and values.Token is just used to measure an individual's contribution to the communities.
Q7: How do you think about the upcoming HF21?
Deanliu:
We just talked about this problem, and I think the problem HF21 is to solve is how to let the sub-community achieve it.
Iguazi123:
Q8:You have some related posts on Facebook's libra on Steem. Do you have some expectations for it?
Deanliu:
I just read some related news. Maybe I can answer this question after I understand more information.
Iguazi123:
Q9: You has posted an article on Steem about "the most critical basic understanding of the blockchain social platform". Can you talk about your expectations for "Blockchain + Community" in China?
And with the steem-engine and scot launched by aggroed, can you talk about opportunities and challenges that may be brought to the CN community?
Deanliu:
It's hard to say. Actually, if WhereIn can break through those restrictions, it will really make sense. Besides, this is the most friendly period of steem's development blackchain community for low-tech entrepreneurs. You can seize this opportunity if you want to do something on steem.
Iguazi123:
That's great!
Q10: It comes to the last question now. Do you want to say something to us or to your future?
Deanliu:
Thank you all for your support tonight. There is a life lessons of mine.
It's not right to not make money or just make money on Steem. The most important thing in life is not money, but family, hobbies and love. We all want to make money , but we should build on the premise of not losing more important things and never forget the most important things.
---------End---------
We always believe that the development of blockchains in China will experience a lot of ups and downs. But we will fight for it together!
WhereIN第三期"10问"活动:区块链+社群最友好的发展时期!
随着区块链+社区、区块链+游戏慢慢进入到大众视野,Steem中文社区也越来越热闹,同时最近的Facebook的Libra事件,使得将区块链在中国的发展推到了浪尖上,这好似对于steem中文社区是一个挑战,更像是一个契机,最主要的是要看能否抓住契机成就蓝海!
这次,我们继续携手大长腿刘美女@deanliu来跟大家一起探究Steem的故事。早在2年前deanliu的声望已经高达72+级,却没人知道他的真面目,这一次被称为大长腿杀人鲸的刘美女又会给我们带来哪些意想不到的惊喜与体验呢,一起期待吧!
---------Start---------
瓜子:
今天有幸请到@deanliu来到我们的Steem "10问" 活动,对于@deanliu,我们所知道的是,大家都称@deanliu为"刘美女""电流"。随着WhereIN的持续推进,身边好多朋友推荐我关注@deanliu。我只知道@deanliu是一个大咖,看了他的文章,发现诙谐有趣、平实的语言里蕴含他的洞见。这就是大咖,作为一个观察者,多年的思考形成了别具一格的洞见!介绍就到这里了,下面我们开始第一问。
10问之一:@deanliu 能跟我们大家简单介绍下自己吗,比如平时的一些兴趣爱好、住在哪里,最好能爆个照。
刘美女:
WhereIN群里的朋友,CN区的Steemians,大家好!我是刘美女,台湾人,住在台北,兴趣什么都好,看看电视、电影和旅游,有了小孩以后,人生都快沒了,没有什么兴趣可讲,这是给年轻人的问题啦! 所以,我结婚了有老婆有一个小男孩,还有人想问我是男女吗?那就別再要我露什么了吧!?哈哈~
瓜子:
10问之二:早在两年前,@deanliu的声望已达到72+,能说说您初始是因为什么跟区块链结的缘吗?分享一下你在Steem社区里的风风雨雨呢?
刘美女:
2016年中,我听朋友说起比特币跟区块链,原本觉得又是一些骗人玩意儿,后来认真看了,一发不可收拾。这不可收拾,就跟加入了Steem有莫大的关系。Steem的风雨,太多了,三天三夜说不完!我自己倒是沒遇到什么风雨,没弄丢账号什么的。蛮順利的。碰上CN区发展,更是幸运。
瓜子:
是的,一路见证cn区发展。
10问之三:@deanliu 一进入Steem社区就对Steem上面如何玩有独到的见解,给新人们一点建议,指指路,支个招,或者聊聊小鱼变大鲸的故事。
刘美女:
Steem升级,简单说就是什么都往SP看,那就是了。但我在Steem的慢慢升级,多半要归因于abit大神,神一般的存在,他已经不太活跃于Steem了,在bts跟EOS多些。还有要感谢@oflyhigh等老伙伴们于CN老友们的一路支持与扶持。尤其是我剛剛才看到有一個比O哥(@oflyhigh)还老的朋友,淡出許久,刚刚竟然留话给我,感觉很温馨与感动,两年多彷如一瞬。
瓜子:
Steem让我们彼此遇见,也许这也是区块链的魅力之一。
刘美女:
瓜子这句话很到位!全球性(真的会互动的)社区,Steem历史第一个。
我可不是大鲸,不过,鱼变鲸的Steem攻略,其实每个时期都不同,我肯定不是现在最会玩的。目前,我看,应该是新手村领导与老鸟们,是最厉害的一群。
瓜子:
10问之四:看到@deanliu一直在写「社区闲聊」「D&TT」,还有一些系列文章,比如最近的「趣闻」「学习笔记」「价值存储」等。刘美女,你还能想起写这些系列文章的初心吗?坚持这么久,有哪些非常棒的事情,有如当初预想的发生吗?
刘美女:
我的系列,至少有过20个以上吧。很多可能发几次就沒了。哈哈。系列文章有助于系统性记录,既有延续性,又可以单篇发挥,所以我还蛮喜欢发掘新系列的。D&TT倒是以后可以给儿子当做成长记录,算是比较有实用性的哈!
瓜子:
10问之五:看你一天两帖的更新速度,我一周有时候一贴都更新不到,非常想知道刘美女如何做到的。你觉得Steem目前这种机制,多大程度上能激发大家的分享和思考?
刘美女:
一天两帖,确实有时不容易。如何做到?其实很简单,就是我是保障收入的,哈哈,这就是steem最强的动力!另外,长时间这样做也是习惯了,否则,其实钱也不多了,大可不必这样的。另外就是,当成是自己的所思所想的记录,以及生活的记录,也会增添一些动力的。
Steem这种机制,我谈很多了,大家可以看看。我最近的思考是认为,Steem应该聚焦在做平台的平台,让其他上面的众多平台去实现內容发掘这件事。而这些平台,基于激励来产生內容,一定要注意商业性质,不能太理想性。
瓜子:
这点非常认同,近期WhereIN会推动"一个小程序/网站、一个代币、Steem激励机制「POB」",让有意愿发展自己社区的人实现轻松拥有一个内置社区代币小程序的小心愿。
刘美女:
WhereIn,我除了代理支持之外,还真的是没很熟悉,主要是我几乎不用手机发文章,而且手机比较破一点,沒那么好用,所以才一直沒去尝试的。但有空我会多关注一下,最近也有些新发展,很棒!代币也很令人期待喔!
我自己也沒创过业,我刚刚想到一个可以说说的(反面)思考點,給你們參考:不要把激励跟行为后果,做太明显的直接关联。例如,目前的线性奖励,点自己就能拿奖励,就是一个很明显的直接关联,造成人人容易自己玩,那就失去网络效应了。
瓜子:
嗯嗯,小程序端是很难看到直接激励的,我们希望社群因为共同的使命、愿景、价值观,聚集在一起。代币只是用来评估,各自对社群做的贡献。
10问之七:最近Steem似乎在准备推出HF21,@deanliu如何看待即将推出的HF21呢?
刘美女:
HF21,我已经沒精力研究了,不過,HF21,想解決的是,我刚刚说过,应该給子社区去做。
瓜子:
10问之八:Facebook的Libra(Globel coin)在国内实在太火了,@deanliu在steem上也发布过相关帖子,对此,deanliu能跟我们谈一谈你的思考吗?也谈谈你对Libra的期望。
刘美女:
Libra,最近没研究,只是看了看新闻。这问题真我现在沒法答,日后我有研究再分享吧。
瓜子:
10问之九:@deanliu有在steem上发表"区块链社交平台最关键的基础认识",谈谈你对于"区块链+社区"在中国的发展预期,也可以就aggroed这段时间推出的steem-engine、scot,谈谈可能带给cn区的机遇与挑战?
刘美女:
大陆的发展吗?这还真不好说,毕竟我沒在那边生活,不知道那些堆砌的东西造成的影响。但是,如果WhereIn真能克服那些限制,甚至就专注大陆内部发展,那还真是蓝海无线!SE,SCOT等等,具体的还是去新手村问村长吧!但我说一件事,就是现在就是Steem有史以來,对于低技术的创业者,最友好的发展区块链社群的時光了!有想做点事的朋友們,好好把握了!不成功也會是很棒的学习历程的!
瓜子:
一针见血。
10问之十:那我们还剩最后一问,刘美女有没有一句话要送给大家的,或者对未来的自己说点什么?
刘美女:
感谢大家今晚的捧场,那我肯定得说个很值钱的话吧!也同样对自已说,一個Steem给我的人生感慨。来这里,不想赚钱,那是不对的。来这里,只想赚钱,那也是不对的。人生最重要的事,确实不是钱财,这一点,很多有钱人临终前都跟我们验证过了。只有家人,只有爱好,只有爱,才是一切恒久有价值的东西。但我也不会跟说钱不重要,只是要說,赚钱可以,但永远不要牺牲更重要的東西,永远不要忘记什麼才是最重要的東西。钱财,Steem,BTC,是我们通往那些的路,不是我們的目的地。
---------End---------
我们始终相信区块链在国内的发展必然会经历很多不平凡的过程,让我们一起携手并进,一起探索!