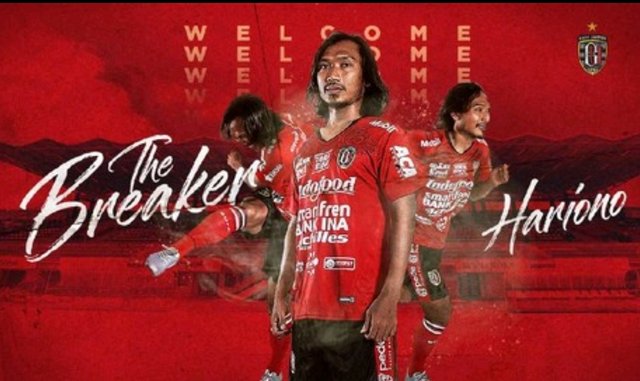 Good night all. The famous name Hariono legend Persib Bandung is still a powerful attraction. Proof some days after deciding to get out of Persib Badung. Hariono has returned to the club
Was the 2019 champions of the 2019 Bali United who managed to get his signature in preparation for Liga1 2020
Besides Hariono Serdadu Tridatu the nickname Bali United also signed Gavin Kwan Adsit. Both players are expected to bring fresh air in the Bali United squad which next season will follow the Asian Champions League or AFC Cup.
INA
Selamat malam semua. Nama tenar Hariono legenda Persib Bandung masih menjadi dayatarik yang ampuh. Buktinta bebepa hari setelah memutuskan keluar dari Persib Badung. Hariono sudah kembali memiliki klub
Adalah juara Liga1 2019 Bali United yang berhasil mendapatkan tanda tangannya untuk persiapan Liga1 2020
Selain Hariono Serdadu Tridatu julukan Bali United juga mengontrak Gavin Kwan Adsit.kedua pemain tersebut diharapkan bisa membawa angin segar dalam skuad Bali United yang pada musim depan akan mengikuti Liga Champions Asia atau Piala AFC