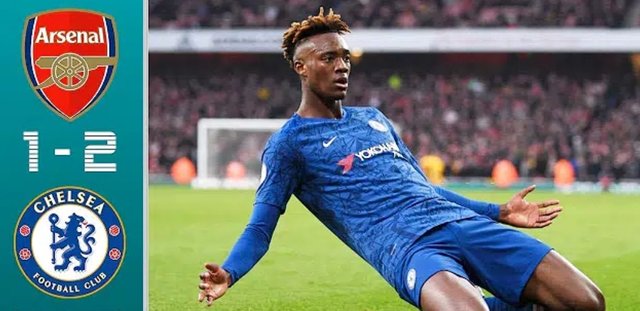 Good night all. Chelsea seem to know the beautiful way of combac. After being defeated at Boxig Day by Shouthamton 2-0 Chelsea responded when they met their rivals Arsenal
Arsenal failed to reap positive results when entertaining Chelsea at the Emirates Stadium. Even though they had excelled in the first round. In front of their own supporters Arsenal must surrender to Chelsea 2-1 defeat
Pierre-Emerick Aubameyang succeeded in bringing Arsenal ahead in the 13th minute. Arsenal's superiority lasted until the 82nd minute. Because afterwards Jorginho managed to bring Chelsea to a 1-1 level. Five minutes later Frank Lampard's men turned 2-1 up thanks to a goal scored by Tammy Abraham in the 87th minute. Chelsea's advantage lasted until the long whistle sounded
With this victory Chelsea moved up to fourth in the Premier League standings with 35 points. While Arsenal had to sit 12th with just 24 points.
INA
Selamat malam semua. Chelsea sepertinya tahu cara combac yang indah. Setelah di Boxig Day dikalahkan oleh Shouthamton 2-0 chelsea membalasnya saat bertemu rival mereka Arsenal
Arsenal krmbali gagal menuai hasil positif saat menjamu Chelsea di Emirates Stadium. Padahal mereka sempat unggul di babak pertama. Didepan pendukung mereka sendiri Arsenal harus bertekuk lutut dikalahlan Chelsea 2-1
Pierre-Emerick Aubameyang berhasil membawa Arsenal unggul lebih dulu pada menit ke 13. Keunggulan Arsenal bertahan sampai menit ke 82. Karena setelahnya jorginho berhasil membawa Chelsea menyamai kedudukan 1-1. Berselang 5 menit kemudian anak asuh Frank Lampard berbalik unggul 2-1 berkat gol yang dicetak oleh Tammy Abraham pada menit ke 87. Keunggulan chelsea bertahan sampai peluit panjang dibunyikan
Dengan kemenangan tersebut Chelsea naik ke urutan empat klasemen sementara premier League dengan poin 35. Sedangkan Arsenal harus duduk di urutan ke 12 dengan 24 poin saja.