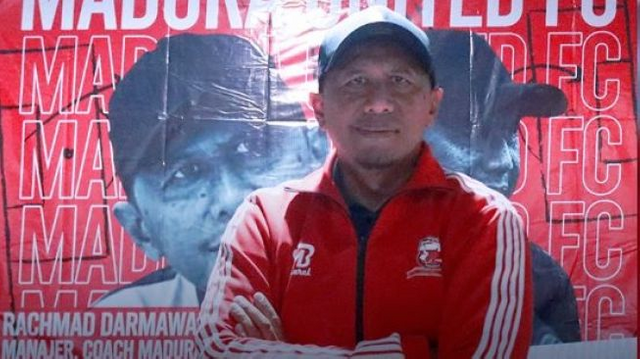 source
Good night all. Big name Rahmad Darmawan (RD) seems to be a guarantee for achievement. After withdrawing from Tira Persikabo, RD, his nickname was re-appointed to become the coach of the Madurese community's pride club, Madura United FC
Haruna Soemitro as director of the club nicknamed Laskar Sape Kerrap announced the appointment of RD in a press conference on the island of Bali after Madura United's match against Bali United. the goal of appointing a new coach as soon as possible is so that Madura United is more focused and and better prepared to face the 2020 season
During training at the Indonesian club Rahmad Darmawan managed to bring the Black Pearl Persipura Jayapura became the highest competition champion in the country as well as the pride of the Palembang People's Club Sriwijaya FC won the Indonesian Cup.
INA
Selamat Malam semua. Nama besar Rahmad Darmawan(RD) sepertinya menjadi jaminan untuk prestasi. Setelah mundur dari Tira Persikabo, RD sapaan akrabnya kembali ditunjuk untuk menjadi pelatih klub kebanggaan Masyarakat Madura yaitu Madura United FC
Haruna Soemitro sebagai direktuk klub yang berjuluk Laskar Sape Kerrap tersebut mengumumkan penunjukan RD dalam konfrensi pers di Pulau Bali setelah laga Madura United melawan Bali United . tujuan penunjukan pelatih baru secepatnya adalah supaya Madura United lebih Fokus dan dan lebih siap untuk menghadapi musim 2020
Selama melatih di klub Indonesia Rahmad Darmawan berhasil membawa si Mutiara Hitam Persipura Jayapura menjadi jawara kompetisi tertinggi di Tanah Air serta klub kebanggan Rakyat Palembang Sriwijaya FC menjuarai Piala Indonesia.