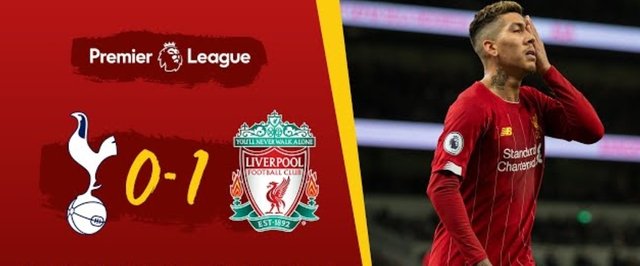 Good morning everyone. The Red Liverpool beat Tottenham Hotspur again with a narrow 1-0 score at Tottenham Stadium this morning
Mourinho's foster children lost by Roberto Firmino's sole goal. One goal is to make Liverpool increasingly solidify their position at the top of the Premier League standings.
In last night's Liverpool coach Juergen Klopp used his subscription, 4-3-3, with the trident 'Firmansah' (Firmino, Sadio Mane, and Mohamed Salah) up front.
While other players such as Oxlade-Chamberlain, Jordan Henderson, and Wijnaldum, are in the middle row to flow the ball forward. For Tottenham, Kane's injury increasingly blunted their front lines.
Liverpool itself is getting closer to the title this season. They excel far from Leichester in second place.
INA
Selamat pagi semua. The Red Liverpool kembali mengalahkan tuan rumah Tottenham Hotspur dengan skor tipis 1-0 di Tottenham Stadium dini hari tadi
Anak asuh Mourinho kalah betkat Gol tunggal Roberto Firmino. Satu gol tersebut membua Liverpool kian memantapkan posisi mereka di puncak klasemen sementara Liga Primer Inggris.
Dalam pertandingan semalam Pelatih Liverpool Juergen Klopp memakai formasi langganannya, 4-3-3, dengan trisula 'Firmansah' (Firmino, Sadio Mane, dan Mohamed Salah) di lini depan.
Sedangkan pemain lainnya seperti Oxlade-Chamberlain, Jordan Henderson, dan Wijnaldum, berada di barisan tengah untuk mengalirkan bola ke depan. Bagi Tottenham cidera Kane semakin membuat lini depan mereka tumpul.
Liverpool sendiri semakin dekat dengan gelar juara musim ini. Mereka unggul jauh dari Leichester yang ada di posisi kedua.