Be_Entrepreneur of Universitas Malikussaleh has become a way for students and alumni to hone their mentality and insight to become young entrepreneurs. In the midst of the development of digital technology, opportunities to become entrepreneurs are expanding, as far as observing opportunities.
This important point became the focus of the Unimal Be_ Entrepreneur Discussion Group (FGD) through Community Service (PPM) Entrepreneurship Development Program (PPK) at the Country cafe, Lido Graha Hotel, Lhokseumawe, last Friday.
Moment of creating a strong-minded young entrepreneur presents 20 tenants and prospective students and alumni of Unimal. Also attending the PPM_PPK2020-2022 team were Harinawati, Awaluddin Arifin, Sufi, Arif Maulana, Ridha, Fahmi, and Hanna.
The FGD was opened and guided by Kamaruddin Hasan as chairman of the PPM_PPK2020-2022 Program Team. This first FGD activity focused on the theme of Millennial Business in the Digital Era. Kamaruddin Hasan said that in addition to providing a digital opportunity, the digital era also presented challenges in the business world.
"In addition to innovative ideas, it is also demanded to master new media technology and literacy. We hope students and alumni can produce creative and innovative work in opening business opportunities, "said the Chair of the Communication Science Study Program.
According to him, the activity aims to motivate the emergence of young entrepreneurs in higher education and take part in the community. Aside from being business oriented, business processes and profitability are also Islamic characters in conducting business.
Harinawati said that creating young entrepreneurs with strong spirits became the main goal of Be_Entrepreneur, by conducting a recruitment process that was interested in business and wanted to be serious about doing business activities.
Furthermore, prospective entrepreneurs receive coaching and assistance, monitoring, evaluating, also conducting training on business, business ethics, creating internet-based business marketing pages, expos, revolving funds to give birth to young entrepreneurs who are ready to get involved in the community.
According to Sufi who is also the head of the Unimal Business Administration Study Program, capital is not everything in starting a business. The basic capital in starting a business is courage.
"Indeed, this program provides venture capital for those who have already started. But here you have to be able to be a good influencer to friends around so that the birth of entrepreneurial souls is not only in you, but also to your friends," said Sufi.
He continued, the business was how the business carried out could develop. "Here we are not traders, but try to do business. We must not rely on one point, we must open branches at several points. "
In the business world, we must have courage, creativity, and innovation in making products, so that business can run even though full of competition.
According to Awaluddin Arifin, students must have the courage to face failure. Many products in the world that are successful in the market have failed. However, entrepreneurs continue to try until they reach the top.
"So let us dare to fail, because from failure we can be optimistic for anything. Anything will certainly be done not to fail, then failure is also a motivation for us to succeed," says Awaluddin.
One participant, Hanna, said an entrepreneur would think differently from others. "Here we not only benefit ourselves, but also benefit others through mindset," Hanna said.
A student, Amel, told the history of starting a coffee business. According to her, the most important of the business is the idea. "We must create ideas that nobody else can think of. We must be good at seeing the market, "said the student from Takengon, Aceh Tengah.
Unimal Business Administration Study Program student, Mutia, also shared experiences in starting the business of risoles. She produces snacks after getting ideas from snack vendors outside Aceh.
"Then I try to apply it in Lhokseumawe. At first it failed, but I didn't give up. Until today, it has been able to open four locations for the risoles business location," says Mutia.
In the discussion it was revealed that many students had already run small business ventures such as sewing businesses, embroidery, and modern hijab businesses.
In addition there are also students and alumni of Malikussaleh University who are engaged in graphic design, film, photography, and printing. They are all oriented to being entrepreneurs and not fighting for opportunities to become public civil servants. [Ayi Jufridar]
---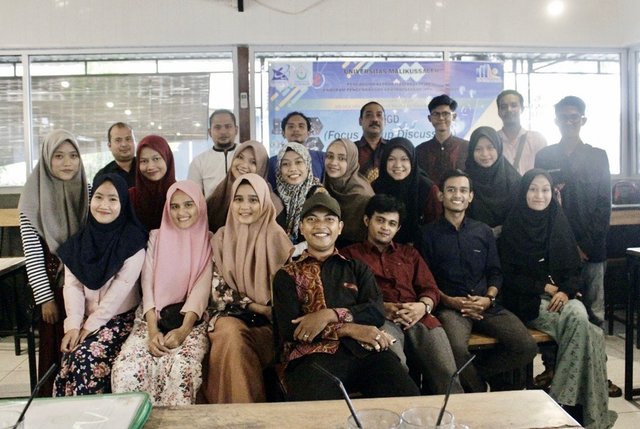 ---
---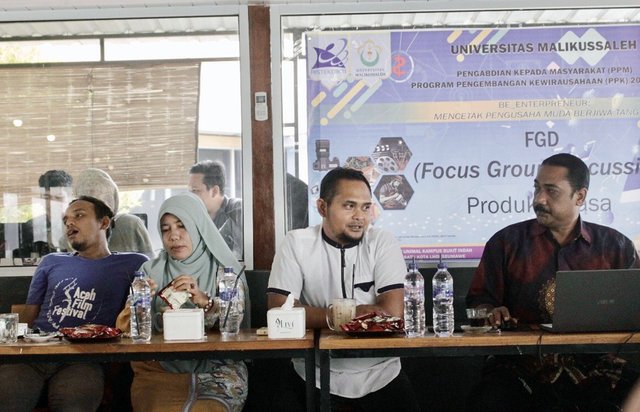 ---
Mencetak Pengusaha Muda Melalui Be_Enterpreneur_
Be_Enterpreneur Universitas Malikussaleh menjadi salah satu jalan mahasiswa dan alumni dalam mengasah mental dan wawasan untuk menjadi wiraswasta muda. Di tengah perkembangan teknologi digital, peluang menjadi enterpreneur berkembang luas, sejauh jeli melihat peluang.
Poin penting itulah yang menjadi bahan fokus grup diskusi (FGD) Be_Enterpreneur Unimal melalui Pengabdian Kepada Masyarakat (PPM) Program Pengembangan Kewirausaahaan (PPK) di kafe Country, Hotel Lido Graha, Lhokseumawe, Jumat pekan lalu.
Momen mencetak pengusaha muda berjiwa tanggguh mengadirkan 20 tenant dan calon tenant mahasiswa dan alumni Unimal. Turut hadir Tim PPM_PPK2020-2022 yakni Harinawati, Awaluddin Arifin, Sufi, Arif Maulana, Ridha, Fahmi, dan Hanna.
FGD dibuka dan dipandu oleh Kamaruddin Hasan sebagai ketua Tim Program PPM_PPK2020-2022 . Kegiatan FGD pertama ini fokus pada tema Bisnis Milenial Era Digital. Kamaruddin Hasan menampaikan, era digital selain memberi peluang besar juga tantangan dalam dunia bisnis.
"Selain ide-ide inovatif, juga dituntut mengusai teknologi dan literasi new media. Kita berharap mahasiswa dan alumni dapat menghasilkan karya kreatif dan inovatif dalam membuka peluang bisnis," kata Ketua Prodi Ilmu Komunikasi tersebut.
Menurutnya, kegiatan itu antara lain bertujuan memotivasi munculnya entrepreneur-enterpreneur muda di perguruan tinggi dan berkiprah dalam masyarakat. Selain berorientasi bisnis, proses usaha dan hasil usaha profit juga pada karakter Islami dalam menjalankan bisnis.
Harinawati menyampaikan, mencetak pengusaha muda berjiwa tangguh menjadi tujuan utama Be_Enterpreneur, dengan melakukan proses perekrutan yang tertarik di bidang bisnis dan ingin serius melakukan kegiatan bisnis.
Selanjutnya, calon enterpreneur mendapat pembinaan dan pendampingan, monitoring, evaluasi, juga melakukan pelatihan-pelatihan tentang bisnis, etika bisnis, membuat laman bisnis berbasis internet marketing, expo, dana bergulir sampai melahirkan pengusaha muda yang siap terjun di masyarakat.
Menurut Sufi yang juga ketua Prodi Administrasi Bisnis Unimal, modal bukanlah segalanya dalam memulai usaha. Modal dasar dalam merintis bisnis adalah keberanian.
"Memang program ini memberikan modal usaha bagi yang sudah memulai. Tapi di sini Anda harus bisa jadi influencer yang baik kepada teman-teman sekitar supaya lahirnya jiwa–jiwa enterpreneur bukan hanya di Anda, tetapi juga kepada teman-teman Anda," papar Sufi.
Ia melanjutkan, bisnis itu adalah bagaimana usaha yang dilakukan bisa berkembang. "Di sini kita bukan pedagang, tetapi mencoba untuk berbisnis. Kita tidak boleh tertumpu pada satu titik, kita harus membuka cabang di beberapa titik."
Dalam dunia bisnis memang harus punya keberanian, kreativitas, dan inovasi dalam membuat produk, agar bisnis bisa berjalan walau penuh persaingan.
Menurut Awaluddin Arifin, mahasiswa harus berani menghadapi kegagalan. Banyak produk di dunia ini yang sukses di pasaran pernah gagal. Namun, para pengusaha terus mencoba sampai berada di puncak.
"Jadi marilah kita berani gagal, karena dari kegagalan kita bisa optimis untuk apa saja. Apa saja pastinya akan dilakukan untuk tidak gagal, maka kegagalan itu juga sebuah motivasi kita untuk sukses," ujar Awaluddin.
Seorang peserta, Hanna, mengatakan seorang enteupreneur akan berpikir dengan cara berbeda dari orang lain. "Di sini kita tidak hanya menguntungkan diri kita, tapi juga menguntungkan orang lain melalui pola pikir," Kata Hanna.
Seorang mahasiswa, Amel, menceritakan sejarah ia memulai usaha kopi. Menurutnya, yang paling penting dari bisnis itu adalah ide. "Kita harus menciptakan ide-ide yang tak terpikirkan orang lain. Kita harus pandai melihat pasar," ujar mahasiswa asal Takengon, Aceh Tengah, tersebut.
Mahasiswa Prodi Administrasi Bisnis Unimal, Mutia, juga berbagi pengalaman memulai bisnis risoles. Ia memproduksi makanan ringan setelah mendapatkan ide dari penjual makanan ringan di luar Aceh
"Lalu saya coba terapkan di Lhokseumawe. Mulanya pernah gagal, tapi saya tidak menyerah. Sampai hari ini sudah dapat membuka empat titik lokasi bisnis risoles," ungkap Mutia.
Dalam diskusi tersebut terungkap banyak mahasiswa yang sudah menjalankan usaha bisnis kecil-kecilan seperti usaha menjahit, bordiran, usaha hijab kekinian.
Selain itu juga ada mahasiwa dan alumni Universitas Malikussaleh yang bergerak di bidang desain grafis, film, fotografi, dan percetakan. Mereka semuanya berorientasi menjadi pengusaha dan tidak berebut peluang menjadi pegawai negeri. [Ayi Jufridar]
---